Thank you for joining us for the 2023 Teen Vocalist competition. Tonight, nine teenage singers from Star Valley will perform and compete on stage with the hopes of earning both the audience and judge's vote. The winner will receive a $1,000 prize provided by Skyview Lanes & Cineplex. All nine contestants, along with our three judges, are introduced below.
Teen Vocalist includes two rounds of competition. In the first round, all nine contestants will perform. Afterwards, four contestants will be selected to advance to the second round and perform again. The winner will then be selected from those four contestants.
Second round contestants and the final winner will be selected based off the votes of both the judges and the audience. Each of the three judges will account for 25% of the vote, while the auditorium audience will combine for the remaining 25%. Voting for audience members will be done via text message. Voting instructions will be given during the show. Note that only those physically in attendance at tonight's show will be allowed to vote. Those watching the video broadcast on SVI Media will not be able to vote.
It is free to watch SVI's video broadcast of Teen Vocalist worldwide. The broadcast can be found at SVInews.com or on The Vocalist and Star Valley Independent Facebook pages. The broadcast is provided free of charge, thanks to the sponsorship of First Bank of Wyoming.
Once again, thank you for joining us and enjoy the show!
Meet your 2023 Teen Vocalist Contestants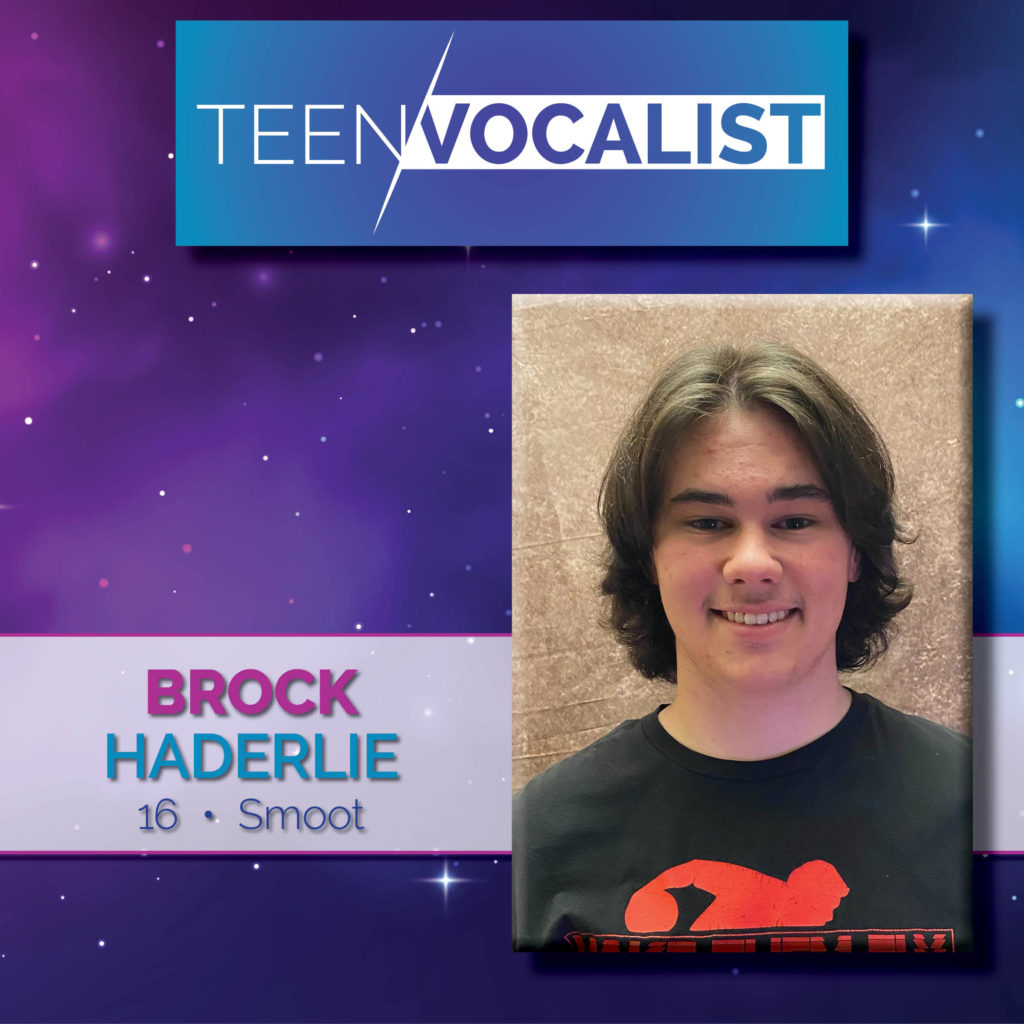 Brock Haderlie is a sophomore at SVHS. Brock's parents are Dave and Shandi Major of Smoot. He has 5 brothers, one sister and a brother-in-law. Brock plays the trumpet in the jazz, marching and pep band. He has a passion for bowling and has competed at a national level winning numerous scholarships and has bowled 3 perfect 300 games. Brock just started singing and was able to showcase his new found talent as one of the characters in the high school production of Cinderella. Brock would like to dedicate his performances to his late Daddy Derek and Brother Ryder.
Brock is sponsored by the Lincoln County Fair.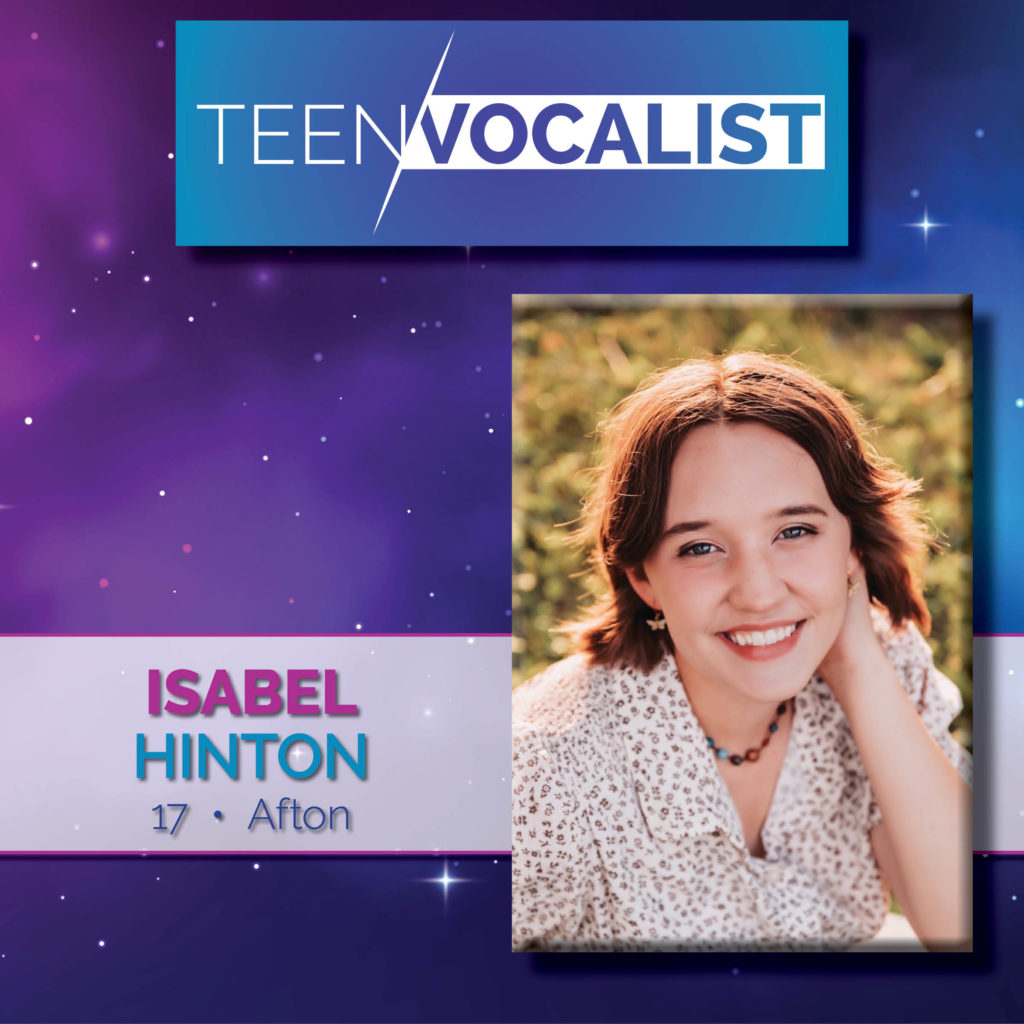 Isabel is so excited to be competing this year! She is the daughter of Kris and Greg Hinton and has 3 younger siblings. She has grown up in Star Valley and loves her community. Isabel has had the opportunity to participate in the school musical, sing in Singcopation, and be a captain of Dezi's Dance Team. She also loves ballet, hiking, painting, and reading.
Isabel is sponsored by the Bank of Star Valley.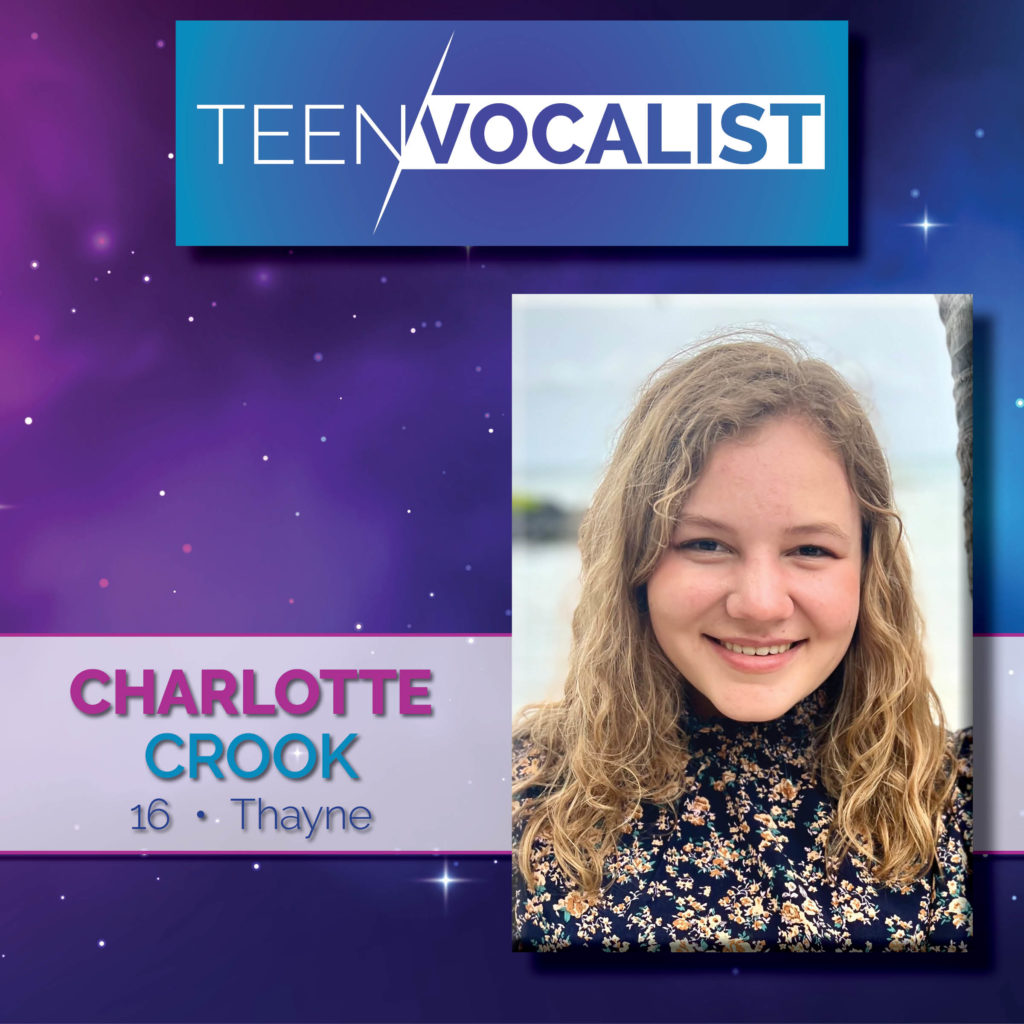 Charlotte is a sophomore from Thayne and has two sisters, two brothers, and three dogs. She loves to play the cello, is a member of Chamber Orchestra, and has made all-state two years in a row. She also loves to sing and is a member of the SVHS Treble Tones audition choir.  She loves dancing, being on stage, and musical theater. She participated in the music theater state drama competition last fall where her group earned a perfect score, and her duet received an honorable mention. She also loved participating in the last two theater productions at the high school.
Charlotte is sponsored by Simplot Smokey Canyon Mine.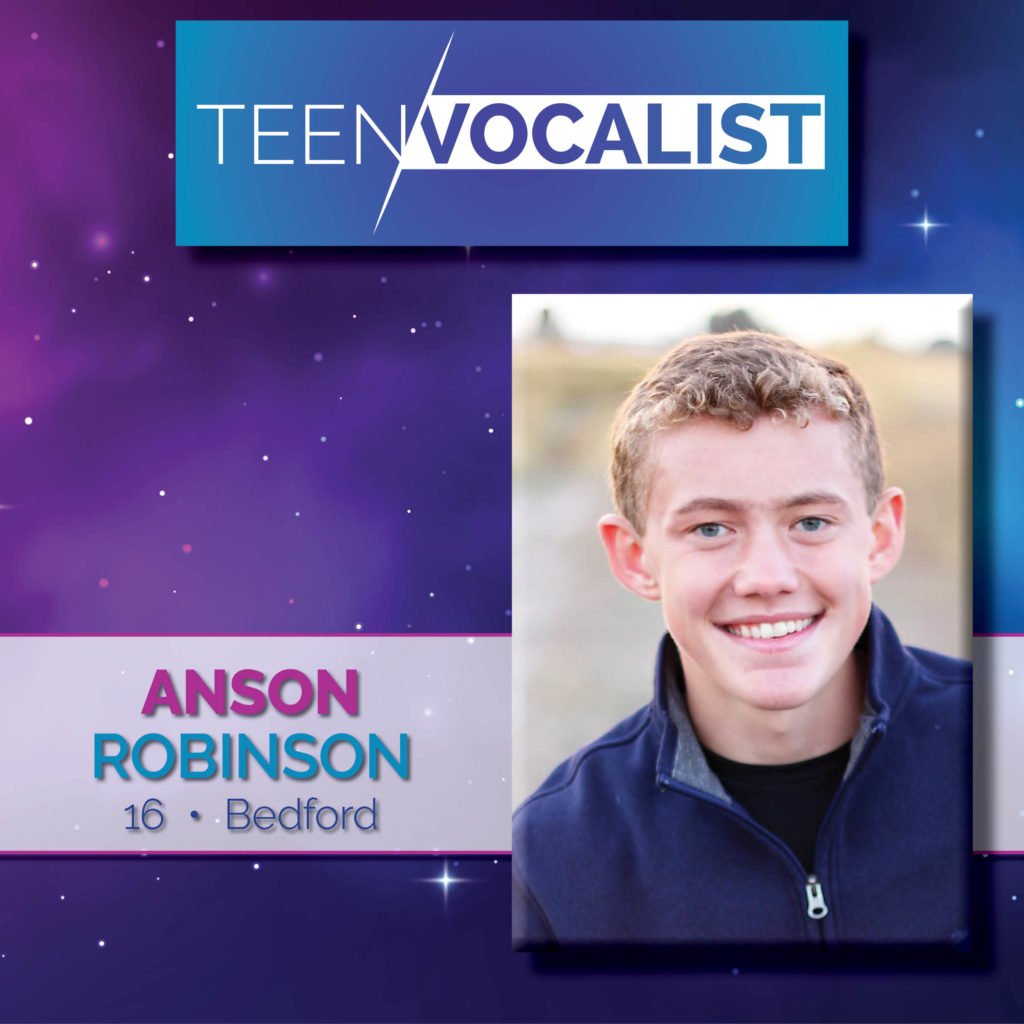 The first time I sang publicly was with my dad at a play in the "Old Rock Church" in Auburn.  We sang "Oh Danny Boy". This was a bonding experience for my Dad and I, as well as a rather thrilling introduction to the world of performance and music. I currently have the privilege of singing in Singcopation. I have never considered entering the field as a professional career, but I hold music as a precious hobby. It has become an important part of my life. 
Anson is sponsored by Northern Title.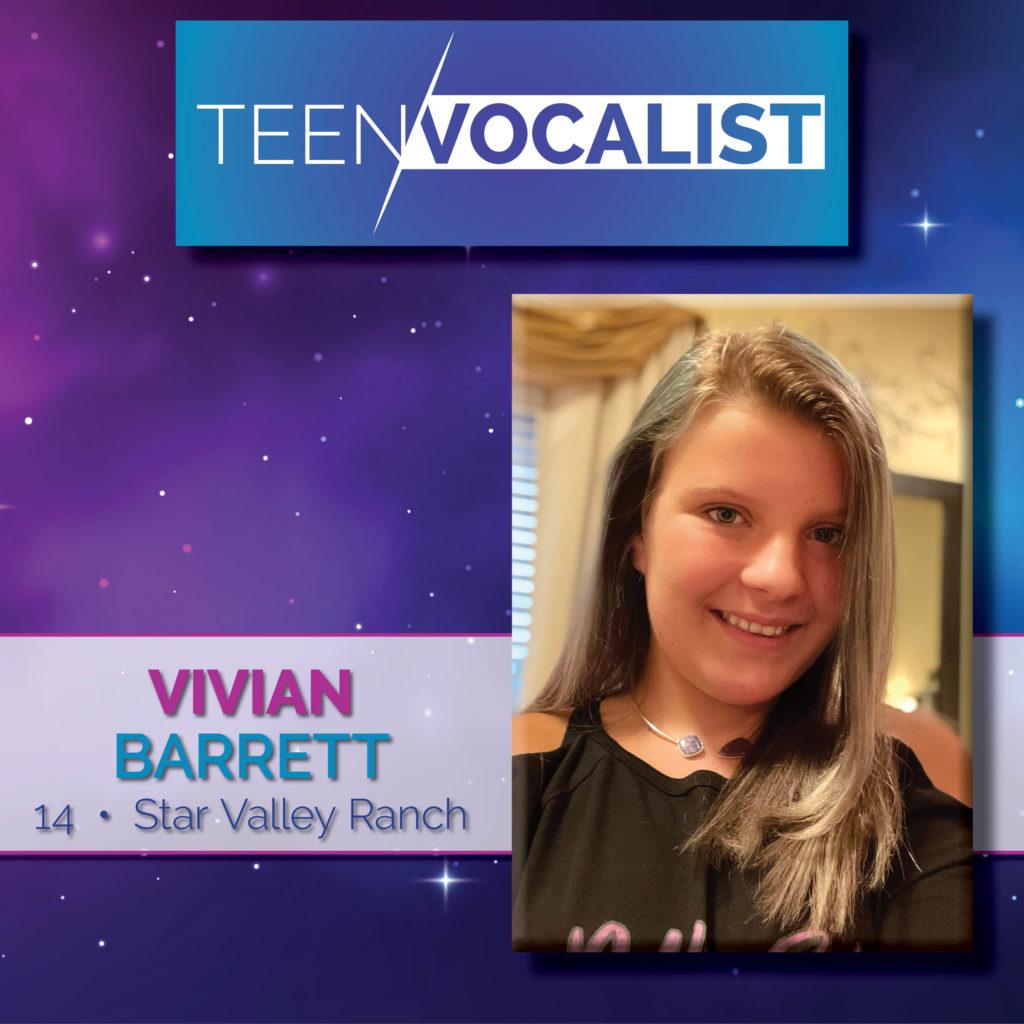 I've been practicing piano since I was 5. Shortly after I started playing the guitar. I have always sang. Some of my favorite hobbies are reading in front of a fire with my dogs and traveling.
Vivian is sponsored by Star Valley Health.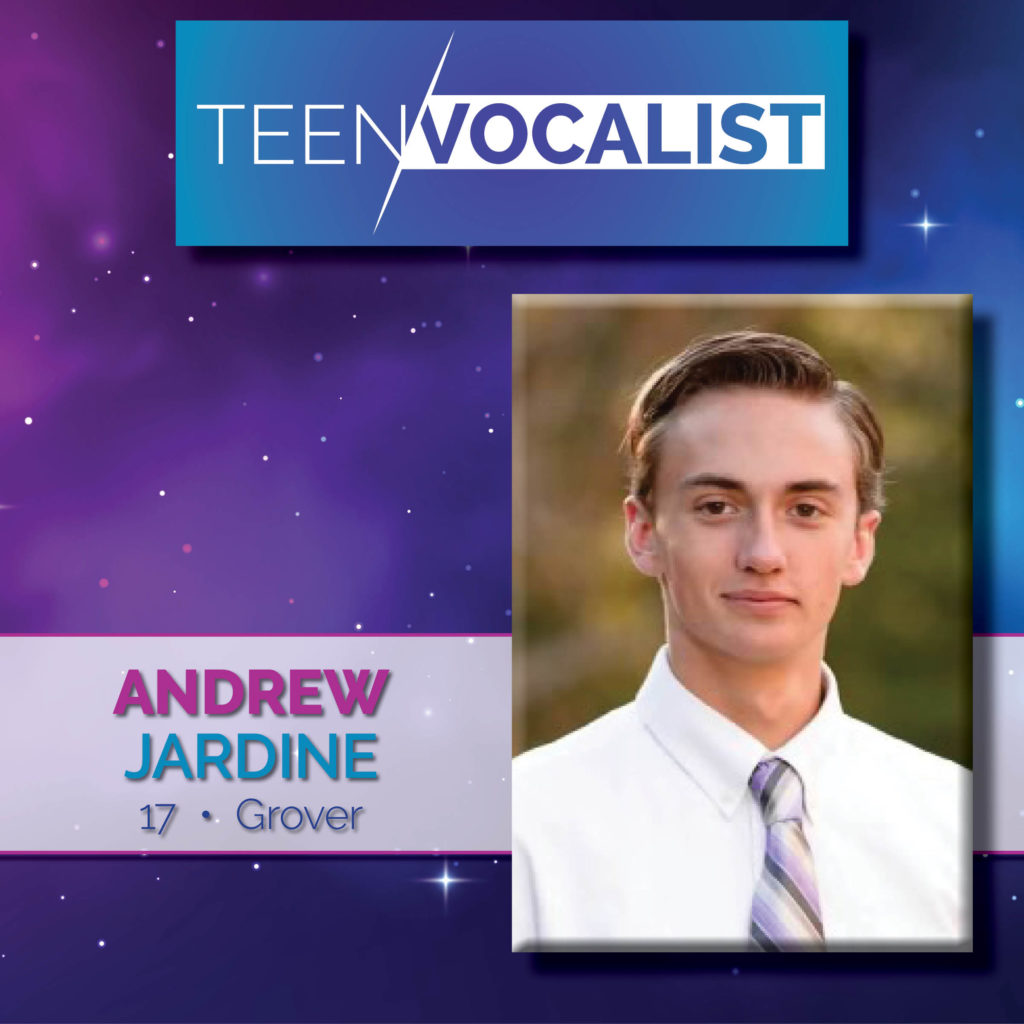 I am 17 years old and a senior in high school. I have a passion for being out in the mountains. Whether I'm hunting, hiking, or doing anything else I really just love being out on the hillside. I sing bass in my choir at school and was a part of the Wyoming All-State choir. I also plan to serve a full time mission for the church of Jesus Christ of Latter-Day-Saints beginning this fall.
Andrew is sponsored by Star Valley Health.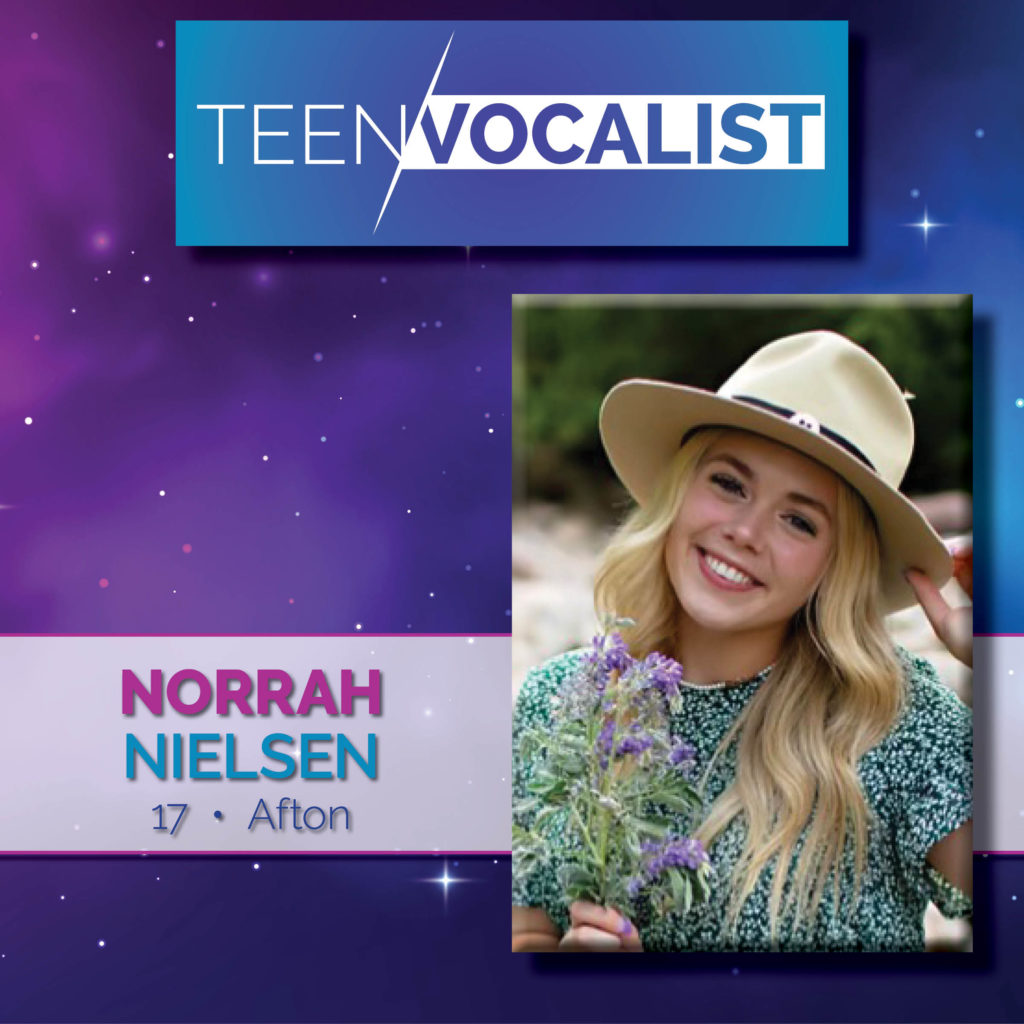 Hi! My name is Norrah and I am a senior at Star Valley High School. I love to sing, dance, act, and do anything onstage! Singing has always been a part of my life. I am so lucky to be competing in the vocalist this year. The contestants are all so talented! I love performing with all my heart and I can't wait to share my voice on stage!
Norrah is sponsored by The Star Valley Arts Council.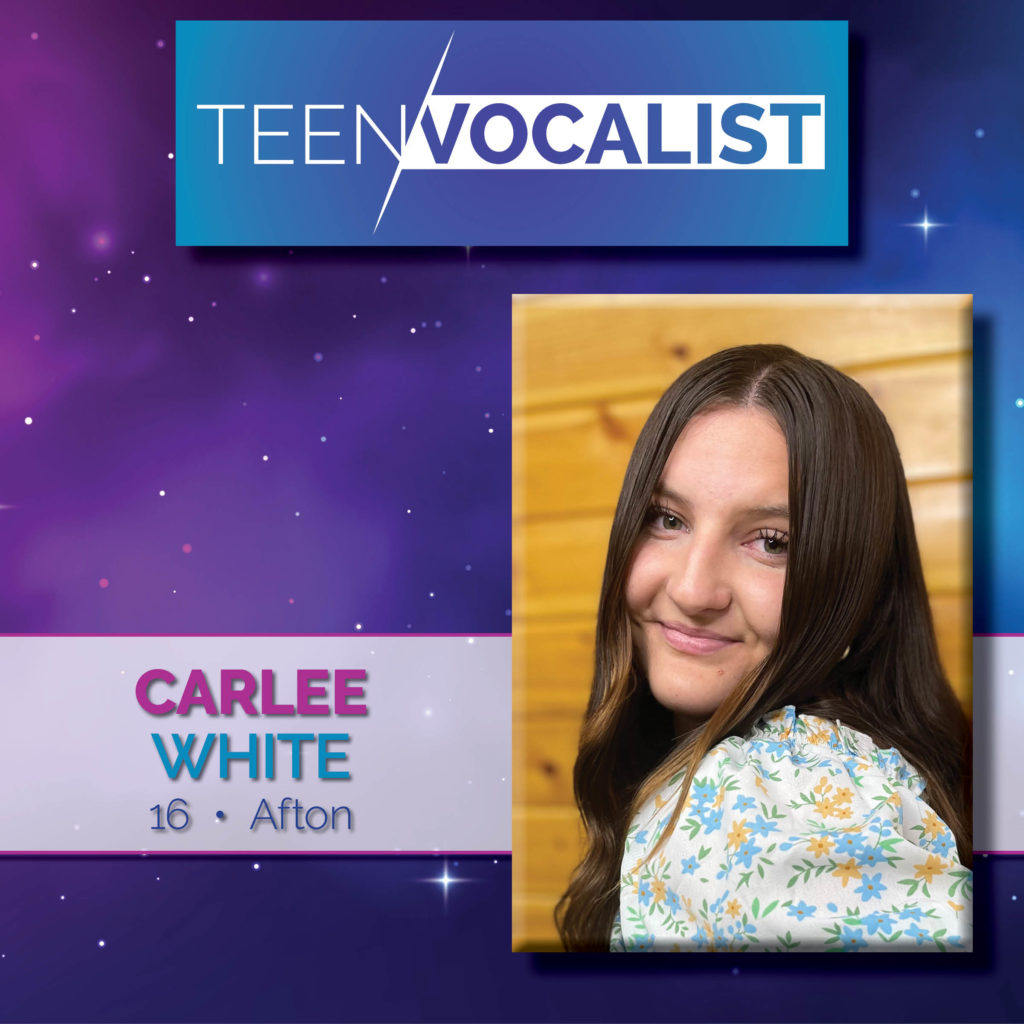 I'm a 16 yr old junior at SVHS, our family has been a musical family and we have gone Christmas caroling since i was very little. I've grown up around music and have always loved it. I've had several siblings who sing so I decided to join in. I'm in the Singcopation Choir at SVHS and was invited to the all-state audition choir this last year in sheridan. I love to be outdoors and spend time with family.
Carlee is sponsored by The Chop Shop.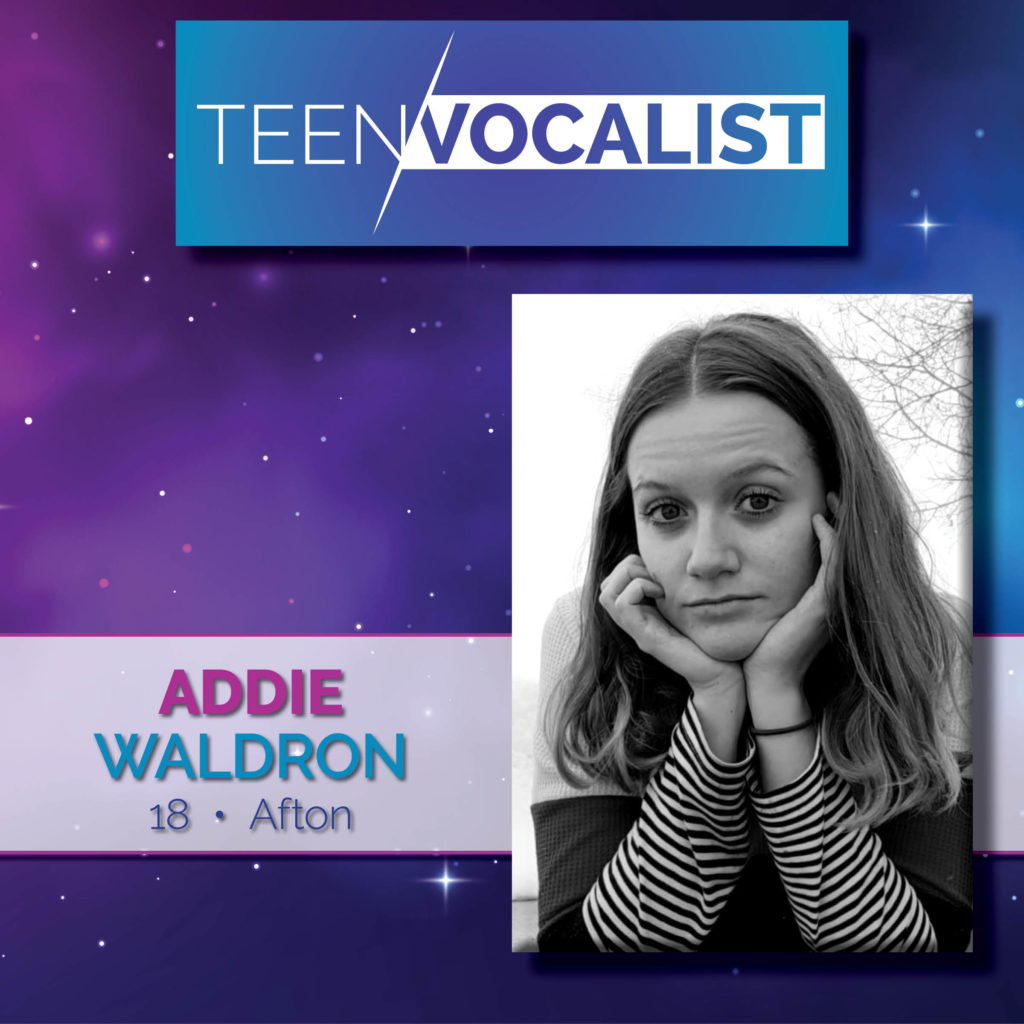 I'm so excited to be given the opportunity to compete in the Teen Vocalist this year! I love singing, acting, performing with my friends in Singcopation, and spending time with my brothers. I want to be able to keep performing in the future, and I plan on going to BYU Idaho to major in music education in the fall. Music is my passion and I can't wait to share my love for music with others.
Addie is sponsored by Salt River Arts Society/Afton Ford Theatre.
Meet Your Teen Vocalist Judges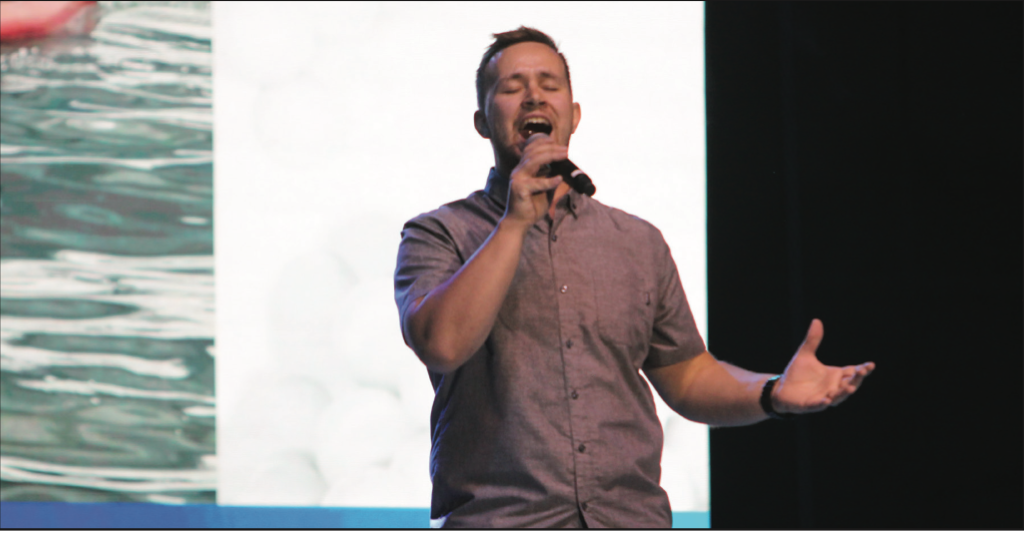 The Vocalist 2023 winner, Daniel Lechner, has a voice that is smooth as silk and a powerful range.  Currently living in Thayne, Wyoming, Daniel is helping with community theatre and musical events in addition to running his own courier business. A proud father and husband, Daniel enjoys spending time with his family. Along with judging, Daniel will also perform during tonight's show.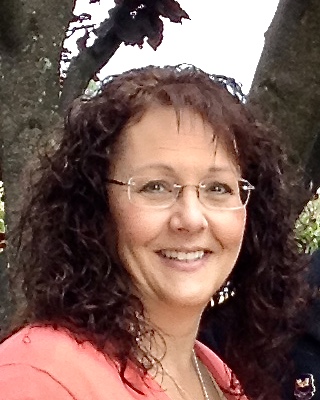 Kayleen Anderson began performing at the young age of three. She has directed and performed in numerous ensembles, choirs, and cover bands as well as performing solo her whole life. She loves to sing close harmonies but also loves to step into the solo spotlight every now and then.


When performing, Kayleen's principal goal is making a connection with the audience. Watching them feel the emotion she's trying to convey is both thrilling and humbling.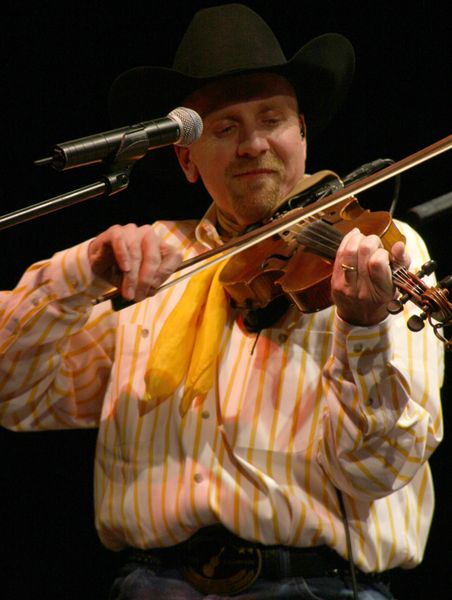 Tim Hodgson, a world class fiddle player from eastern Idaho, is best known for his time playing in Jackson Hole for the Bar J. Wranglers. He has won numerous fiddle championships. Along with fiddle, he also sang harmony parts while with the Bar J. In addition to being a judge on stage, Tim and his current band will perform a mini concert as part of tonight's show.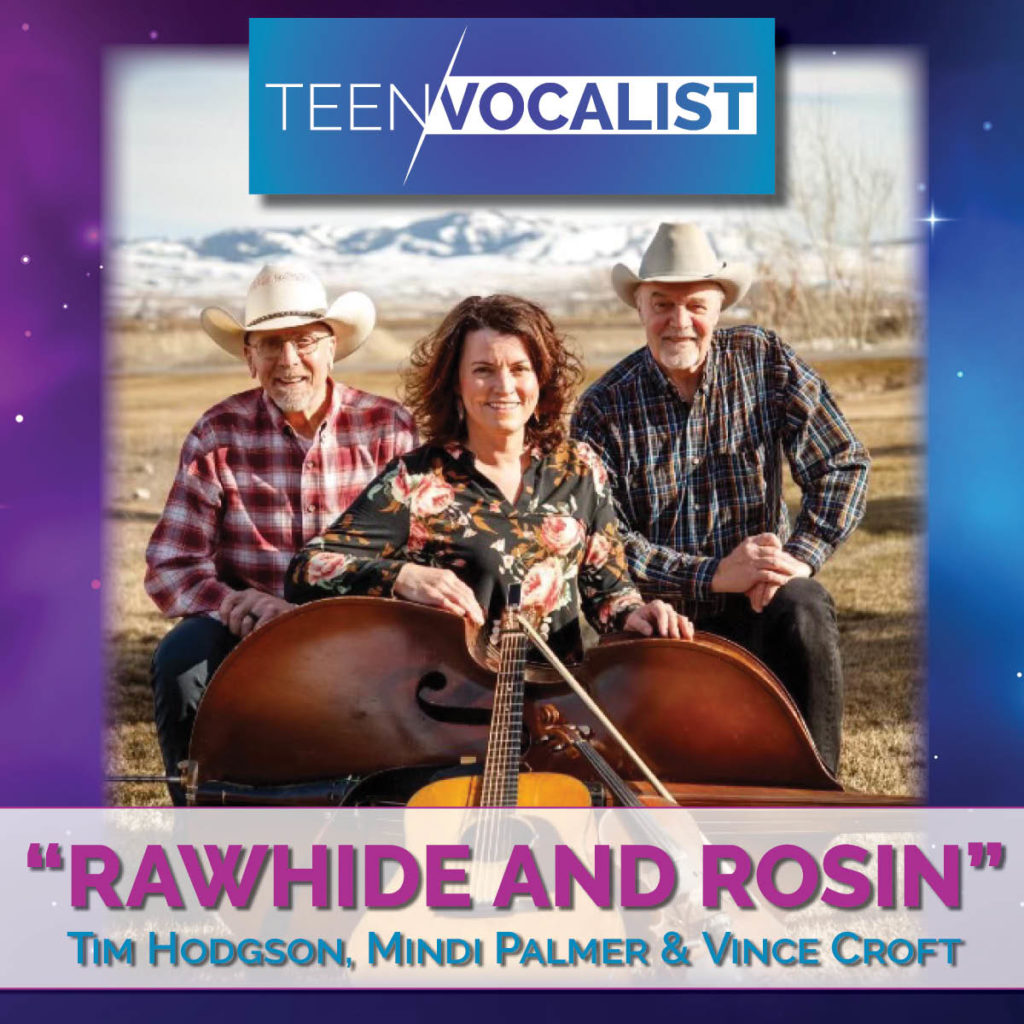 Rawhide and Rosin: Tim Hodgson (left), Mindi Palmer (middle) and Vince Croft (right).