Active coronavirus cases increase by 16 in Lincoln County; state death total hits 50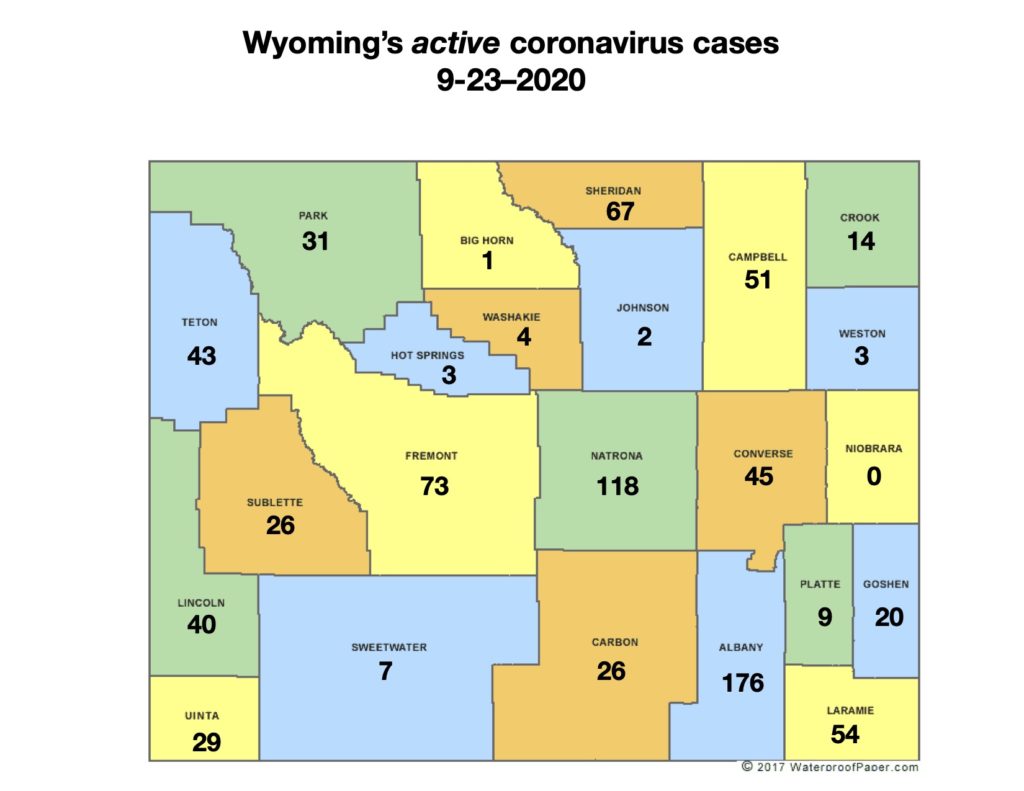 By The Wyoming News Exchange
The number of Wyoming residents to die from coronavirus has grown to 50 with the death of a Big Horn County man, the Wyoming Department of Health reported Wednesday.
Meanwhile, both the single-day number of new confirmed coronavirus cases and the number of active cases in the state reached new highs with the reporting of 137 new confirmed cases in 17 counties.
The Department of Health said the older Big Horn County man died last week after being hospitalized for treatment of the illness in an out-of-state hospital. The department said the man had underlying health conditions that are known to put coronavirus patients at risk from the illness.
The number of active cases in the state, meanwhile, increased by 105 to total 842, marking the fourth consecutive day a new high has been seen in the number of people sick with coronavirus.
The increase came as five counties reported double-digit increases in laboratory-confirmed cases.

Albany County had 176 active cases; Natrona had 118; Fremont had 73; Sheridan had 67; Laramie had 54; Campbell had 51; Converse had 45; Teton had 43; Lincoln had 40; Park had 31; Uinta had 29; Sublette and Carbon had 26; Goshen had 20; Crook had 14; Platte had nine; Sweetwater had seven; Washakie had four; Hot Springs and Weston had three; Johnson had two, and Big Horn had 1.
The active cases were reported among 696 people with laboratory-confirmed cases and 146 with probable cases.
Active cases are determined by adding the total confirmed and probable coronavirus cases diagnosed since the illness first surfaced in Wyoming on March 12, subtracting the number of recoveries during the same period among patients with both confirmed and probable cases and taking into account the number of deaths attributed to the illness.
The Health Department said five counties reported double-digit increases in confirmed cases. Natrona County had 22 new cases; Albany County had 20; Campbell and Lincoln each had 16 and Teton had 11.
The increase in confirmed cases brought the total seen since coronavirus was first detected in Wyoming in mid-March to 4,368.
The number of probable cases, where a patient shows symptoms of coronavirus and has been in contact with someone with a confirmed case but has not been tested for the illness, went up by 16 on Wednesday to total 801 diagnosed since mid-March.
The number of the 5,169 people infected with coronavirus to recover since the pandemic began also increased on Wednesday, growing by 47 to total 4,277. The total included 3,622 people with confirmed cases of coronavirus and 655 with probable cases.