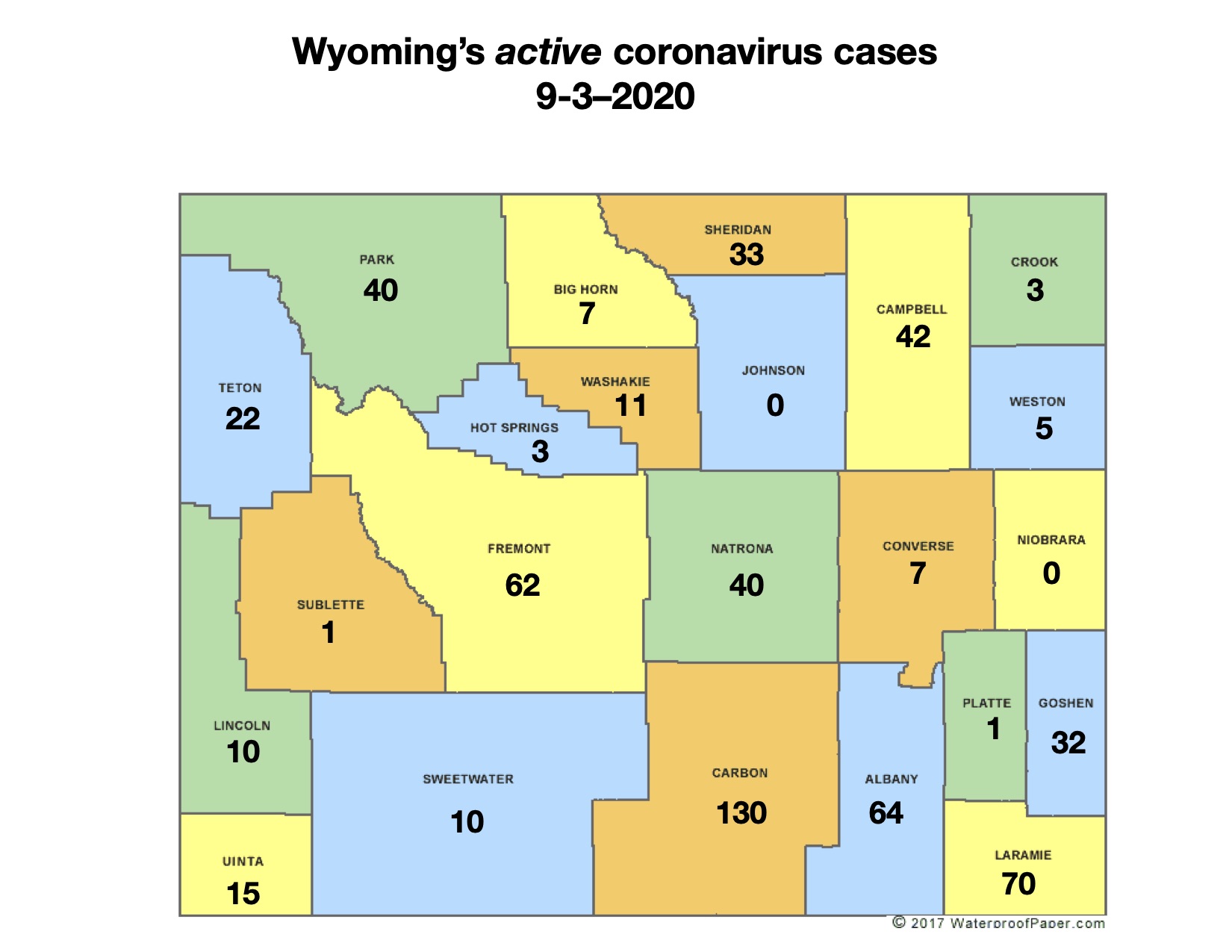 By The Wyoming News Exchange
Although the number of laboratory-confirmed and probable coronavirus cases increased by 28 in Wyoming on Thursday, the number of people actually sick with the illness fell by 13.
The Wyoming Department of Health, in its daily coronavirus update, said the number of recoveries reported Thursday totaled 41, offsetting the increase in new cases.
The result was the state was left with 608 active cases of coronavirus.
Carbon County had 130 active cases; Laramie County had 70; Albany County had 64; Fremont County had 62; Campbell had 42; Natrona and Park had 40; Sheridan had 33; Goshen had 32; Teton had 22; Uinta had 15; Washakie had 11; Lincoln and Sweetwater had 10; Big Horn and Converse had seven; Weston had five; Crook and Hot Springs had three, and Platte and Sublette had one.
Johnson and Niobrara counties had no active cases.
Those with laboratory-confirmed coronavirus made up 504 of the active cases, while 104 were among people with probable cases.
Ten counties reported 23 new confirmed cases on Thursday, bringing the total number of confirmed cases seen since the illness was first detected in Wyoming in March to 3,334.
New cases were reported in Albany, Big Horn, Laramie, Lincoln, Natrona, Park, Sublette, Teton, Uinta and Weston counties.

Albany County, where work to resume in-person classes at the University of Wyoming has been stalled by new coronavirus cases, reported seven new confirmed cases Thursday.
The number of probable cases, where individuals show coronavirus symptoms and have been in contact with someone with a confirmed case but have not been tested for the illness, went up by five Thursday to total 605 diagnosed since the pandemic began.
However 41 patients were diagnosed as having recovered from the illness on Thursday, bringing the total number of people to recover from the illness since March to 3,290.
Among those 3,290 were 2,789 people with confirmed cases and 501 with probable cases.