Afton invites all to celebrate during the 2019 Freedom Festival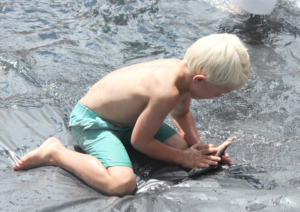 By Richelle Primm, SVI Media
The Afton Freedom Festival will take place June 28-29 at the Lincoln County Fairgrounds with the junior rodeo kicking off the events on Friday at 10 a.m.
Camie Hale, Town of Afton Events Coordinator, said the junior rodeo is unique because it gives a prize to every participant (16 and under), whether he or she places or not. First place will win a buckle and there are other prizes for the rest of the placements. The "pee wees" will receive a trophy for participating.
Some of the other activities at the Freedom Festival include night glow golf at the golf course, a basketball tournament, mud volleyball tournament, fish scramble, and the ranch rodeo. There will also be bounce houses and vendors available throughout the festival.
Hale said, "The fish scramble is unique to Star Valley. When I first moved here and heard about a fish scramble, I wasn't sure what that was."
There will be gold fish for kids 4 and under for them to catch and take home with them, Hale said.
"The two rodeos are definitely the most popular," Hale said.

She said the junior rodeo is free admission, and the ranch rodeo is $10 a ticket. You can purchase your ticket at the gate the night of. The Search and Rescue uses the ranch rodeo as a fundraiser and appreciates the support from those who attend.
The ranch rodeo will be on Saturday at 6:30 p.m.
"Everyone is invited to sit on the lawn to watch the fireworks whether or not they attend the ranch rodeo before," Hale said.
The fireworks will be at 10 p.m. on Saturday. Other events taking place on Saturday include the Afton Art Fair (10 a.m. to 4 p.m.), Heritage Hall of Fame (10 a.m.), Swift Idol Teen (noon), and the parade (5 p.m.).
Hale said the Town of Afton takes pride in hosting this festival to celebrate America's freedom.
"There's all kinds of events where there will be something for everyone to enjoy," Hale said.
You can find a detailed list of events for the festival in June 26, 2019 edition of the Star Valley Independent, at Afton Town Hall or by looking on the Town of Afton Facebook page.
Tagged:
Afton Freedom Festival
Camie Hale
Search & Rescue Ranch Rodeo