Annual census shows managers wolf numbers, locations
By Mike Koshmrl
Jackson Hole News & Guide
Via Wyoming News Exchange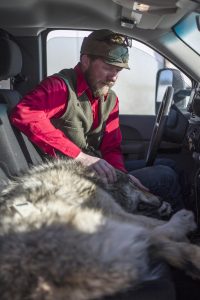 JACKSON — Ken Mills didn't seem fazed to have a deep-sleeping wolf riding shotgun.
The Wyoming Game and Fish Department biologist was on his 29th phone call since waking, and he relayed details of a record 11 wolves captured in a single day. The seat of his pickup was still wet from snow that melted off a sedated and dangerously cold young female lobo he trucked around much of the afternoon to warm up. Catching up with a Cody colleague, Mills was stoked on the day's success. The canine seatmate didn't warrant mention.
"It's been awesome this year," Mills said. "Everybody's killing it. I'm running out of collars."It was Feb. 22, and Mills was on the tail end of a routine long week of running around the Greater Yellowstone Ecosystem to capture, collar and track as many wolves as possible. It was a whirlwind, with Mills waking at the Whiskey Mountain Conservation Camp and driving to Dubois, into the Buffalo Valley, then Bryan Flats and the Upper Hoback, before reversing course to Jackson. Wolves were yielded at every stop.
The catching portion of the operation took place out of view, executed by pilots in a fixed-wing plane and nimble helicopter that worked closely together to spot and rapidly descend upon each wolf pack.
The "mugger," who rides in the chopper, is the person who finishes the job with a net gun and then tranquilizer dart. In this case it was Boise, Idaho, resident Kevin Coates, who by early afternoon had been subduing wolves all day. It was a thrilling yet nauseating and physically demanding task.
"Two a day will get your adrenaline going," Coates said. "More than that and you'll get sick."
Sprawled in the snow before Coates were his eighth and ninth wolves of the day. They were Horse Creek Pack animals, which he plucked from the forest three-quarters of a mile from the Horse Creek elk feedground about a dozen miles south of Jackson. One of the animals, a skinny young black male, had funky teeth and a hole in its face from a fight.
"When he was pup, he had distemper, and it causes the enamel to malform," Mills said. "I've never seen it in our wolves before."
The other Horse Creek wolf, grayer in tone, lacked signs of a severe bout of distemper, but had a body temperature too cold for Mills' liking. Something in the 101- to 102-degree range was desired, but a thermometer plunged into the wild canine's anus hovered nearer 98 degrees.
Wolves that have heard the clatter of helicopter blades before know that their best course of action is to bolt and head for the trees. A tactic to spook tree-obscured wolves back into the open is to shower them with cracker shells. Sometimes naive wolves are less prone to flee, and thus fail to get their hearts racing before they are hit by drugs that slow down their vitals.
"It's all about how hard they ran before they went down," Mills said. "It's more common for them to be hot than cold."
Mills knows off the top of his head the nitty-gritty details of the Horse Creek wolves.
They formed from former Pinnacle Peak Pack wolves, regulars of the National Elk Refuge, about eight years ago, and they run the show in the wild country that stretches between Cache and Granite creeks southeast of Jackson. The pack was tough to monitor much of this winter, because its two collared animals split off and were trying to make it on their own living near Game Creek.
"They'll have a rough go of it," Mills said.
The annual winter rush to catch and collar wolves in Jackson Hole and beyond is part of a hands-on monitoring program that's needed to ensure there are enough animals to meet requirements of an agreement the U.S. Fish and Wildlife Service struck with the Greater Yellowstone Ecosystem's three states. Wolves were reintroduced to the northern Rockies in the mid-1990s, and were protected by the Endangered Species Act until relatively recently.
The basement numbers of the controversial carnivore that must remain on the landscape are 10 breeding pairs and 100 wolves in Montana and Idaho, and 15 pairs and 150 animals in Wyoming.
Montana and Idaho have exceeded their goals for long enough that biologists no longer keep precise tabs on their populations, counting wolves one by one. Instead they've adopted models that provide a rough estimate.
It's different in Wyoming. For one, wolf range and the population is smaller. The federal government, which had jurisdiction just one year ago due to a sucessful-then-overturned lawsuit, also requires the Equality State's wildlife managers to keep an even closer watch — and so they do.
"We'll miss a few," Mills said. "Are there another 20 wolves out there that we don't count in the trophy game area? Doubtful. We're pretty tight on it. It's because of the collaring effort and the historical data. We know where these packs tend to establish."
Relatively little attention is paid to numbers in the "predator zone," where, as with coyotes statewide, there are no rules on how or when someone can kill a lobo. Although it's not an explicit goal of Wyoming's "dual-classification" approach to management, the system legalizes eradication of a native species in about 85 percent of the state.
Compared to neighboring Montana and Idaho, the population here is unique in that it's hemmed in by "tight sideboards," Mills said. When wolves leave the Greater Yellowstone region, he said, they have a very high chance of taking a liking to killing livestock and, in turn, being killed themselves. Wolves in the trophy game area are still hunted in the fall, but with closely monitored limits.
Even with the limited range, numbers significantly exceed the recovery goals and were last assessed at 380 wolves statewide, including some 210 animals in the trophy game area. New numbers are due out any week.
The last stop of the day was at a spot that straddles the line between the trophy game and predator areas. Mills' wolf-catching operation staged at the North Fork Fishermen's Creek trailhead, a popular snowmobiler's launchpad on the drive up to the Hoback Rim.
The helicopter pilot, a former mugger who's missing a front tooth from on-the-job hardship, touched down unexpectedly with another wolf aboard. It was a big female from the Dell Creek Pack whose thick black fur had started graying. A smudge of blood on the underside of the wolf's tail told the biologist she was in estrus. Her torso was cylindrical, likely full of elk, unlike her sleek counterparts from the Horse Creek Pack. Impressive specimen, Mills remarked.
"That's the biggest female I've ever handled," Mills said. "Look at that canine — that's one of the biggest I've ever seen. She's got a full gut, I'm sure of it. She's a big 'un.
"Everyone thinks every wolf is just humongous," he said. "Everyone thinks they have this easy life. But a wolf like this that's just humongous is just not the norm. It just isn't. Even though the Horse Creek wolves are sitting on a feedground, it's not like they're picking off an elk every night."
Mills chauffeured the sedated Horse Creek female all the way to Fishermen's Creek trailhead before she warmed enough to be flown back to her territory and safely released. As the afternoon progressed, her temperature steadily climbed back to normal and she regained enough consciousness and motor skills to lift her head.
Through her whole ordeal Mills kept close tabs on the young wolf's temperature and breathing, and pinched her tongue to reveal how quickly her blood was flowing. If color doesn't quickly return, it's a bad sign. At one point he squeezed her tongue, watched the color rush back, briskly petted the wolf's head and closed the door to an uncomfortably warm pickup.
Tagged:
Jackson Hole News & Guide
Wyoming News Exchange