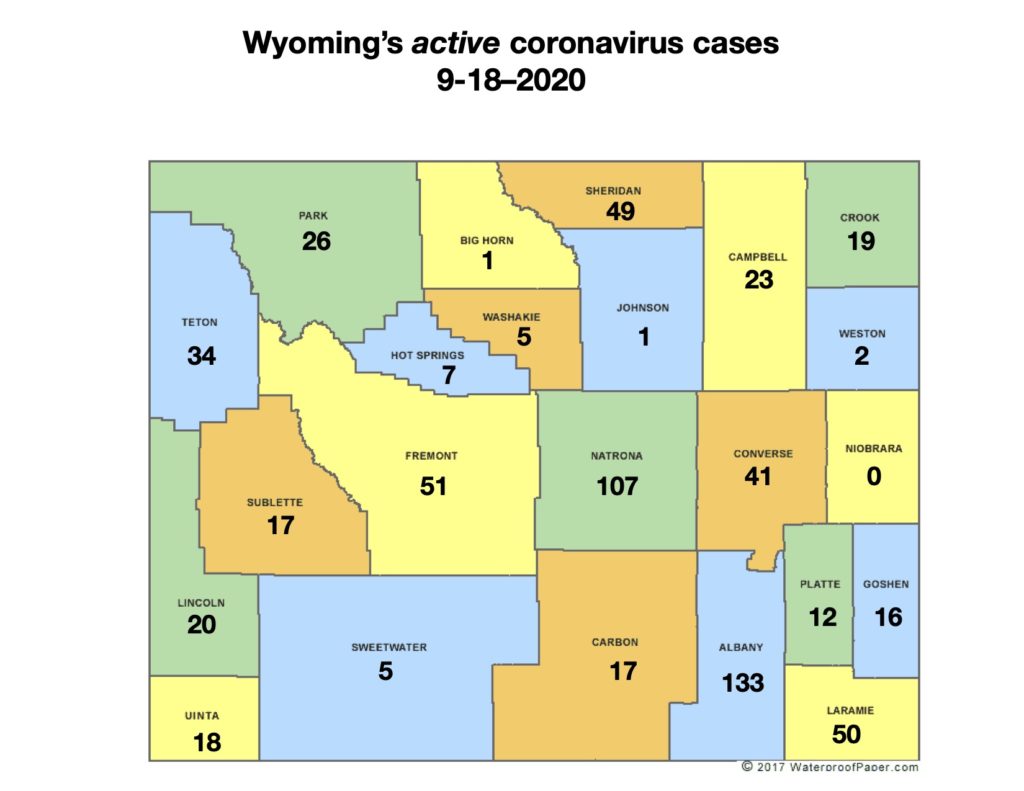 —————-
By The Wyoming News Exchange
Another 73 new confirmed cases of coronavirus were reported in Wyoming on Friday, boosting the number of active cases in the state to 654.
The Wyoming Department of Health, in its daily coronavirus update, said 15 counties reported new confirmed cases on Friday. The number of probable cases, those where patients have coronavirus symptoms and have been in contact with someone with a confirmed case but have not been tested, went up by 22 on Friday.
The numbers combined with 44 recoveries reported Friday left the state with 654 active cases, an increase of 51 from Thursday.
Albany County had 133 active cases; Natrona County had 107; Fremont County had 51; Laramie had 50; Sheridan had 49; Converse had 41; Teton had 34; Park had 26; Campbell had 23; Lincoln had 20; Crook had 19; Uinta had 18; Carbon and Sublette had 17; Goshen had 16; Platte had 12; Hot Springs had seven; Sweetwater and Washakie had five; Weston had two, and Big Horn and Johnson had one.
Niobrara County remained free of any active cases.
Department of Health figures indicated the active cases could be found among 532 patients with laboratory-confirmed coronavirus and 122 with probable cases.
The Health Department said the reports of new confirmed cases pushed the total number of confirmed cases seen since the illness was first detected in Wyoming in March to 4,009.
Albany and Natrona counties continued to lead the state in new confirmed cases, with Albany reporting 18 and Natrona reporting 12. Other counties with increases were Campbell, Carbon, Converse, Crook, Fremont, Hot Springs, Laramie, Lincoln, Park, Sheridan, Sublette, Sweetwater and Teton.
The increase in probable cases meant the number seen since mid-March climbed to 738 on Friday.
With 44 recoveries reported Friday, the number of people to recover from the illness since the pandemic began grew to 4,044, including 3,428 people with confirmed cases and 616 with probable cases.