Badger Creek Fire grows to more than 7,000 acres; relief not expected soon
By Ike Fredregill
Laramie Boomerang
Via Wyoming News Exchange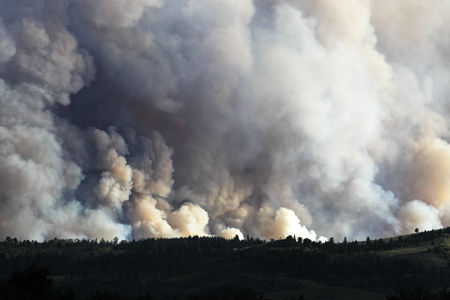 LARAMIE — Badger Creek Fire claimed three structures in the Wold Tract — one residence and two out buildings — and grew to more than 7,000 acres Wednesday, Rocky Mountain Black Team Incident Commander Shane Greer said.
"The owners of the structures have been notified," Albany County Sheriff Dave O'Malley said.
The Black Team, a Type II incident management group in charge of the wildfire, hosted a meeting Wednesday in conjunction with the sheriff's office, U.S. Forest Service and Albany County Emergency Management at the Albany County Fairgrounds.
Greer said though the team had only assumed command of the fire 24 hours ago, keeping the public informed about firefighting efforts was a priority for the team.
"As of midday, the fire was just over 7,000 acres," Greer said. "But I'll be honest, it's bigger than that now. It's very good at growing."
The commander showed dozens of attendees an updated fire map, which illustrated the blaze has taken a distorted horseshoe shape. Greer explained the northern leg of the fire was traveling north and northeast while the southern leg was moving north and east just above the Colorado border. The Gramm community was between the two legs, and he said despite daytime fire activity preventing fire personnel from entering the area, firefighters were working to protect Gramm structures in the mornings and evenings.
"I'm a firefighter," Greer said. "Yeah, I've got a bunch of fancy titles now, but my job is firefighter. I've been fighting forest fires for 31 years. Our mission is to get you back in your homes as quickly as we can, but we have to do it safely."
According to the forest service incident report, crews have started building containment lines in the southwest portion of the fire on the western side of Wyoming Highway 230.
No injuries have been reported in association with the fire as of press time Wednesday.
Incident Meteorologist Tim Mathewson said several weeks of hot, dry weather were assisting the wildfire's rapid spread.
"We are expecting scattered thunderstorms to produce wetting rain this weekend, but we've got a couple more hot, dry days ahead," Mathewson said.
The relative humidity in the area is currently about 10 percent, which has also contributed to fire growth, but he said remnants of Hurricane Bob traveling north toward Wyoming could bring the relative humidity up to about 40 percent within the next few days.
Air support continues to assist the fire fighters, but plumes of smoke decreased their effectiveness Wednesday, Black Team Operations Engineer Rodney Redinger said.
"We worked helicopters when and where we could," Redinger added. "But visibility made it difficult."
When asked what the community could do to support the incident command team, Greer said, "Not much."
"We have more food than I could possibly imagine eating, and we have a camp full of supplies," he said. "But you can help your local fire departments and police by getting in touch and seeing what they need."
Tagged:
Albany County
Badger Creek Fire
Laramie Wyoming
U.S. Forest Service