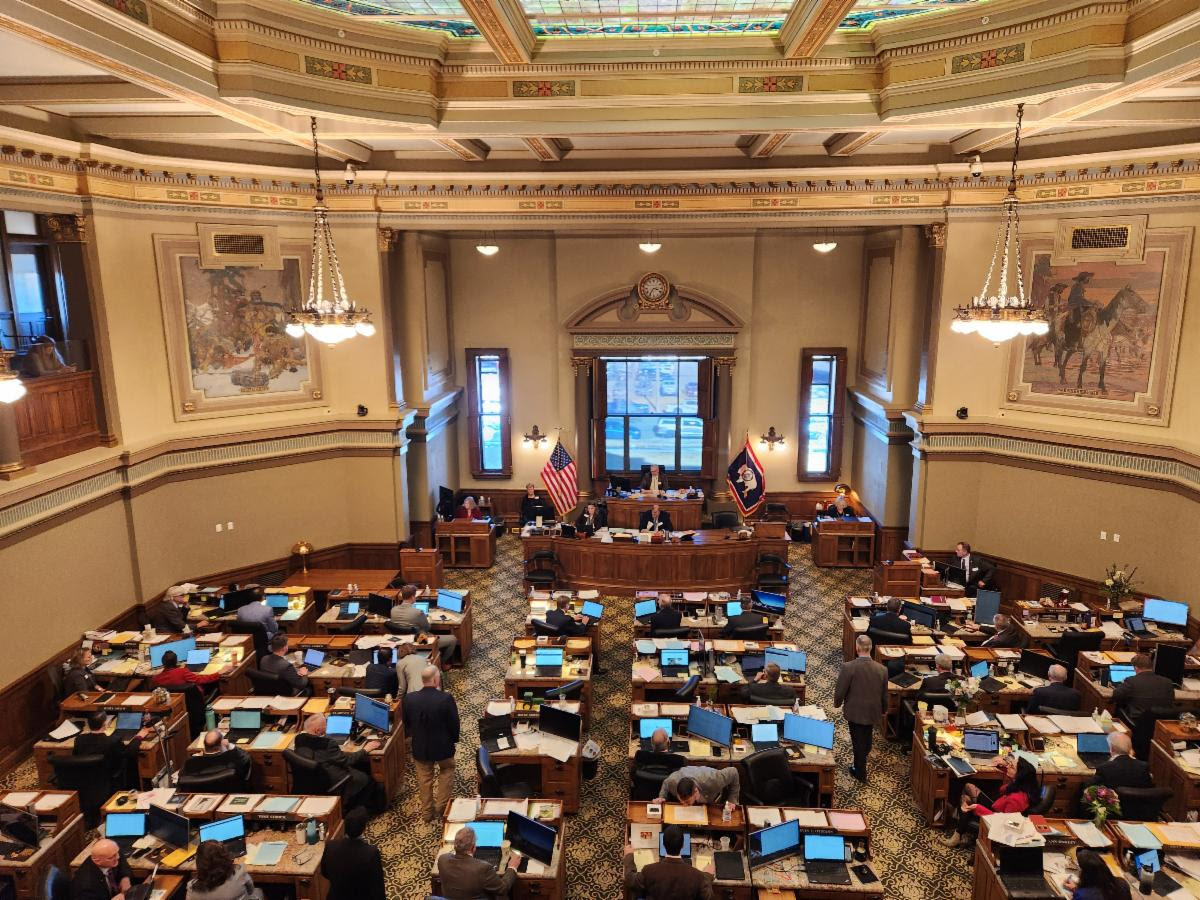 By Maya Shimizu Harris
Casper Star-Tribune
Via- Wyoming News Exchange
CASPER — House Democrats and members of the Wyoming Freedom Caucus voted to cut off discussion of bills Monday evening, killing "Chloe's law," a bill championed by the State Freedom Caucus Network that aimed to ban gender-affirming treatment for minors in Wyoming, along with eight other bills.
Monday was the last day for legislation to make it out of Committee of the Whole in their second chamber — the place where they are first debated on the Senate and House floors.
The Senate side cleared out all but two bills that were scheduled for discussion on Monday.
Speaker of the House Albert Sommers aimed to reciprocate the work of lawmakers across the hall and get through the entire list of bills that had been set for the body to consider that day.
"I made it clear to House members that we would stay in session until midnight to hear all of the Senate Bills on General File," Sommers said in a Tuesday statement. "Although many voted to continue tackling bills slated for discussion, the Freedom Caucus joined Democrats to stop debate, ensuring a number of bills still waiting to be debated would not be considered."
House Majority Floor Leader Chip Neiman, a Hulett Republican and ally of the far-right Wyoming Freedom Caucus, made the motion to adjourn with nine bills left on the general file list.
Besides "Chloe's law," other bills that weren't considered include a property tax relief bill, a school crosswalks appropriations bill and two bills taking aim at environmental, social and governance investing.
It's not unusual for debate on bills in the Committee of the Whole to be cut short, some lawmakers said.
Two legislators of vastly different political orientations — Jackson Democrat Mike Yin and Midwest Republican and Freedom Caucus ally Rep. Bill Allemand — agreed that at some point, it just becomes difficult for lawmakers to make good policy decisions because of fatigue.
As Allemand put it, "At eight o'clock at night, you're not making good law."
"I will say that I think the biggest reason for ending consideration of bills on general file earlier is just that we've debated all of the important issues for the state of Wyoming already," Yin said. "Of the Senate files that we got, I was satisfied that the most important bills had gotten covered."
Speaker Pro Tempore Clark Stith, who voted against the motion to adjourn, said he had hoped to debate Chloe's law and Senate File 136, a property tax relief bill, and thought it feasible to get through the list of legislation.
"The number of Senate bills that came over to the house was not a crushing number. We could have gotten through everything," he said.
The tensions around one of the bills that died on Monday were unique.
Late last week and over the weekend, national voices piled onto speaker Sommers for his decisions to hold some bills back or refer them to certain committees that were less favorable to their survival.
Among those who took shots at Sommers were State Freedom Caucus Network President Andrew Roth and Wyoming's Rep. Harriet Hageman.
On Friday, Roth posted a photo of Sommers on Twitter and highlighted three bills that had stalled in the House.
The State Freedom Caucus Network — a Washington, D.C.-based organization that aims to establish state freedom caucuses across the country — officially partnered with the hard-line conservative Wyoming Freedom Caucus in early January.
One of the bills that Roth mentioned in his tweet would have created an education savings account to fund private and homeschool education in Wyoming. Another would have banned classroom instruction on gender identity and sexual orientation in certain grades.
These two bills both cleared the Senate but were never considered for introduction in the House.
The last bill — "Chloe's law" — aimed to outlaw gender-affirming medical treatments for minors — died on Monday when the House voted to adjourn before discussing the bill.
At this point, the three bills are moot.
Hageman retweeted Roth's post on Saturday, saying that the bills were "about protecting our children."
"In Congress, I'm fighting for these very issues. I hope the Wyoming legislature will do the same," she said.
Sommers did allow "Chloe's law" to move forward, unlike the other two bills. But he came under fire for referring the legislation to the House Appropriations Committee rather than the House Labor and Health Committee where such bills are typically considered.
The speaker has said that he set up the Appropriations and Revenue committees with seasoned legislators who may be more equipped to assess "emotional bills" without letting outside pressure interfere with their decisions.
"I rely on those bodies to scrutinize weighty legislation because they understand the repercussions of legislation on Wyoming's citizens," Sommers said in a statement he issued on Sunday. "These two committees are led by four chairmen and other pillars of the Legislature. The members of Appropriations and Revenue are workhorses who use their experience to critically examine tough issues without letting rhetoric and intimidation get in the way."
The Wyoming Freedom Caucus rebelled against Sommers' decision to send "Chloe's law" to the Appropriations Committee, given that the panel was unlikely to favor the bill. (Rep. John Bear, chairman of the Wyoming Freedom Caucus, described it to the Star-Tribune as "a kill committee.")
Members attempted and failed to refer the bill to a different panel.
The House Appropriations Committee added extensive amendments to the bill and gave it a "do not pass" recommendation, meaning that it could still be debated and voted upon on the floor, but that it would automatically go to the bottom of the list of bills for the House to consider.
Bills at the bottom of that list are at greater risk of running out of time before the body can get to them.
Cheyenne Republican Sen. Anthony Bouchard, sponsor of "Chloe's law," said on Tuesday that he wasn't particularly disappointed that the bill met its end on Monday since it has been changed extensively in the House Appropriations Committee.
"It was dead when it came out of committee. It was gutted," Bouchard told the Star-Tribune.
The Wyoming Freedom Caucus mirrored that stance in a Tuesday statement it posted on Facebook.
"If the body truly wanted to protect children from butchery, more members would have supported our early efforts to pull and re-refer HB144 to a different committee before it was gutted by the House Appropriations committee," the statement said. "The WYFC does not believe in patting ourselves on the back for supporting do-nothing legislation with a good title."
Speaker Pro Tempore Stith pointed out that, if "Chloe's law" had made it past Committee of the Whole, lawmakers who didn't like the Appropriations Committee amendments could have tried to remove them on the floor.
"The whole floor could have adopted new amendments to restore it to its original condition, if a majority of the floor had wanted to do that," Stith said, adding that he personally would have been happy to vote for the bill as amended.
Bear, the Wyoming Freedom Caucus chairman, said in a text to the Star-Tribune that there were "not enough votes" in the House to change the amendments.
Let us know what you think!