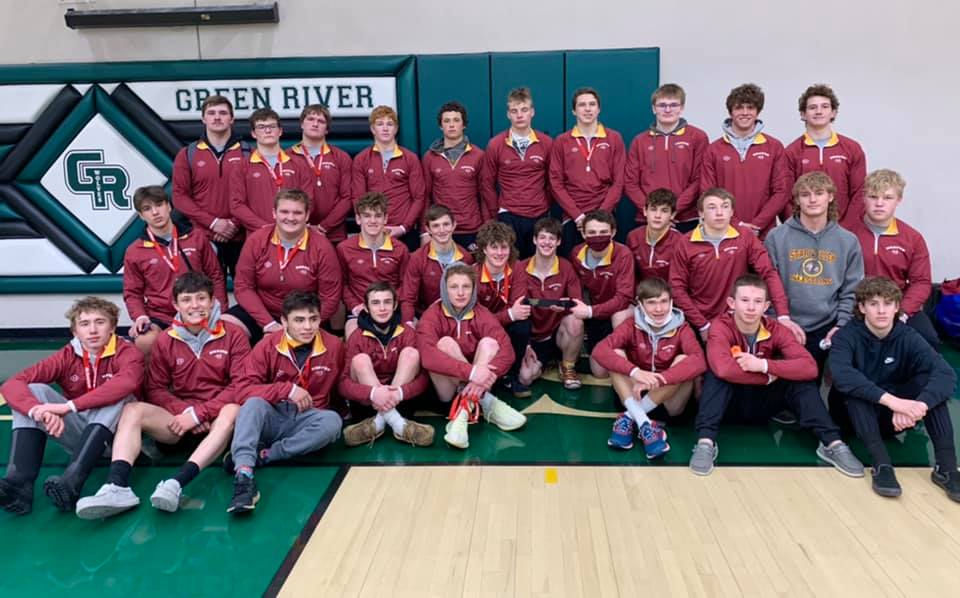 • The Wyoming 3A State Tournament is Friday, February 26 in Casper at the Wyoming Ford Center.
In a modified Regional Tournament, part of what has been a modified season, the Star Valley Braves continued to battle through the adversity to show they are the top wrestling program  in the state as they handily pulled away for the team title in Green River on Friday afternoon.
Star Valley compiled eight Regional Champions and rolled up 247.5 team points for the win. Host Green River was a distant second with 183.0. Lyman and Mountain View rounded out the team scores with 83.0 and 65.0 respectively.
The program now preps for a run at their sixth consecutive Wyoming 3A title in Casper next Friday.
SVI Media and Jason Hoopes will have audio coverage of the tournament.


WHSAA 3A Southwest Quadrant Qualifier Results for Star Valley
106
Malachi Patterson (14-1) place is unknown.
Quarterfinal – Axel Mackinnon (Green River) 3-3 won in sudden victory – 1 over Malachi Patterson (Star Valley) 14-1 (SV-1 7-5)
Cons. Round 1 – Malachi Patterson (Star Valley) 14-1 received a bye () (Bye)
Cons. Semi – Bridger Smith (Star Valley) 21-3 won by no contest over Malachi Patterson (Star Valley) 14-1 (NC)
106
Bridger Smith (21-3) placed 3rd and scored 10.0 team points.
Quarterfinal – Bridger Smith (Star Valley) 21-3 received a bye () (Bye)
Semifinal – Kazen Siler (Lyman) 31-7 won by fall over Bridger Smith (Star Valley) 21-3 (Fall 5:37)
Cons. Semi – Bridger Smith (Star Valley) 21-3 won by no contest over Malachi Patterson (Star Valley) 14-1 (NC)
3rd Place Match – Bridger Smith (Star Valley) 21-3 won by decision over Axel Mackinnon (Green River) 3-3 (Dec 8-2)
113
Weston Angell (8-5) placed 4th.
Quarterfinal – Porter Merritt (Star Valley) 11-4 won by fall over Weston Angell (Star Valley) 8-5 (Fall 1:01)
Cons. Round 1 – Weston Angell (Star Valley) 8-5 received a bye () (Bye)
Cons. Semi – Weston Angell (Star Valley) 8-5 won by fall over Nick Cook (Lyman) 25-13 (Fall 1:33)
3rd Place Match – Porter Merritt (Star Valley) 11-4 won by no contest over Weston Angell (Star Valley) 8-5 (NC)
113
Porter Merritt (11-4) placed 3rd and scored 15.0 team points.
Quarterfinal – Porter Merritt (Star Valley) 11-4 won by fall over Weston Angell (Star Valley) 8-5 (Fall 1:01)
Semifinal – Dominic Martinez (Green River) 13-2 won by fall over Porter Merritt (Star Valley) 11-4 (Fall 3:12)
Cons. Semi – Porter Merritt (Star Valley) 11-4 won by major decision over Jacob Cook (Green River) 2-5 (MD 9-1)
3rd Place Match – Porter Merritt (Star Valley) 11-4 won by no contest over Weston Angell (Star Valley) 8-5 (NC)
120
Raf Greene (11-2) placed 3rd.
Semifinal – Waylon Nelson (Star Valley) 23-2 won by no contest over Raf Greene (Star Valley) 11-2 (NC)
3rd Place Match – Raf Greene (Star Valley) 11-2 won by fall over Nick Weipert (Green River) 5-3 (Fall 3:39)
120
Waylon Nelson (23-2) placed 2nd and scored 14.0 team points.
Semifinal – Waylon Nelson (Star Valley) 23-2 won by no contest over Raf Greene (Star Valley) 11-2 (NC)
1st Place Match – Thomas Dalton (Green River) 27-3 won by decision over Waylon Nelson (Star Valley) 23-2 (Dec 4-2)
126
Kal Burk (12-1) placed 3rd.
Quarterfinal – Kal Burk (Star Valley) 12-1 received a bye () (Bye)
Semifinal – Jacob Guild (Star Valley) 23-2 won by no contest over Kal Burk (Star Valley) 12-1 (NC)
Cons. Semi – Kal Burk (Star Valley) 12-1 won by major decision over Clay Walker (Mountain View) 10-28 (MD 11-1)
3rd Place Match – Kal Burk (Star Valley) 12-1 won by fall over Ethan Guzman (Green River) 6-11 (Fall 0:52)
126
Jacob Guild (23-2) placed 1st and scored 22.0 team points.
Quarterfinal – Jacob Guild (Star Valley) 23-2 won by fall over Ethan Guzman (Green River) 6-11 (Fall 3:18)
Semifinal – Jacob Guild (Star Valley) 23-2 won by no contest over Kal Burk (Star Valley) 12-1 (NC)
1st Place Match – Jacob Guild (Star Valley) 23-2 won by decision over Kade Flores (Green River) 8-1 (Dec 6-3)
132
Kaleb Fila (14-12) placed 2nd and scored 16.0 team points.
Quarterfinal – Kaleb Fila (Star Valley) 14-12 received a bye () (Bye)
Semifinal – Kaleb Fila (Star Valley) 14-12 won by no contest over Jacob Isaacson (Star Valley) 10-5 (NC)
1st Place Match – Conner Todd (Green River) 24-9 won by decision over Kaleb Fila (Star Valley) 14-12 (Dec 4-2)
132
Jacob Isaacson (10-5) placed 4th.
Quarterfinal – Jacob Isaacson (Star Valley) 10-5 won by fall over Gus Roden (Mountain View) 17-17 (Fall 1:51)
Semifinal – Kaleb Fila (Star Valley) 14-12 won by no contest over Jacob Isaacson (Star Valley) 10-5 (NC)
Cons. Semi – Jacob Isaacson (Star Valley) 10-5 won by fall over Paxton Garner (Lyman) 21-20 (Fall 1:29)
3rd Place Match – Jaxxson Gomez (Green River) 7-9 won by decision over Jacob Isaacson (Star Valley) 10-5 (Dec 3-1)
138
Winston Green (10-7) placed 2nd and scored 14.0 team points.
Quarterfinal – Winston Green (Star Valley) 10-7 received a bye () (Bye)
Semifinal – Winston Green (Star Valley) 10-7 won by decision over Hunter Davis (Green River) 19-14 (Dec 8-7)
1st Place Match – Tanner Collins (Mountain View) 26-8 won by fall over Winston Green (Star Valley) 10-7 (Fall 0:43)
138
Joseph Naef (8-5) placed 3rd.
Quarterfinal – Joseph Naef (Star Valley) 8-5 received a bye () (Bye)
Semifinal – Tanner Collins (Mountain View) 26-8 won by decision over Joseph Naef (Star Valley) 8-5 (Dec 10-4)
Cons. Semi – Joseph Naef (Star Valley) 8-5 won by fall over Jared Rogers (Lyman) 18-10 (Fall 1:51)
3rd Place Match – Joseph Naef (Star Valley) 8-5 won by decision over Hunter Davis (Green River) 19-14 (Dec 9-2)
145
Brayden Andrews (12-1) placed 1st and scored 23.0 team points.
Quarterfinal – Brayden Andrews (Star Valley) 12-1 won by fall over Jayden Brown (Lyman) 5-24 (Fall 0:53)
Semifinal – Brayden Andrews (Star Valley) 12-1 won by no contest over Xavier Jirak (Star Valley) 11-8 (NC)
1st Place Match – Brayden Andrews (Star Valley) 12-1 won by major decision over Braxton Sabey (Lyman) 30-8 (MD 13-2)
145
Xavier Jirak (11-8) placed 3rd.
Quarterfinal – Xavier Jirak (Star Valley) 11-8 won by fall over Carson Eardley (Mountain View) 7-22 (Fall 1:04)
Semifinal – Brayden Andrews (Star Valley) 12-1 won by no contest over Xavier Jirak (Star Valley) 11-8 (NC)
Cons. Semi – Xavier Jirak (Star Valley) 11-8 won by decision over Tyson Muir (Mountain View) 14-15 (Dec 11-10)
3rd Place Match – Xavier Jirak (Star Valley) 11-8 won by fall over Brett Stanton (Green River) 16-19 (Fall 2:43)
152
Jesse Leavitt (9-4) place is unknown.
Quarterfinal – Zach Weipert (Green River) 18-13 won by fall over Jesse Leavitt (Star Valley) 9-4 (Fall 0:55)
Cons. Round 1 – Jesse Leavitt (Star Valley) 9-4 received a bye () (Bye)
Cons. Semi – Chevy Fackrell (Lyman) 28-5 won by fall over Jesse Leavitt (Star Valley) 9-4 (Fall 1:50)
152
Haze Child (21-2) placed 1st and scored 22.0 team points.
Quarterfinal – Haze Child (Star Valley) 21-2 won by fall over Rangle Osborne (Mountain View) 0-6 (Fall 0:15)
Semifinal – Haze Child (Star Valley) 21-2 won by fall over Chevy Fackrell (Lyman) 28-5 (Fall 3:41)
1st Place Match – Haze Child (Star Valley) 21-2 won by decision over Zach Weipert (Green River) 18-13 (Dec 6-0)
160
Joseph Thompson (20-7) placed 1st and scored 24.0 team points.
Quarterfinal – Joseph Thompson (Star Valley) 20-7 won by fall over Alexzander Hudson (Green River) 1-7 (Fall 0:30)
Semifinal – Joseph Thompson (Star Valley) 20-7 won by fall over Bodey Fraughton (Mountain View) 6-18 (Fall 1:49)
1st Place Match – Joseph Thompson (Star Valley) 20-7 won by no contest over Joshua Semadeni (Star Valley) 10-6 (NC)
160
Joshua Semadeni (10-6) placed 2nd.
Quarterfinal – Joshua Semadeni (Star Valley) 10-6 received a bye () (Bye)
Semifinal – Joshua Semadeni (Star Valley) 10-6 won by fall over Jean Nelson (Lyman) 19-18 (Fall 1:37)
1st Place Match – Joseph Thompson (Star Valley) 20-7 won by no contest over Joshua Semadeni (Star Valley) 10-6 (NC)
170
Harrison Hoopes (23-3) placed 1st and scored 19.5 team points.
Semifinal – Harrison Hoopes (Star Valley) 23-3 won by fall over Brandon Beck (Star Valley) 6-5 (Fall 1:18)
1st Place Match – Harrison Hoopes (Star Valley) 23-3 won by tech fall over Max Orr (Green River) 11-23 (TF-1.5 4:40 (16-0))
170
Brandon Beck (6-5) placed 3rd.
Semifinal – Harrison Hoopes (Star Valley) 23-3 won by fall over Brandon Beck (Star Valley) 6-5 (Fall 1:18)
3rd Place Match – Brandon Beck (Star Valley) 6-5 won by fall over Daniel Harris (Mountain View) 8-12 (Fall 2:09)
182
Zachary Patterson (26-3) placed 1st and scored 18.0 team points.
Semifinal – Zachary Patterson (Star Valley) 26-3 won by fall over Tyler Waters (Green River) 8-18 (Fall 0:33)
1st Place Match – Zachary Patterson (Star Valley) 26-3 won by decision over Mark Walker (Mountain View) 20-8 (Dec 8-3)
182
Taggart Heward (7-6) placed 3rd.
Semifinal – Mark Walker (Mountain View) 20-8 won by fall over Taggart Heward (Star Valley) 7-6 (Fall 1:22)
3rd Place Match – Taggart Heward (Star Valley) 7-6 won by fall over Tyler Waters (Green River) 8-18 (Fall 1:33)
195
Tony Mickelson (19-7) placed 1st and scored 20.0 team points.
Semifinal – Tony Mickelson (Star Valley) 19-7 won by no contest over Weslee Turner (Star Valley) 5-4 (NC)
1st Place Match – Tony Mickelson (Star Valley) 19-7 won by fall over Michael Cynova (Green River) 17-14 (Fall 5:09)
195
Weslee Turner (5-4) placed 3rd.
Semifinal – Tony Mickelson (Star Valley) 19-7 won by no contest over Weslee Turner (Star Valley) 5-4 (NC)
3rd Place Match – Weslee Turner (Star Valley) 5-4 won by fall over Colter Bindl (Mountain View) 1-16 (Fall 1:12)
220
Kysen Hebdon (16-10) placed 2nd and scored 16.0 team points.
Quarterfinal – Kysen Hebdon (Star Valley) 16-10 received a bye () (Bye)
Semifinal – Kysen Hebdon (Star Valley) 16-10 won by fall over Trever Condos (Mountain View) 16-13 (Fall 5:17)
1st Place Match – Deylin Miller (Green River) 17-10 won by fall over Kysen Hebdon (Star Valley) 16-10 (Fall 2:23)
220
Aiden Crook (9-4) placed 3rd.
Quarterfinal – Aiden Crook (Star Valley) 9-4 received a bye () (Bye)
Semifinal – Deylin Miller (Green River) 17-10 won by fall over Aiden Crook (Star Valley) 9-4 (Fall 3:54)
Cons. Semi – Aiden Crook (Star Valley) 9-4 received a bye () (Bye)
3rd Place Match – Aiden Crook (Star Valley) 9-4 won by decision over Trever Condos (Mountain View) 16-13 (Dec 5-2)
285
Carter White (5-6) placed 2nd and scored 14.0 team points.
Semifinal – Carter White (Star Valley) 5-6 won by fall over Coby Jones (Mountain View) 5-11 (Fall 1:27)
1st Place Match – Gabe Neild (Star Valley) 14-4 won by no contest over Carter White (Star Valley) 5-6 (NC)
285
Gabe Nield (14-4) placed 1st.
Semifinal – Gabe Nield (Star Valley) 14-4 received a bye () (Bye)
1st Place Match – Gabe Nield (Star Valley) 14-4 won by no contest over Carter White (Star Valley) 5-6 (NC)