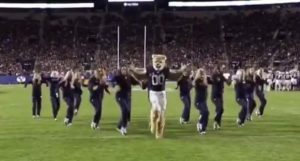 BYU's football team may have seen their fair share of struggles on the field this season, but the mascot has just won the internet, again.  Cosmo the Cougar, BYU's mascot, recently joined the school's dance team on the field to dance to "Rollie with a Dab of Ranch" by Ayo & Teo.  The video was posted on Twitter and has already reached over 75,000 re-tweets and 190,000 likes.  The video itself has been viewed hundreds of thousands of times.
The Deseret News reported that Cosmo made headlines for a very similar dance around the same time last year in a video that was viewed 1.2 million times.
Let us know what you think!