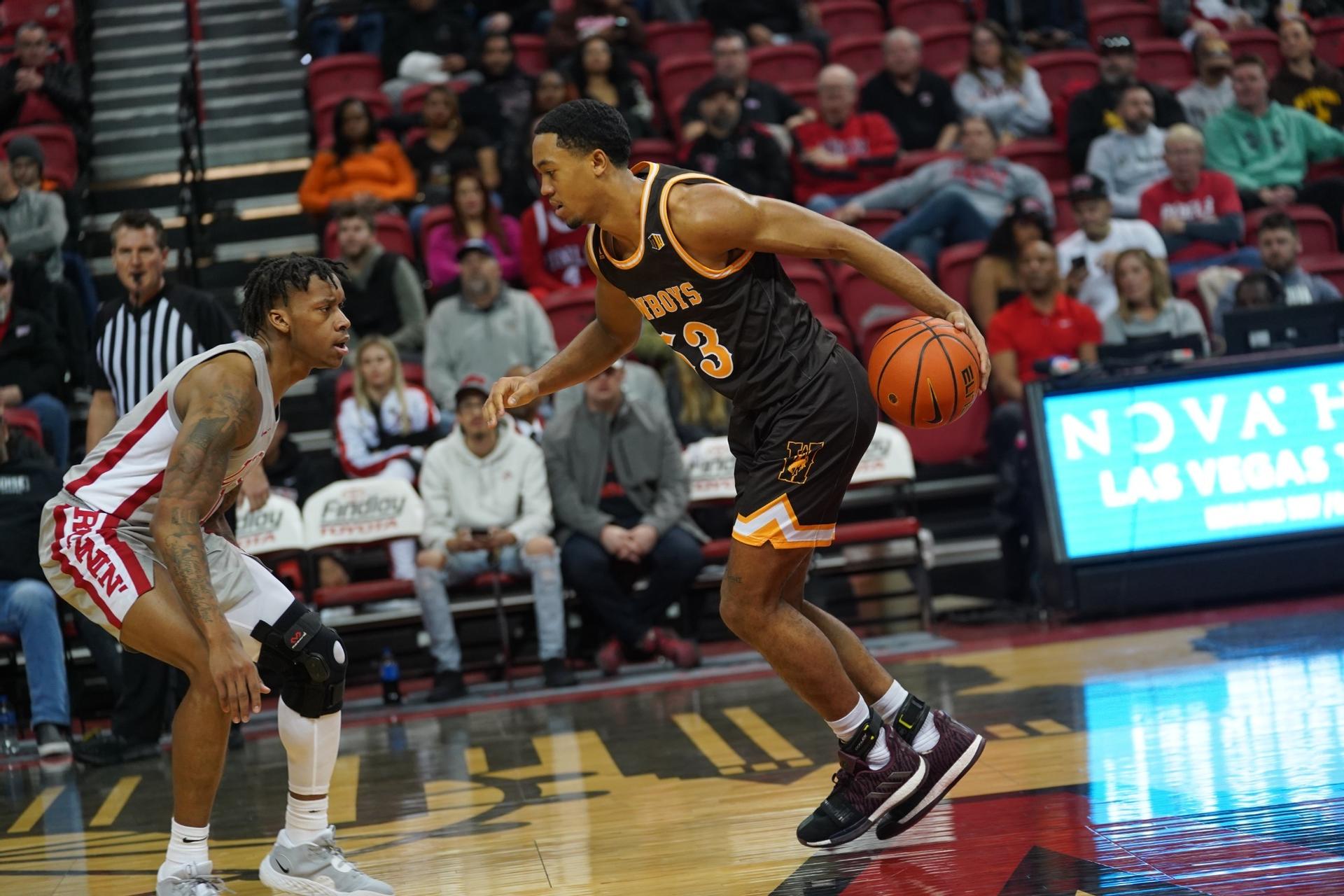 • Pokes tie season- high with 14 threes
Nick Seeman
Assistant Athletic Director, Communications
University of Wyoming Athletics
LAS VEGAS (Jan. 24, 2023) – The Wyoming Cowboys could not overcome the hot shooting of the Runnin' Rebels in the first half in an 86-72 loss to UNLV in the Thomas and Mack Center in Las Vegas on Tuesday evening. The two teams combined for 25 threes on the night. Wyoming hit 14 triples on the night tying a season-high, but the Runnin' Rebels were 11-of-20 from behind the arc for 55 percent.
"You have to have a level of urgency like we did for the Colorado State game," UW head coach Jeff Linder said.  "If you come out and play as hard as we did against Colorado State you probably don't put yourself in that position (of being behind early vs. UNLV).  For whatever reason, this team struggles to play with an effort level that is required to win at this level.  You're talking about one of the better leagues in the country.  We're not talented enough where we can just show up and play.  You have to play with a level of desperation that allows you to make the other team feel uncomfortable and we just didn't do that tonight.
Wyoming was led by Noah Reynolds with 23 points for his seventh game with 20 or more points this season. He hit a career-high four three pointers in the game. Xavier DuSell added 18 points and tied a career-high with six three-pointers, as his 18-points was a season-high. Hunter Maldonado added 11 points for his 97th game in double-figures in his career.
The Pokes finished the night shooting 41 percent from the field but shot 42 percent from behind the arc going 14-of-33. UNLV finished the night shooting 54 percent from the field. Both teams combined for only 13 turnovers with six from the Cowboys. The Runnin' Rebels held the advantaged on the glass 33-30.
"I don't think offensively was the issue," Linder said. "It comes down to stepping up and making open shots.  When you are missing shots, you have to find a way to make the other team miss shots so the game doesn't get away from you.  We had a couple of those stretches tonight when we got it close but then UNLV went on a run and now you are kind of behind the eight ball again. We've got to try to find a way to get better.  Hopefully, having a week off between now and when we play Fresno some of these guys who are banged up will have a chance to get healthy and hopefully maybe we'll get Brendan Wenzel back before next Tuesday."

The Runnin' Rebels would race out to an early 6-0 lead on the Pokes, but a triple from DuSell and jumper from Reynolds made it a 6-5 game. UNLV would answer with a three-pointer and take a 9-5 advantage with 16:21 left in the first half.
UNLV would go on a 5-0 run to take a 14-7 lead, but DuSell answered with another three-pointer for a 14-10 game with 12:46 left in the first frame. Elijah Harkless would help UNLV build a seven-point lead, but a free throw from Ethan Anderson and layup from Maldonado made it a 19-15 game with 9:41 left in the opening stanza.
Hunter Thompson would add a triple and set up a transition layup from Reynolds to make it a one-point UNLV lead at 21-20 with eight minutes left in the opening 20 minutes. UNLV went on a 6-0 run after going scoreless for over two and half minutes to take a 26-20 lead with under five minutes in the half.
UNLV would take a 31-23 lead on a 5-0 run over a minute with three minutes left in the half. The lead would be pushed to as much as 13 with their fifth triple of the half. But the Pokes added a pair of threes from Jeremiah Oden and Thompson, but Jordan McCabe added a three to close the half for a 41-31 UNLV after 20 minutes.
After Maldonado opened the half with a bucket, the Runnin' Rebels would use the three ball and the free throw line to build a 50-35 lead on the Pokes. Reynolds went on a 5-0 run himself and made it a 10-point UNLV lead at 55-45 with 14:03 left in the game, as he would get into double-figures.
DuSell would add a three-pointer for his fourth of the game after a flopping call free throw for a 58-49 game. Anderson would then add free throws for a seven-point game with just over 12 minutes left to cap a 6-0 run. DuSell added his fifth three-pointer of the game for a 60-54 game with just under 11 minutes left.
Thompson would make it a five-point game, but UNLV's 11 three-pointer of the game pushed it to an eight-point lead halfway through the half. Reynolds hit a three following, but the Runnin' Rebels would build the lead back to 16-points going on a 11-0 run with just under six minutes left.
DuSell tied his career-high and Maldonado added a three for a 10-point game at 76-66 with six minutes left. Reynolds capped the 9-0 run with his third shot from behind the arc for a 76-69 game with 4:39 left. Reynolds made it a six-point game, but Harkless added an and-one play for an 81-72 game with 3:16 left.
UNLV used the free throw line to build an 86-72 advantage with just over two minutes left. UNLV would use that to take the contest 86-72.
UNLV was led by Harkless with 28 points on the night. McCabe added 12 points and had four assists on the night
The Cowboys enjoy their second idle week of the Mountain West Conference season. Wyoming will host Fresno State on Jan. 31 at 8 p.m. inside the Arena-Auditorium.
Let us know what you think!
Tagged:
Hunter Maldonado
Jeff Linder
Noah Reynolds
UNLV Runnin' Rebels
Wyoming Basketball
Xavier DuSell