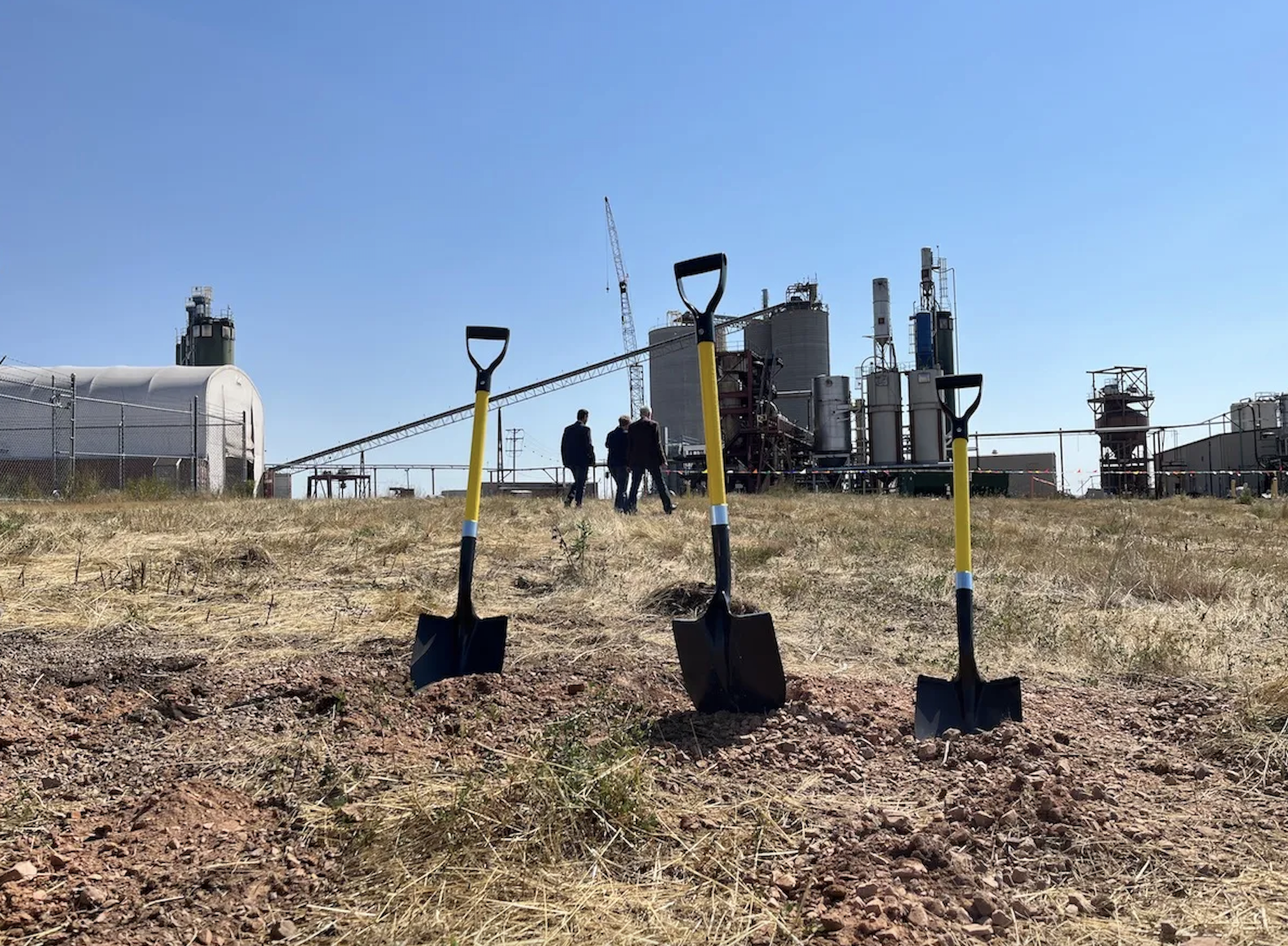 By Dustin Bleizeffer, WyoFile.com
This session's crop of consequential energy bills can largely be sorted into two categories: those aiming to bolster Wyoming's fossil fuels industry and those erecting cautious sideboards for the expanding renewable energy sector.
Legislation employed mechanisms ranging from mandate to litigation to repeal and boycott to achieve those goals. Fewer than half of the 14 major pieces of energy legislation are still in play as of Friday.
It's been a scattershot approach, according to the Wyoming Outdoor Council's Energy and Climate Policy Director John Burrows, that's done little to preserve the state's fossil fuel industries or capitalize on the growing interest in, and economic opportunities of, transitioning to cleaner energy.
"This year it's been a collage of bills related to energy with lots of talk and honestly not a whole lot to show for it," he said. He believes much of the talk should continue in the interim to generate more solutions-based approaches, he said.
For example, one bill attempting to repeal net-metering for rooftop solar — which the Outdoor Council opposed — ultimately failed but generated hours of public and legislative discussion, proving public interest is ample on that topic.
One mounting issue in the state that the Legislature didn't take on, Burrows added, is the potential industrialization of undisturbed lands for commercial-scale wind and solar development.
"This is a really important issue that most folks agree on when we think about renewable energy siting, to ensure that we are protecting valuable habitats and landscapes from new development," Burrows said.
The primary legislative approach this session to help preserve Wyoming's shrinking coal industry has been to delay the retirement of coal-fired power plants. Lawmakers turned primarily to state mandates to accomplish this aim.
Senate File – 142 Carbon capture and sequestration builds on past legislation to force a business arrangement that results in retrofitting a coal unit with carbon capture, utilization and sequestration technology. The bill, sponsored by Sen. Charles Scott (R-Casper), presumes that taking the CO2 that's captured at the smokestack and pumping it into oilfields to produce oil would generate more than enough revenue to pay for a CCUS retrofit.
But conservationists, economists and state officials alike worried that SF 142 goes too far, and would likely expose ratepayers to a costly technology application that's so far unproven.
"Despite all of these various scenarios and studies, none have resulted in a commercially and economically viable means of retrofitting these coal-fired facilities [with CCUS] in a manner that does not result in significant cost increases and long term risks that are going to be borne by Wyoming utility ratepayers," Wyoming Office of Consumer Advocate Anthony Ornelas told lawmakers this week.
The bill has yet to receive a vote in the House Appropriations Committee despite close to three hours of discussion and public testimony over two meetings.
House Bill 193 – Carbon capture energy standards-repeal would have ended Wyoming's existing CCUS mandates for coal-fired power plants. That measure met a quick death when it failed introduction on the House floor.
Litigation is the preferred method to keep Wyoming coal flowing to other states.
House Bill 69 – Coal-fired facility closures litigation funding-amendments sailed through the Legislature and was signed into law by Gov. Mark Gordon Feb. 15. It re-appropriates funds that were set aside years ago to sue entities opposing West coast coal port expansions — a legal battle that Wyoming and Montana lost in 2020.
Now, Gordon's office has $1.2 million to, instead, hire attorneys to challenge coal-fired power plant closures proposed in other states.

On the renewable energy front, Senate File 92 – Small customer electrical generation would have repealed net-metering for small rooftop solar arrays.
The bill, sponsored by Sen. Cale Case (R-Lander), was an attempt to prevent ratepayers without rooftop solar from subsidizing those with solar arrays, he said. But opponents argued that any amount of subsidization — if any exists — is minor and not worth scrapping a regulated utility's obligation to compensate homes and businesses that pump solar-generated electricity back into the grid.
"We continue to hear from communities and members that they'd like to see an increase in the net-metering cap that is currently being placed on small-scale distributed solar and wind, especially for local governments," Burrows of the Wyoming Outdoor Council said.
The bill failed to move out of the House Travel, Recreation, Wildlife and Cultural Resources Committee.
House Bill 106 – Eminent domain-wind energy collector systems would have imposed a moratorium on the use of eminent domain for wind energy. The bill was sent to the governor's desk, but Gordon vetoed it because the measure "would interfere with the rights of private landowners to exercise their private property and contractual rights, as well as their right to contract with whomever they choose," he said.
Wyoming lawmakers also proposed a ban: Senate Joint Resolution 4 – Phasing out new electric vehicle sales by 2035. The measure failed to make it out of the Senate Minerals, Business and Economic Development Committee. Backers, however, claimed it achieved its intent by making national headlines with the message that some carbon emission-cutting efforts just aren't practical in Wyoming.
Fearing a "social" threat to the state's fossil fuel industries, two bills would have boycotted contractors and investment funds that tout environmental, social and governance missions: Senate File 159 – Stop ESG-Eliminate economic boycott act and Senate File 172 – Stop ESG-State funds fiduciary duty act.
Both measures were still alive as of this publication, but faced mounting skepticism with some noting that even several of Wyoming's biggest fossil fuel companies, including coal producer Arch Resources and natural gas producer Jonah Energy, have ESG missions.
"The question is, are we biting off our noses to spite our own face," Rep. Bob Nicholas (R-Cheyenne) said this week. "I don't think it'll be possible for us to do this without losing money."
Though lawmakers committed to revisiting many of the failed energy bills in the interim, observers said energy legislation this session made for a lot of talk about Wyoming energy priorities without much to show for a state in the midst of a major energy transition.
"It was a lot of rhetoric," Powder River Basin Resource Council attorney and lobbyist Shannon Anderson said. "It's the implementation of that rhetoric where they're running into trouble."
As an exporter of electricity and fossil fuel commodities, Wyoming has always been a "market taker," Anderson said. And it seems lawmakers are struggling with how the state can transform its fossil fuel wealth into market power.
"The market is headed one way and Wyoming is running in the opposite direction," Anderson said. "We throw up these bills, but they're either too extreme or they're not actually going to make a difference."
Carrying good discussions on failed energy bills into the interim "is a good thing, actually," Wyoming Mining Association Executive Director Travis Deti said.
In some cases, lawmakers may have taken on approaches to Wyoming's energy challenges that are difficult to enact, Deti said. But he's been impressed with a willingness to take on big, difficult energy issues.
"What the legislative role can be is the work they've done with the University of Wyoming, the School of Energy Resources and that sort of thing" to push energy research and development, he said. "Provide funding for those things … and they've been generous in that."
Let us know what you think!
Tagged:
House Bill 193
House Bill 69
John Burrows
Sen. Charles Scott
Senate File 142
Wyoming coal
Wyoming Outdoor Council