Red Cross Blood Drive – Afton
03/24/2023 01:00 PM - 03/24/2023 07:00 PM
Red Red Cross Blood Drive
Friday, March 24 in the Afton LDS Tabernacle. 1-7 p.m.
To schedule your appointment or for more information, visit redcrossblood.org and enter the sponsor code: "Afton Wyoming Stake" or contact Kyle Roniger at kyleroniger@gmail.com.
If you have questions regarding your eligibility to donate blood, please call 1-866-236-3276.
Come give in March and get a $10 Visa Prepaid Card by email. Plus, get a chance to win a $3,000 Visa Prepaid Card to help with gas or grocery expenses! You could be one of five lucky winners. Lend an arm; we'll lend a hand. Terms apply: rcblood.org/help.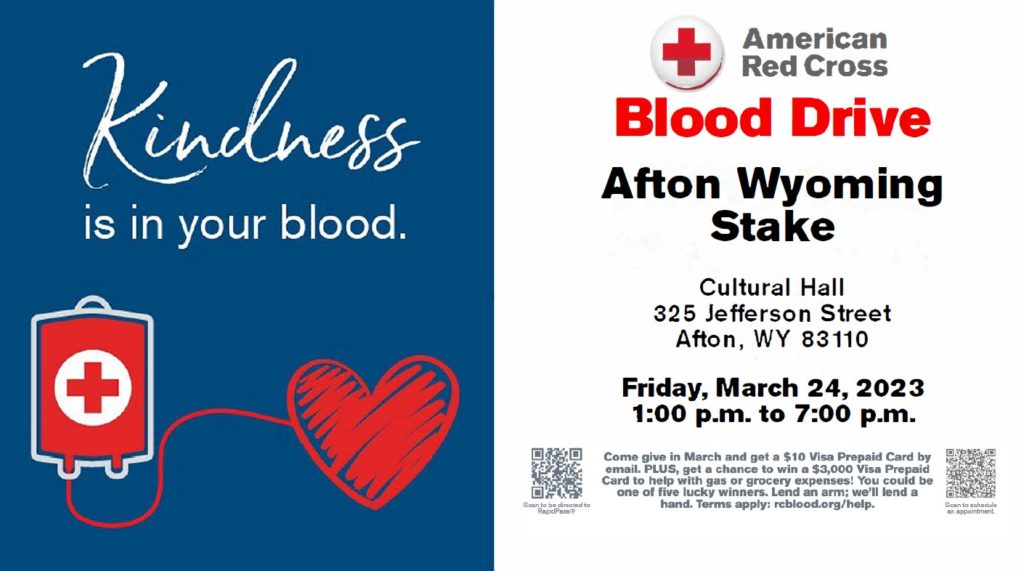 More Upcoming Events