Star Valley Rancher & Farmer Benefit Concert
03/23/2023 07:00 PM - 03/23/2023 09:00 PM
Give back to the future agriculture community in Star Valley by attending the Star Valley Farmer & Rancher Benefit Concert! Thursday, March 23 at 7:00 p.m. at the Afton Ford Theatre.
Featuring live music from Brenn Hill, Jamie Nield, and the Arbizu Family.
Pre-sale ticket holders will receive a delicious meal of BB Wagyu meatballs, mashed potatoes, corn, roll, and a drink. Presale tickets to include the discount and the meal must be purchased by Friday, March 17. Ticket prices will increase on March 18 and will not include the meal.
Come support our agricultural heritage at this fun community event!
Brenn Hill spoke with Duke Dance as part of SVI Radio's Weekday Wakeup morning show. He detailed the purpose behind the event and the concert. The full interview is below.
For more details, click here.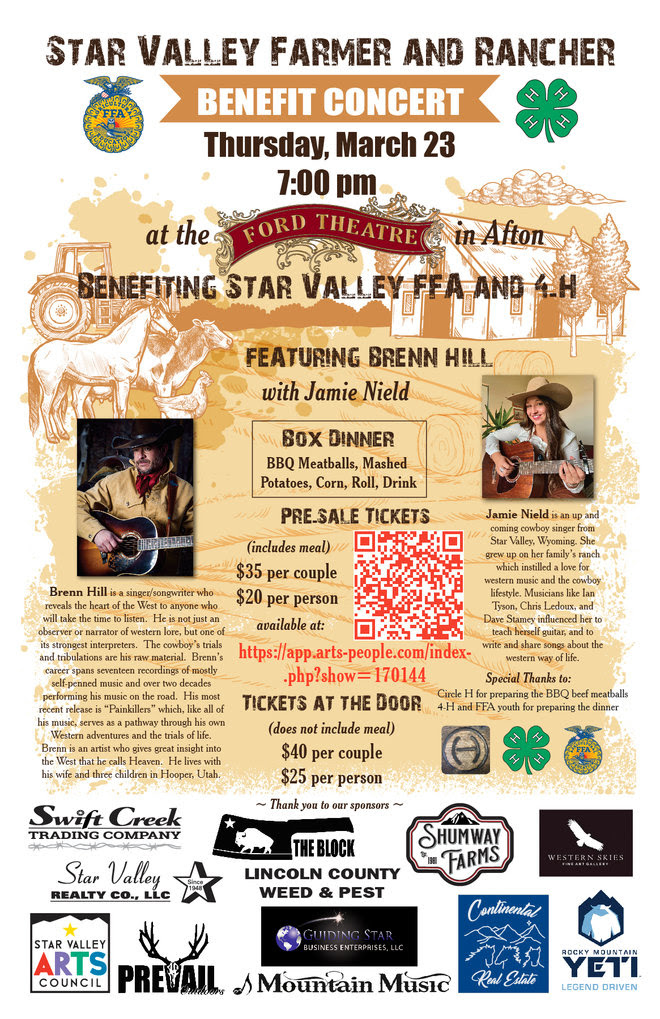 More Upcoming Events