Family run is part of family fun at the Star Valley Meat Block
◆ Local business is USDA certified.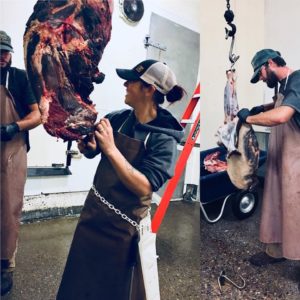 When it comes to owning and operating a family business, the Williams Family has things down, pat.
First, it takes a solid family willing to get involved and help. Family is a BIG deal for the Williams clan.
Tylee Roberts Williams is a sixth generation Star Valley girl.
Tylee's dad (Robert "Whompa" Roberts) is from the Etna Robert's clan.
Tylee's mother Cinta Borden moved to Star Valley in the late 70's with her parents Frank and Kittie Borden from Truckee California.
"Frank and Kittie owned and operated several successful businesses in Thayne for years, including Borden's Repair Shop, Big Game Realty, and the original Skidoo dealership (even though the family is big time Polaris fans now)," said Tylee. "Frank and Kittie also operated the outfitting camp located up Swift Creek for years."
According to Tylee, hunting has been part of the family way "of life for decades."
Tylee's husband, Grant, moved to Star Valley in 2011 to work at Smoky Canyon mine.
Tylee and Grant met in 2012 and wed in 2013 after they discovered their mutual love for each other, the mountains, rivers, and people that live in Star Valley.
Now they have three children: Kayden, Kenley, and Raegenn.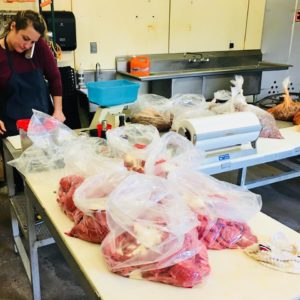 Recently Grant's parents (Bud and Eddie) retired to the Star Valley from their home in northern Montana.
"Luckily we have lots of family and friends to lean on here to help us with the business," Tylee said.
The family business is The Star Valley Meat Block.
"Tylee never thought she would be a butcher, but this business has taught us all so much," said Grant. "It has enhanced our outlook on what we do. We have become very passionate about the food we eat and provide to families."
Grant and Tylee purchased the meat packing plant in June of 2017. Neither of them had any meat processing experience "besides wild game and Grant's uncle had a meat shop that he helped out with as a kid."
"We had been looking for a local business to purchase for a couple of years that would help us put our roots down and stay in the valley," said Tylee. "We can't imagine a better place to raise kids. Grant works full time up at the mine for Simplot and plans to keep on that path, but we were looking for a business that [I] could run and grow a career with and maybe develop a business our kids could take over if they want to stay in Star Valley."
According to Grant and Tylee, the previous owners actually approached them when they heard the couple was looking for a business.
"We started learning all about the meat business," Tylee said. "It seemed like a steady and sustainable business working with a lot of good people in the valley so we decided to give it a go."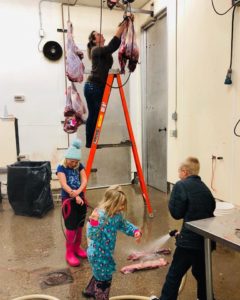 That decision proved to be a good one. Tylee is a hands on, people oriented person. Grant is good with numbers and figuring things out.
"One of our goals was to become USDA Inspected within thee-years, if possible, to help supply a growing demand for locally grown food," said Tylee. "One of the biggest reasons we decided to pursue the USDA certification was to find a sustainable business year round. Our business provides several good paying jobs and we didn't want it to just be seasonal. We have really enjoyed the people who work at The Block. They all work hard and share the same compassion about providing quality and safe food to our community. USDA certification allows for the meat we process to be sold at restaurants, grocery stores, farmers markets, or direct to customers. Before USDA certification this was not possible. [Having] this allows us to expand our business in several directions."
A second reason for getting USDA certification, according to Tylee, is to be able to offer expanded services to Star Valley producers and consumers.
"Helping the community and others has always been in Tylee's blood and many of our local food growers will no longer have to travel over many miles to be able to provide quality meats to our local and regional farmers markets, grocery stores and restaurants," said Grant. "Current USDA plants that they use are located in Utah and Idaho."
And, of course there is the benefit of knowing exactly where the food you are eating is coming from, Tylee said.
"We look forward to being able to provide local beef, pork, and lamb from our local growers to our local community," she said.

Becoming a USDA certified meat processing and packing facility takes some work.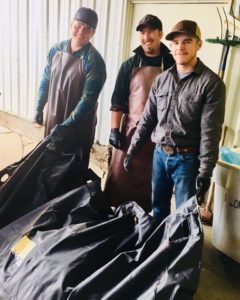 "We had to do a several updates to the plant and do a written plan describing the potential hazards that could occur and the ways we prevent them from happening," said Tylee. "We also have detailed written plans to ensure humane handling of the animals, a food defense plan to prevent adulterated product and a logging system that shows we are following the procedures set to provide a safe product. We have been doing training with our crew for about a year getting ready for this transition. It's a lot!"
"We will have an inspector and a vet on site at all USDA slaughter days," Tylee continued. "There will be periodic inspections from a USDA inspector during processing. The inspector will be monitoring our logging system to ensure each step is taken properly. Our idea is to do quality over quantity to ensure we are doing our part of providing a safe product."
According to Tylee, she has already talked with people and is starting to plan a schedule.
"Our area residents and consumers have the opportunity to eat WYOMING raised and produced food and support several local families," Tylee said. "We will able to sell our products to other grocery stores, restaurants, and direct to customers."
With several of their business goals met, the Williams Family is looking to the future.
"We plan to work hard on learning the new business and eventually to build/expand our facility to be able to provide more good paying jobs and produce a larger selection of products," Tylee said.
Star Valley Meat Block is located at 50 Westwood Lane, in Thayne. Contact the business by calling (307) 883-2397 (ask for Tylee); or email: starvalleymeatblock@gmail.com. Information on the business is also available on Instagram: @starvalleymeatblock; or on Facebook at Star Valley Meat Block.
"It is hard work, and long hours," said Tylee. "Meat butchering is kind of a dying trade but a trade that we need. I cannot tell you how humbled we have become in learning the ropes of running a business. No one has any idea the ups-and-downs of running a business until they do it."
"We also have been very lucky with good help, without them this would not be possible," she added. "They all are putting their best foot forward each and every day."
The Star Valley Meat Block team is making a name for itself, already, Tylee said.
"At our final inspection before getting USDA approval the inspectors from the regional office in Boise were super complimentary of how well we fixed the plant up and developed our operating and food safety plans ourselves, without consultants, and how well each employee knew the rules," she said. "Most [businesses' don't start implementing [those things] before approval, so we have a head start."
According to Tylee and Grant, the best things about owning the business are "he relationships we have made with the employees, growers, and our customers."
"Thanks for all the support from the community the last three years as we learned a new business," Tylee said. "Big things are ahead!"
Tagged:
Star Valley Meat Block
USDA