First Significant Snow Storm of the Winter Expected To Impact Star Valley Thursday Night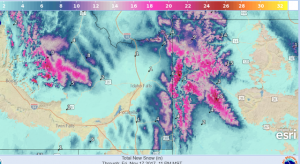 The National Weather Service is predicting the first significant snow storm of the season to move through Star Valley and western Wyoming Thursday night and Friday morning, impacting road and travel conditions.
Local meteorologist Jack Hales reports on his blog that a Winter Storm Watch will be in effect late Thursday night through Friday afternoon.  Heavy snow will be possible with 3-6 inches of accumulation on the valley floor.  High amounts are possible on the northern end of Star Valley.  In fact, the warning suggests that at times the Alpine area could see snowfall rates of an inch per hour.
The storm is expected to impact road conditions.  The Winter Storm Watch states that significant reductions in visibility are possible and to plan on difficult travel conditions.
For the latest road conditions and weather report, tune to SVI Radio (Swift 98.7 FM, Black Mountain Country 1210 AM) Friday morning.  Weather conditions can also be found at svinews.com/weather and on the SVI Media App.
Let us know what you think!
Tagged:
Jack Hales
National Weather Service
Star Valley