I-80 closed in both directions due to semi-truck pile-up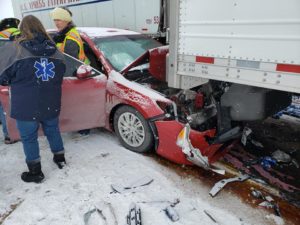 Slick conditions likely contributed to an accident that involved seven semi trucks and a pair of passenger cars that has Interstate 80 at a standstill.
According to the Uinta County Fire and Ambulance Facebook page, the road is closed between the Bridger Valley and Evanston with Fire and EMS crews responding to milepost 27 on I-80 westbound.
The post stated that four people were transported to Evanston Regional Hospital with minor injuries.
According to the Wyoming Department of Transportation, the road closed at 12:49 p.m. Officials estimate that it it will take five to seven hours to re-open the thoroughfare.
WYDOT reported this estimate via their Twitter account, @WYDOT_Southwest

Photos provided by the Uinta County Fire and Ambulance Facebook page
Tagged:
Evanston
Evanston Regional Hospital
Interstate-80
Uinta County Fire and Ambulance
Wyoming Department of Transportation