Independent Obituaries: August 26, 2020
The following obituaries appeared in the August 26, 2020 edition of the Star Valley Independent.
For more area obituaries, please visit Schwab Mortuary.
More area resources can be found by visiting the Star Valley Historical Society.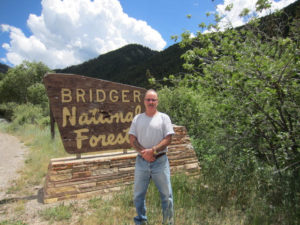 Denny Zingshiem passed away on August 10, 2020 after a brief battle with cancer.
He was born on November 7, 1948 in Chippewa Falls, Wisconsin to John and Florence Zingshiem.
Denny spent his time between his homes in his beloved states of Wyoming and Wisconsin. He was a member of the carpenters' union by trade and enjoyed working with his hands. Denny was a mountain man and loved hunting, fishing, and trapping. He enjoyed a solitary life surrounded by nature and wild animals. Later in life he enjoyed cooking for hunting camps in the fall. Evenings were dedicated to spaghetti westerns or watching the Green Bay Packers.
Per Denny's request, please make donations to the St Jude Children's Research Hospital in lieu of flowers.
A celebration of life will be held with his close friends and family.
He is survived by his daughter, Larkin Duelge.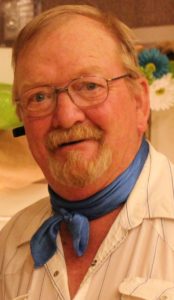 Father, Son, Grandfather, Husand, Uncle Don Lee Jorgensen was born in Afton on October 9, 1952 To Beluah Ruth Neuenchwader and Kenneth Nels Jorgensen. He died August 21,2020 in Poctello.
He attend Star Valley High School. After high school he joined the National Guard. He then married Dixine Grossnickle on June 24,1972.
They had three son Marvin, Bob, and Roy. They lived in vary's part of Wyoming. In the middle 1980's they moved to Utah were he presuded a Job as a Truck Driver. He later divorced Dixine then he moved back to Alpine.
Years later he married Gloria Spiker in Alpine, Wy on March 12, 2005. Gloria had four childern Francie, Chuck, Jenifer and Cory that he accepted as his own.
Don served on the Alpine Town Coucil. He was also a accomplished Stone Mason that he did for many years.He was a Welder for many years. He loved doing mechanic work. He loved Driving bus for the little children and the float trips down the Snake River. He also loved Camping, Fishing, Hunting and spending time with the kids and grandkids.
Don is surivied by his wife Gloria Jorgensen; his mother Beluah; his half sister Jackie M Lazarus; his five children; Bob Jorgensen, Roy Jorgensen, Francie Murrey ,Chuck Hale, and Jenifer Burgess. He has 15 grandchildren and four great grandchildren and one on the way in 2021.
Don is preceded in death by Marvin R Jorgensen (son) Cory Spiker (son of Gloria) Kenneth Nels Jorgensen (Father) Harold Rumbaugh (step father) Marvin Jorgensen (brother) Kenny Jorgensen (brother) and grandparents.
Memorial Service will at the Alpine Civic Center on August 30, 2020 at 2:00 p.m.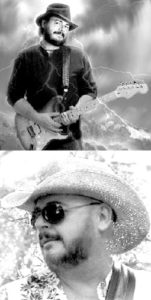 Gregory J. Campbell, passed away surrounded by family, at his home in Grand Junction, Colorado, on August 5, 2020. He suffered a year-long battle with esophageal cancer and complications arising from it.
Greg was born on June 19, 1956 to John Dewey and Sherma Janet Nelson Campbell in Afton. Greg was the oldest of five children. His family lived in Wyoming, Idaho and Utah until moving to Jackson when he was eight. Greg's youth was spent camping, hunting, fishing, and horseback riding with his parents and younger siblings. Greg was an accomplished artist and developed this talent from an early age. During high school, he began working for his father's electrical contracting business, which led him to eventually earn his Journeyman Electrician's license.
Greg often told others that after watching the Beatles on the Ed Sullivan show, he knew what he wanted to do. His true passion was music and he immersed himself in it completely. Greg got his first guitar when he was 10 and spent hours in his room listening to music, while teaching himself how to play. By high school, he was asking music loving classmates if they wanted to start a band with him. It was during this time that he was given the nickname Gregdale.
After graduating from Jackson Hole High School in 1974, Greg's love of playing the guitar took him to Utah, Texas, Colorado, Idaho, Montana, Canada, and back to Wyoming. He loved all kinds of music, learning to play Country Western, Rock, Blues, and Jazz. Greg was a mentor and friend to many musicians. He loved playing music and inspiring others to do the same.
Greg was living in Star Valley working with his father as an electrician, when he fell from a scaffold and seriously injured his back. In 1986, he had back surgery and, while recovering in Star Valley, was introduced by mutual friends to the love of his life, Sandra Jo Winch. They were inseparable from that day on. Greg and Sandy were married on March 3, 1989.
Due to his back injury, Greg began a new career path and attended Northwest Community College in Powell majoring in Art. At Northwest, Greg earned his Associates of Arts degree, prodigious awards for his artwork and the Presidential Award Scholarship. The scholarship enabled Greg to attend the University of Wyoming where he studied art and history and earned a Bachelor of Arts degree. After Greg and Sandy moved back to Star Valley, Greg worked for Aviat Aircraft. In 2003, they moved to Grand Junction, Colorado to care for Sandy's father. In Grand Junction, Greg earned his Bachelor of Fine Arts degree in Graphic Arts, from Mesa State College. He worked for The Grand Junction Daily Sentinel as a graphic artist for 11 years, earning many awards by the Colorado Press Association before his early retirement due to his illness.
Greg had a clever sense of humor and was very intelligent. He was fun to be around and everyone enjoyed playing board games cards with him, even though they knew he would probably win. When friends and family had a question that needed answering, they didn't say, "Ask Google" they said "Ask Greg."
A Celebration of Life was held for Greg at Sherwood Park in Grand Junction on August 14, 2020 with many friends and family members in attendance.
Greg is preceded in death by his grandparents, Dewey and LaRue Campbell, and Willard and Ione Nelson, and his father, John Campbell.
He leaves behind his loving wife, Sandy; mother, Sherma Campbell; sisters, Debra Campbell, Teresa (Christopher) Marasek, Holly (Mark) Weston, and brother, Justin Campbell, along with four nieces and nephews.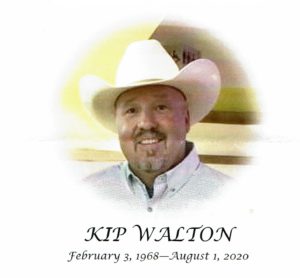 Kip Walton, 52, was born to Lael and LaReta Walton on February 3, 1968 in Afton. Kip was raised in Auburn until he was two years old when the family moved to LaBarge. In LaBarge, he attended elementary, followed by Middle School and High School in Big Piney. As a youngster, Kip played baseball and was active in Boy Scouts and throughout his middle school and high school years, Kip was involved in both football and basketball.
After graduation, Kip attended Eastern Wyoming College in Torrington, Wyoming. He then moved to southern California in 1989 where he worked in landscaping and then went to work for Athena Technologies and worked his way up to Production Manager. It was at Athena that Kip met the love of his life, Elena.
Kip and Elena both followed Athena Technologies to Fort Wayne, Indiana. On July 6, 2002, Kip married Elena and in 2003, they were blessed with their fist son, Koy Tuff followed by Cole Jess in 2007. In 2008, they moved their family back to Wyoming where Kip began his work with EOG Resources as a lease operator and eventually moved into the position of chemical technician.
Kip was very involved with his children and the family all shared the love of sports which led Kip to coach Jr. Jazz and assist with middle school basketball. He loved the outdoors and spending time with his family and friends whether it be camping, cooking, or golfing.
Kip is survived by his wife Elena Walton and two sons Koy Tuff and Cole Jess, father Lael Loren Walton, mother LaReta Leavitt Walton, brother Kevin D. Walton (Laura), niece Ryen Walton, nephew Kyle Walton, and so many aunts, uncles, and cousins.
Kip is preceded in death by his maternal grandparents C. Davis Leavitt and LaWanna Barnes Leavitt, paternal grandparents Loren "Tuff" Walton and Ann Roberts-Dana Walton, paternal aunt Marie Walton Edgerton, maternal aunt Anna Dee Leavitt, and maternal uncles Lavar "Bubba" Leavitt and Alma Leavitt.
A celebration of life will be held on August 14 at 6:30 p.m. at the Deanne Bradley Stage at the Sublette County Fairgrounds.
Tagged:
Denny Zingshiem
Don Lee Jorgensen
Gregory J. Campbell
Kip Walton
Star Valley Wyoming obituaries
Wyoming obituaries