Independent Obituaries: January 12, 2022
The following obituaries appeared in the January 12, 2022 edition of the Star Valley Independent.
For more area obituaries, please visit Schwab Mortuary.
For more resources including headstones, please visit the Star Valley Historical Society.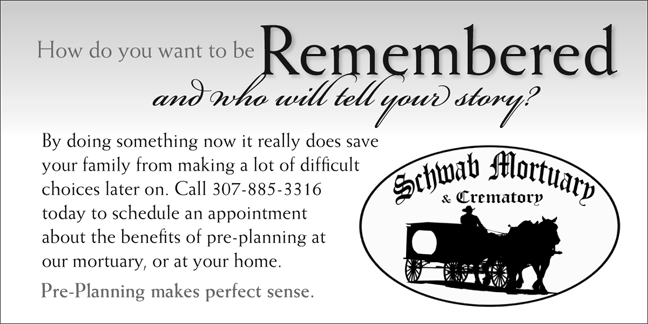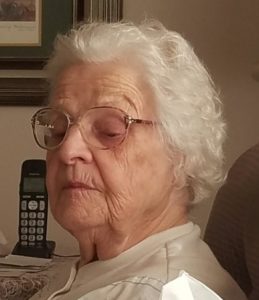 Colleen Hall Sorenson (Springer) was born in Ogden Utah on July 7, 1927, to George Raymond Hall and Ruby Myrtle Fronk Hall. She was raised on a cattle ranch in Crow Creek Idaho. It was a solitary but beautiful place where she learned to work hard.
She had few companions as she was an only child. When it came time to go to school, she and her mother moved to Afton so she could attend school. She attended grade school and high school in Afton and then Ogden for a time and graduated in three years from Star Valley High School in 1944.
She attended Utah State Agricultural Collage (Utah State University) from 1944 to 1948 where she earned her Bachelor's degree in Home Economics with a minor in Art. There she met Alfred Earl Sorenson and they were married on June 25, 1948 in the Logan Temple. After she graduated the couple moved to Crow Creek Idaho and lived in a small house near her parents. When LaWana, their oldest child, started school, they built a home in Afton.
Except for two years when they lived in Ogden Colleen spent the rest of her life living in the Afton house. During the years when the children were in school the family lived in Afton in the winter and Crow Creek in the summer.
Colleen was a devoted mother. She made sure her children were well dressed by making almost all their clothing. She was an excellent seamstress and tailor. Her Home Economics degree was certainly not wasted. She was accomplished in all the home arts. She cooked for hay crews for many years and was noted for her pies and bread. She raised chickens, turkeys, calves, children, and numerous pets. She was also an artist and architect. She drew the plans for the house in Afton and she and her husband served as general contractors for its construction.
She was a clever crafter, pattern maker, toy builder, cake decorator, writer, gardener, genealogist, and all-around handy woman. She'd tackle almost any project with enthusiasm. She was a perfectionist and did everything to the best of her considerable ability. She was a school teacher teaching Art and Home Economics at Star Valley High School for many years.
Colleen was a faithful member of The Church of Jesus Christ of Latter-day Saints, and raised her children to be faithful members as well. In addition to having children faithful to the church Colleen and Alf had the goal that each of their children would graduate with a Bachelor's degree. Colleen returned to the workforce as a teacher in order to make this possible. It took a while but at last every child accomplished this goal.
After Alf died in November 1993 Colleen married Glen Fred Springer who died October 2015.
Colleen was proceeded in death by her mother-Ruby Myrtle Fronk (Hall) May 2, 1987; father-George Raymond (Ray) Hall May 6, 1994; Brother, Ray Fronk Hall 4 April 1926; stillborn sister 16 May 1934; husband-Alfred Earl Sorenson 12 Nov 1993; husband Glen Fred Springer October 2015; mother-in-law-Dora Elnor (Hathaway) Sorenson 31 January 1962; daughter-Alleen Debra (Lang) Sorenson August 3, 2007; grandson-Duncan Campbell Lang 17 Oct 1997; son-in-law Lorin Jay Stott 6 Sept 2008; son-in-law Raymond Peter Draper 18 Sept 2008
She is survived by children: LaWana Sorenson (Draper); ReNae Sorenson (Bowling) and Gordon Lee Bowling; Janene (Jan) Sorenson (Stott); son-in-law David Duane Lang; Raymond Mikel Sorenson and Tracey (Bateman) Sorenson, 17 grandchildren and 19 great-grandchildren.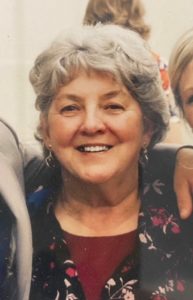 Our beloved mum and grandma, DeAnn Johnson Merritt, passed away peacefully at her home in Turnerville, Wyoming on December 27, 2021.
She was born in Fairview, Wyoming on March 18, 1938 to Orson and Louise Turner Johnson. She was the first of six children.
She was raised on the family ranch in Auburn, Wyoming surrounded by loving parents, siblings, aunts, uncles and cousins. All of them usually gathering at grandma Johnson's for a piece of homemade bread and spit jam. She had a wonderful childhood where friends and relatives were always at each other's homes.
In 1954 she met the love of her life, O'Dell Merritt. They were married on February 1, 1958 by DeAnn's father, Bishop Orson Johnson, in the Auburn church.
DeAnn's greatest joys in her life were her children and grandchildren. She loved each one unconditionally and served them all of her life. Her grandchildren adored her and all the fun times staying with grandma.
DeAnn had a great love for her Father in Heaven. She was a member of The Church of Jesus Christ of Latter-day Saints and served faithfully all of her life and enjoyed every minute of it.
DeAnn is survived by her children; J'Dell (Cindy) Merritt, Jan (Ron) Onkes, Len (Dianne) Merritt, Trudy Staggie, Dan (Barbara) Merritt, Kristy (Gary) Erickson, 33 grandchildren, 52 great-grandchildren, and her siblings; Laina Putnam, Carolyn Hancock, Jill (Rick) Spjut and Jed (Lorie) Johnson.
Funeral services will be held on Friday, January 14, 2022 in the Bedford Ward chapel at 11 a.m., with a viewing from 10-10:45 a.m.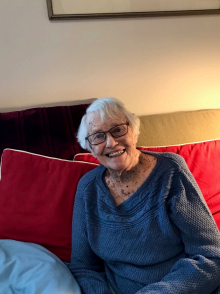 Myrtle Anis Jensen D'Evelyn, age 100, died December 6, 2021 in Salt Lake City, Utah. She was born April 1, 1921 in Star Valley, Wyoming in the town of Grover to Louis John and Nellie Bodel Jensen on the family homestead. She was the fourth of six children, with two brothers being born after her.
All of her siblings preceded her in death, Ralph "Red" Jensen, Norman "Books" Jensen, Norma Jensen Cottrell, James "Jim" Jensen, and Dallin Jensen. She was the last surviving member of her immediate family and celebrated her 100th birthday this past year.
Myrt was the decendent of Danish immigrants who joined The Church of Jesus Christ of Latter-day Saints in Denmark, later sailing to America in search of a better life. Her maternal grandfather James Jensen Sr. was the first Bishop in the town of Grover, serving for over 20 years. Myrt enjoyed growing up in her beloved Star Valley and returned often with her children to spend time on the family ranch. She graduated from Star Valley High in 1939.
Myrt met and married William (Pete, Bill) D'Evelyn, April 21, 1941. They moved to Long Beach, California during WWII. Myrt and Pete worked for Douglas Aircraft. She was a "Rosie the riveter" as the history books called the working women of the time. Her first son was born during this time.
After the war the family moved to Salt Lake City and Myrt settled into being a wife and a mother and she had two more children. She lived most of her life in the Salt Lake valley. For a short time Myrt and Pete lived in Denver but moved back to Salt Lake City.
Myrt went to work for ZCMI in 1967 at the Cottonwood Mall, where she worked for almost 40 years. She ultimately sold fine jewelry there. She was one of the top salespeople in that department.
Myrt dearly loved her family and is survived by her children, Bill (Carolyn); Terry (April), and Sue (Alan Lomax); grandchildren, Heather, Brooke, Michael and Abbie and great grandchildren, Alex, Brianna, Noah, Isabella, Greyson, Logan and Zarah.
Memorial services are to be announced. She will be interned at the Mount Olivet cemetery in Salt Lake City, Utah.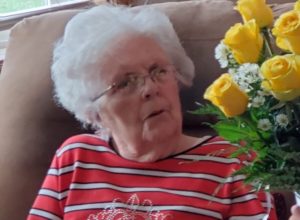 Patricia Ruth Waring Wolfley, daughter of Robert "W" and Leila Ann Ellis Waring, was born on 26 January 1938 at Smoot, Wyoming. Pat was welcomed by three older siblings Leila Maude, Gordon, and Betty.
When Pat was six years old her Mother became the Smoot Postmaster. The post office was in their home and Pat recalls having the public in their home daily and the service that her mother provided to the residents of Smoot and anyone that needed help.
Pat attended grade school at the elementary school building In Smoot where the Smoot Community Park is located. All four years of high school and seminary were attended in Afton at Star Valley High School.
A week after high school graduation, Pat was enrolled at LDS Business College in Salt Lake City. She attended business school for a year, studying a general course of business and graduated in Junior Accounting. In school she enjoyed working with teachers on various projects. She was part of play productions and was a member of a national thespian society in her senior year. In business college she was chapter president of the girls' chapter of the Lambda Delta Sigma Fraternity, Rho Omega.
Pat worked part time for an accounting firm during income tax season while still attending business school. After graduation in June of 1957, Pat obtained a job as a secretary for a printing firm where she worked for a year. In 1958, she moved back to Star Valley and worked at several varied jobs. For a year and a half, Pat was clerk typist for the Bridger National Forest with headquarters in Afton, Wyoming. Pat kept the Afton, Bedford, and Cokeville, Wyoming offices coordinated. She also would occasionally work in the Supervisor's office in Kemmerer.
Pat met Narvel Ray Wolfley November 1959, they were married on March 10, 1960. Pat held many church callings in the Osmond Ward while they lived there. She loved the children and served in the Primary for many years. She never missed an opportunity to serve her Father in Heaven.
Three children were born to Pat and Narvel. A Daughter, Debra Rae, was born 3 June 1961, son, Dennis "W", born on 7 December 1962, and Daniel Ray born 1 January 1968. (New Years Baby of 1968)
Patricia was always so proud of her son Dennis for serving a mission for the Church of Jesus Christ of Latter Day Saints in the San Diego California Mission.
October 1, 1985 Pat was Married to Ernest Samuel Wolfley and the shared a year of laughter, camping trips and enjoying each others company until Ernest passed away in September 1986.
In 1997 Pat moved to Afton her son Dennis and his family were able to move into her home in Smoot to be closer to family. She loved having her family close to her. She spent many hours entertaining her grandchildren. She made it a point to attend any event or activity for all of them. She was so proud of and loved bragging about her children and Grandchildren.
In February of 2003 Patricia retired from Maverik Country Stores home office where she had been the accounts payable clerk for 25 years. Pat would get to know every person she came in contact with and they knew she truly loved and cared about them. She filled her retirement running errands for friends and family and providing service in any way she could. She loved having the free time to enjoy the grandchildren and made sure any of them that showed up to her home would have all the grapes, cheese sticks, hot dogs and cottege cheese with applesauce they could eat. Pat loved the lunch hours that the grandkids spent with her when they and their friends came for lunch at "Grannies".
In 2013 Pat started telling us that she knew she was getting Alzheimers and she just couldn't remember things. With the help of family members and loving neighbors Pat was able to stay in her home until September of 2015. She made the decision to join some friends at Legacy Homes in Thayne, WY where she was a part of the family she loved there. Pat was loved by all and was blessed to have a healthy body even though her mind was not so good in the end. Pat passed away peacefully at Legacy Homes on December 22, 2021. She was able to spend Christmas with her eternal companion, son Dennis, Great Granddaughter Oliva Sainz, and all her siblings, parents and in-laws. What a joyous reunion. She is survived by her daughter Debbie (Ernie) Sainz, son Dan (Patti) Wolfley, 7 Grand children, 24 Great Grandchildren and 1 Great Great Grandchild.
Pats service will be held Saturday January 15, 2022 at 11:00 a.m. in the Smoot ward chapel. There will be a Visitation from 10-10:45 a.m. before the service.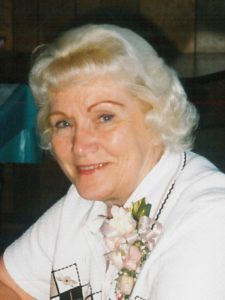 Wilna Allred, 88, of Cheyenne, died on December 23, 2021. She was born on September 30, 1933 in Auburn, Wyoming to Aldon and Vira Greene Putnam.
Wilna grew up in Star Valley, Wyoming and always considered "the Valley" her home. She married LaDee Allred on October 2, 1951. They started their family in Afton and moved to Cheyenne in 1972. Wilna worked for the Laramie County School District in the payroll department for nearly 30 years until her retirement.
Wilna enjoyed her yearly trips with her mother, sisters, and brother. Later, she loved to read, especially historical fiction. She was a member of The Church of Jesus Christ of Latter-day Saints and was proud of her heritage. Most of all, she cherished the time spent with her growing family and delighted in their accomplishments.
Wilna is survived by sons Wynn Allred (Chandra) of Winnemucca, Nevada and Steve Allred (Lynn) of Cheyenne, daughter Susan Harris of Cheyenne, seven grandchildren, 18 great-grandchildren, and four great-great-grandchildren. She is also survived by Brother David Putnam, Sister Ann Taylor (Keith), and brother-in-law Boyd Jenkins. She was preceded in death by her parents, daughter Sheri Allred, Sister Vera Jenkins, and infant sister Vira Putnam.
A graveside service will be held at the Afton Wyoming Cemetery on a later date.
Let us know what you think!
Tagged:
Colleen Hall Sorenson (Springer)
DeAnn Johnson Merritt
Myrtle Anis Jensen D'Evelyn
Patricia Ruth Waring Wolfley
Wilna Allred