Independent Obituaries: June 5, 2019
The following obituaries appeared in the June 5, 2019 edition of the Star Valley Independent.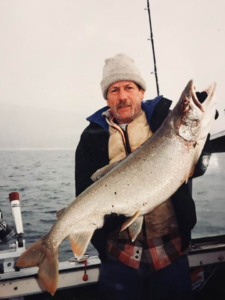 Raymond "Ray" Patterson, 70, of Central Point, Oregon died peacefully at his home on Thursday, April 18, 2019 after getting himself into a "nine-line bind" due to complications with multiple sclerosis.
Ray had a life-long love affair with hunting and fishing which began when he was a boy growing up in the Owens Valley. Born to an avid fisherman, Alden "Pat" Patterson and a loving and patient mother, Shirley (Whetnall) Patterson, Ray spent his youth fishing the Owens River and the High Sierra lakes north of Bishop, California.  Shortly after graduating from high school Ray took a 10-month tour of Vietnam serving as a 2nd generation 82nd Airborne paratrooper. He returned home to his wife and newborn son with an Army Commendation Medal. Ray went on to attend Pierce College in Van Nuys, California where he received an A. A. degree in welding.  Eventually his passion for hunting and fishing took him, his wife Kathryn (Shepherd), and his sons Winston and Patrick to Afton, Wyoming, where he worked as a welder in the oil fields. When he wasn't working, he was chasing trophy bucks at Swift Creek or Jensen Canyon or out fishing for lunkers at Paulina or the Flaming Gorge. He enjoyed painting his own lures and caught many prized fish with them. Eventually his work in welding took him to Michigan, Alaska, Maine and finally Oregon where he spent the remainder of his life surrounded by family, friends and of course, amazing places to hunt and fish. Miller Lake becoming his favorite fishing haunt.  Ray is survived and missed dearly by his children Mark (Tracy) Patterson, Koreen (Rich) Williams, Winston (Rachelle) Patterson, Patrick (Amy) Patterson, Crystal (Daryn) Armstead, Michel (Annette) Dulac and many grandchildren; Nick (29), Chad (28), Shayla (21), Gavin (19), Zachary (15), Malachi (13), Brynlee (9), Eli (13), Will (10), Allison (13), Luke (10), Gabriella (7), Oliver (3), Hayden (1) and Makenna (1).
Ray was preceded in death by his father, Alden Patterson; his mother, Shirley Patterson; sister, Nancy Patterson; and his companion of 25 years, Dora Wing.  A Memorial Service will be held at Eagle Point Cemetery in Eagle Point, Oregon on Monday, June 10 at 1 p.m. A reception will follow for family and friends immediately after.
Tagged:
Raymond "Ray" Patterson