Independent Obituaries: March 2, 2022
The following obituaries appeared in the March 2, 2022 edition of the Star Valley Independent.
For more area obituaries, please visit Schwab Mortuary.
For more resources including headstones, please visit the Star Valley Historical Society.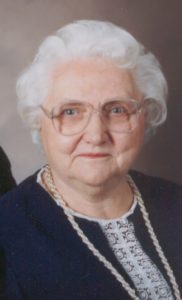 Buhla Ida Brady Teichert passed away peacefully in her home in Cokeville, Wyoming on Tuesday, 2/22/2022 at the age of 102 (almost 103!), and we think that's pretty special.
Buhla is preceded in death by her parents, Hugh and Flossie Brady, her husband, Herman Kohlhepp Teichert, her son, David Hugh Teichert, daughter-in-law Kristine (Chad) Teichert, two grandchildren, and two great-grandchildren.
She is survived by nine children: Burke (Georgia) Teichert, Trudy Lamb, Teresa Balser, Richard (Debbie) Teichert, Sally and Craig Mills (David), Ron (Vonda) Teichert, Briant (Clyda) Teichert, Chad (Susie) Teichert, Marlene (Sam) Allred, Kristen (Kirt) McDaniel. Her posterity also includes 65 grandchildren, 171 great-grandchildren, and one great-great-granddaughter, born just three days before Buhla's passing.
Buhla was born on April 4, 1919, the second of six children. In 1937 Buhla graduated from high school and went on to study at USAC (Utah State) where she graduated in 1941 with a Bachelor of Science degree and a teaching certificate in Home Economics. She was hired to teach in Cokeville, Wyoming where she met her sweetheart, Herman. The couple made a beautiful life in Cokeville and welcomed an incredible posterity.
Buhla's life has truly been one of selfless service and giving her all. Her accomplishments are notable and many, and her devotion and love for the Church and gospel of Jesus Christ paralleled her love for her family. She has left a legacy of love for her family and love of the Lord. She has lived an extraordinary life without even knowing it and, most assuredly, one worthy of emulation.
Funeral services will be held on Monday, February 28, 2022 at 1:00 p.m. in the Cokeville Church with a viewing prior to the services from 10:00 a.m. – 12:45 p.m.
Let us know what you think!
Tagged:
Buhla Ida Brady Teichert
Cokeville obituaries
Star Valley Wyoming obituaries
Wyoming obituaries