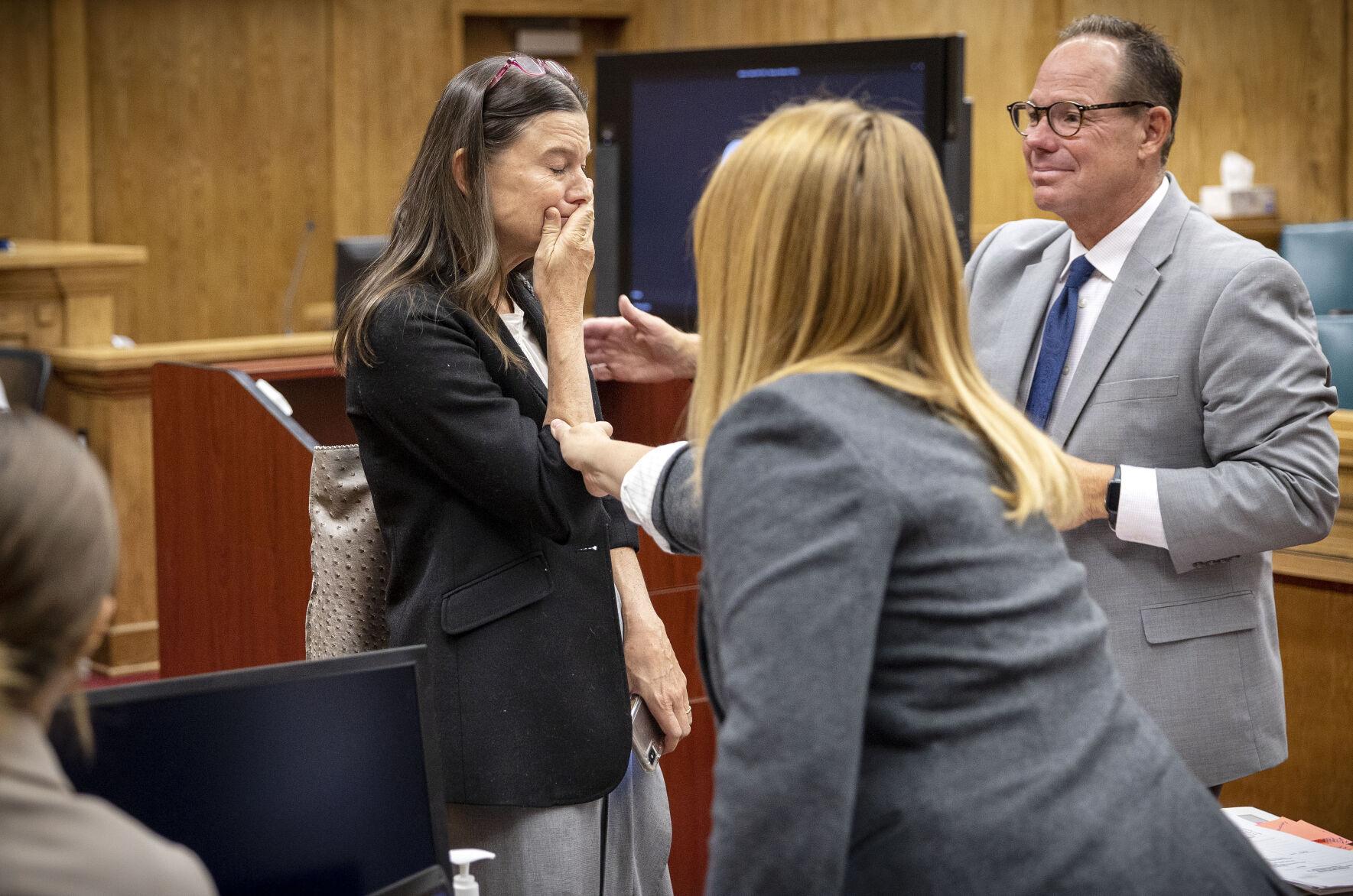 By Kate Ready
Jackson Hole News&Guide
Via- Wyoming News Exchange
JACKSON  —  As Wyoming lawmakers double down on efforts to make abortions illegal, introducing a bill that would prohibit chemical abortions, a Teton County doctor said that would affect not only Wyoming women but Idahoans as well.
Of 26 abortion patients from September through November last year, 70% were from Idaho, said Dr. Giovannina Anthony, a Jackson-based OB-GYN and provider at the state's lone abortion clinic.
Idaho has three abortion bans, the strictest of which bans the procedure from conception. On Jan. 5 the Idaho Supreme Court upheld the bans, ruling that the state Constitution does not protect a woman's right to an abortion. A similar case over Wyoming's ban is pending in Teton County District Court.
Anthony said the Idaho patients she's seen have traveled between two and five hours to Jackson from Idaho Falls, Blackfoot, Soda Springs and the farther reaches of Hailey and Twin Falls.
In November, Anthony saw a patient from Power County, Idaho, who chose the three-hour drive to Jackson over the 90-minute drive to Logan, Utah.
"She is closer to Salt Lake City where their law is also enjoined, but she chose to drive to Jackson because Wyoming does not have a 72-hour waiting requirement as does Utah," Anthony said in an email. "She did not want to make two trips."
Access to abortion in Utah and Montana remains legal, similar to Wyoming, as the challenge to the abortion ban plays out in courts.
"In November, I saw seven Idaho patients for chemical abortions," Anthony said. "We had only one patient from Wyoming."
Anthony, one of the six plaintiffs challenging the constitutionality of Wyoming's trigger ban, said she suspects the disparity may be that Wyoming women are turning to an online chemical abortion provider, Just The Pill.
In 2021, of 98 abortions in Wyoming, all were chemical abortions. In 2020, 88 of 91 abortions were chemically induced, and in 2019 all 31 abortions were chemical.
However, 39 Wyoming lawmakers would like to see chemical abortion access discontinued. They have sponsored a bill, Senate File 109, prohibiting the sale, use, prescription or administration of chemically induced abortions.
The bill provides a few exceptions, such as for the treatment of miscarriages or in cases of sexual assault and incest.
Imminent medical peril is also a noted exception; however, the potential for self-harm or adverse psychological effects on the woman do not apply.
Using a chemical abortion drug, such as mifepristone, would be a misdemeanor punishable by imprisonment for not more than six months and/or a maximum fine of $9,000.
The bill states that the woman would not be criminally liable, only the provider of the medication.
Sen. Tim Salazar, R-Riverton, who sponsored the same bill last year, did not return requests for comment, nor did 14 of the bill's sponsors.
Last year Salazar told the Wyoming Tribune Eagle that he was sponsoring the bill on behalf of the pro-life community in Wyoming.
"I bring this bill forward because I believe abortion is the taking of human life," he said.
SF 109 would oppose a Jan. 3 announcement by the U.S. Food and Drug Administration that mifepristone would be available at retail and mail-order pharmacies.
A media spokesperson for the FDA said the agency is coordinating with the U.S. Department of Justice to address states refusing to allow mifepristone to be prescribed for medical termination of pregnancy. Current FDA guidelines state that mifepristone may be taken up to 70 days, or 10 weeks, into pregnancy.
Twenty-nine men have sponsored the bill, along with 10 women.
Two of the bill's sponsors, Reps. Rachel Rodriguez-Williams, R-Cody, and Chip Neiman, R-Hulett, have an appeal pending in the Wyoming Supreme Court. They're asking the court to overturn a Teton County judge's decision not to let them become parties in the pending abortion case, where they hope to chime in to defend the trigger ban they helped sponsor.
Teton County District Court Judge Melissa Owens has stayed the ban protecting abortion access in Wyoming for now until questions can be decided as to whether the trigger bill is unconstitutionally vague and if it violates sections of the state Constitution, such as Wyomingites' right to privacy, their right to equality, as well as their right to private property and to make their own health care decisions.
Kathryn Mavengere, public affairs representative for Just The Pill, said the organization served 449 people in 2022, 319 of whom were Wyoming residents.
Of the remainder, 45 were from Utah, 40 from South Dakota, 26 from Idaho, 8 from Nebraska, and the rest from other states, Mavengere said in an email.
Anthony spoke of the gray areas she faces when treating Idaho women.
"I heard from a patient who bought the pills online after Roe v. Wade was reversed, when it was still legal in Idaho. She wasn't pregnant; just wanted to have it just in case. Five months later, she became pregnant, and wants to take the medication, but lives in Idaho where it is now illegal. She's terrified that if someone finds out she took the medication, could she be arrested? Can I be arrested if I tell her to take the medication? Or not, because I'm in a different state?"
Fearing a felony charge, Anthony ultimately informed the woman that she was unable to advise her.
Another conundrum the physician shared is how much feedback she can provide to women who obtained the abortion medication illegally.
"If a patient obtains the medication illegally, and calls us for advice, are we liable if we counsel and listen, evaluate, and help diagnose the issue she is calling with?" she said.
Three of SF 109's sponsors — Reps. Jeanette Ward, R-Casper, Ben Hornok, R-Cheyenne, and Sarah Penn, R-Lander — voted no on a bill that would expand Medicaid postpartum coverage for mothers from 60 days post-birth to a full year.
During the pandemic, Wyoming participated in an American Rescue Plan provision that allowed states to extend postpartum care so qualifying women had complete medical coverage for a year after they gave birth.
Newly elected Rep. Ward would not vote in support of the bill or its $1.9 million appropriation, saying that children are already covered and mothers can find other programs.
This postpartum expansion bill, which moved forward Tuesday after discussion in the House Appropriations Committee, would extend that care until 2027. It's now headed to the House floor.
Meanwhile, five of the Legislature's seven Democrats, including Rep. Mike Yin, D-Jackson, sponsored a bill that would reinstate abortion access to pre-trigger ban, House Bill 117.
This year only seven of 93 Wyoming lawmakers are Democrats.
Abortion is considered illegal at all stages of pregnancy, wi v fff vbdfvvgth various exceptions, in 13 states: Alabama, Arkansas, Idaho, Kentucky, Louisiana, Mississippi, Missouri, Oklahoma, South Dakota, Tennessee, Texas, West Virginia and Wisconsin.
On Monday the bill banning chemical abortion was referred to the Labor, Health and Social Services committee. The bill has not yet been slated for discussion.
Let us know what you think!
Tagged:
c
Teton County
Wyoming abortion