Lady Braves take team title at Sugar Invite
The weather wasn't perfect but it never is in the early days of the Spring sports season as the SVHS Track and Field squad traveled to Sugar City, Idaho to compete for the first time as a full group.
In all the coaches estimate they took between 120 and 130 athletes to the Sugar Invite where they where met with a punishing wind that often peppered their faces with grit and sand.
The Lady Braves picked up three event titles but also collected eight top-three finishes to forge 93.0 team points and win the meet. Valerie Jirak won the High Jump and placed second in the 100-Meter dash. Jacie Angell won the 800 Meter and Sadie Hulse won the Long Jump.
Elizabeth Moffat placed second in the Shot Put while also placing fifth in the Discus. Ava Morgan was second in the Triple Jump and Avery Kabonic was third in the Long Jump.
The ladies finished with 93.0 points, pulling away from South Fremont who placed second with 68.5. Blackfoot rounded out the top-three with 64.0.
Peter Visser won the 800 Meter race for the guys with Gabe Clinger placing second in the High Jump as the Braves scored 70.5 team points to finish fourth. Sugar-Salem won the boys side with a total of 112.0. Blackfoot was second with 78.5, edging Teton who placed third with 78.0.
Star Valley will host their annual home meet next Wednesday, April 14, with the Dave Draney Invite taking place at Braves Field. The event will be broadcast by SVI Media.
For full results of the Sugar Invite CLICK HERE.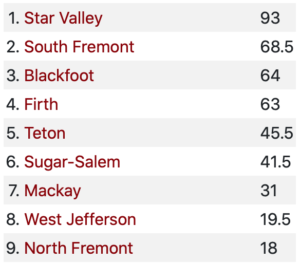 • Women's Placers
Valerie Jirak 2nd (100M)
Sara McKen 3rd (100M)
Jacie Angell 1st (800M)
Emmalee Hale 4th (800M)
Jill England 6th (800M)
Evee Mavy 4th (3200M)
Katie Dandridge 8th (100 Hurdles)
Elizabeth Moffat 2nd (Shot Put)
Emily Gertsch 4th (Shot Put)
Elizabeth Moffat 5th (Discus)
Emily Gertsch 6th (Discus)
Valerie Jirak 1st (High Jump)
Sadie Hulse 1st (Long Jump)
Avery Kabonic 3rd (Long Jump)
Ava Morgan 2nd (Triple Jump)
Emmalee Hale 8th (Triple Jump)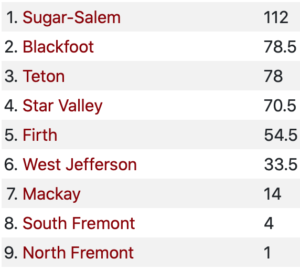 • Men's Placers
Lane Oesch 5th (100M)
Chase Stewart 7th (100M)
Peter Visser 1st (800M)
John Hunting 5th (800M)
Noah Draney 8th (3200M)
Eli Rammell 8th (110 Hurdles)
4 x 200 M 4th (Cooper Kabonic, Izaak Nield, Caleb Spaulding, Chase Stewart)
4 x 200 M 7th (Lucas Chappell, Brandon Cook, Aiden Crook, Thomas Cunningham)
Lucas Chappell 4th (Shot Put)
Trevan Jenkins 5th (Discus)
Leland Erickson 6th (Discus)
Aiden Crook 7th (Discus)
Gabe Clinger 2nd (High Jump)
Khale Clinger 4th (High Jump)
Noah McClure 5th (Pole Vault)
Eli Rammell 6th (Pole Vault)
Khale Clinger 4th (Triple Jump)
Nathan Delgado 6th (Triple Jump)