Lincoln County up to 55 active cases of coronavirus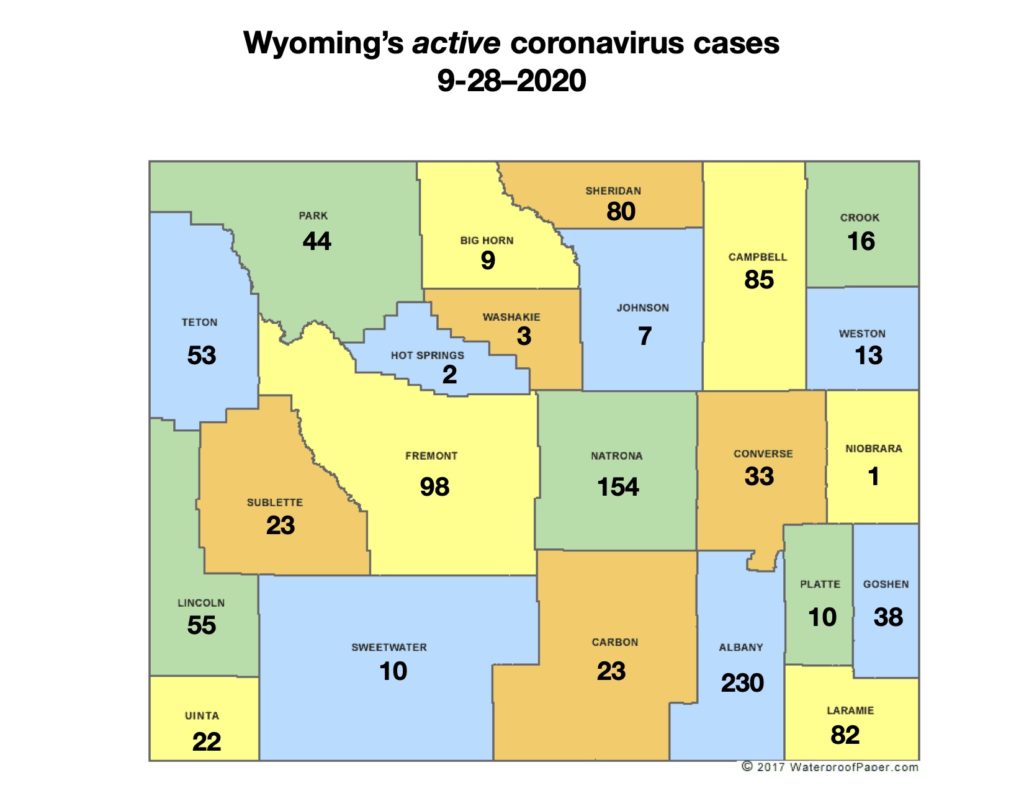 Wyoming marked its 200th day of the coronavirus Monday with 27 new active cases of the illness.
The number of active coronavirus cases stood at 1,091 Monday, an increase of 27 from Sunday and marking the ninth consecutive day of growth. The number of active cases has increased by 452 since Sept. 20.
Wyoming Department of Health figures released with its daily coronavirus update showed that the increase was due to 117 new laboratory-confirmed cases reported in 16 counties, along with four new probable cases.
At the same time, the number of people to recover since the pandemic was first detected in the state on March 12 increased by 94, the largest increase seen in two weeks.
Albany County had the largest number of active cases as of Monday, 230; Natrona County had 154; Fremont County had 98; Campbell County had 85; Laramie County had 82; Sheridan had 80; Lincoln had 55; Teton had 53; Park had 44; Goshen had 38; Converse had 33; Carbon and Sublette had 23; Uinta had 22; Crook had 16; Weston had 13; Platte and Sweetwater had 10; Big Horn had nine; Johnson had seven; Washakie had three; Hot Springs had two, and Niobrara had one.
Active cases were divided among 939 people with confirmed cases of coronavirus and 152 with probable cases.

Active cases are determined by adding the total confirmed and probable coronavirus cases diagnosed since the illness first surfaced in Wyoming on March 12, subtracting the number of recoveries during the same period among patients with both confirmed and probable cases and taking into account the number of deaths attributed to the illness.
The number of confirmed cases seen since the illness was first detected in Wyoming went to 4,897 on Monday with the 117 new cases. The Health Department said new cases were reported in Albany, Big Horn, Campbell, Converse, Crook, Fremont, Goshen, Laramie, Lincoln, Natrona, Park, Platte, Sheridan, Sublette, Teton and Uinta counties. Albany County had the highest number of new cases at 29.
The number of probable cases increased by four Monday to total 857 since the pandemic began.
Of the 5,754 people diagnosed with coronavirus since March, 4,613 have recovered, the Health Department said, including 3,908 people with confirmed cases and 705 with probable cases.