Meet the acts under the Big Top of the 2019 Lincoln County Fair
The 2019 Lincoln County Fair has an entertainment packed schedule with grandstand events each evening and a variety of acts taking place throughout the day under the big top.
All acts under the big top have free admission and will take place on a rotating schedule. Big top performances will be underway from 11 a.m. to 6 p.m. each day from Monday, August 5 through Saturday, August 10.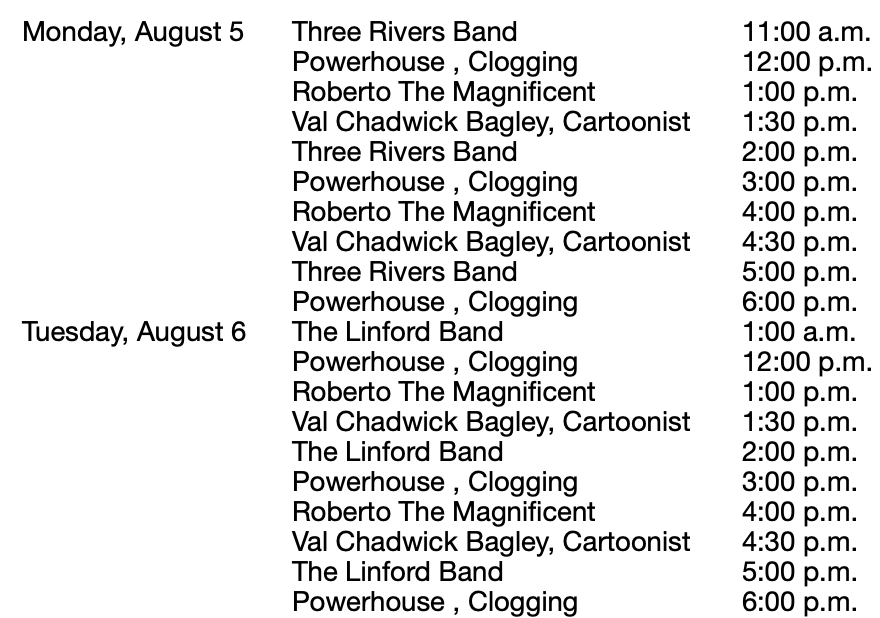 • Three Rivers Band
Between 5 p.m. every Friday and 8 a.m. every Monday, you have 63 precious hours to live life on your terms.
If your terms mean good friends, good whiskey, and good lovin', then saddle up with the Three Rivers Band.
The group plays an assortment of popular, classic, and original country music in the styles of Brad Paisley, Zac Brown Band, Miranda Lambert, and the Marshal Tucker Band.
The Three Rivers Band members know that country lovers also like to rock, so there are always a few classic rock songs in the band's back pocket as well.

• Powerhouse Clogging
Powerhouse combines brilliantly innovative tap, precision clogging, and explosive stomp to bring audiences an electrifying dance experience. Uniquely American, it has all the power, excitement and style of America's best music and dance.
Selected from the very best competitive dancers in the country, Powerhouse performers do more than simply dance. They entertain from start to finish, engaging the crowd the crowd with their amazing energy and talent. Audiences can't help but clap along and stomp their feet as they see, learn about and even try Percussive Dance.
• Roberto the Magnificent
Captivating audiences for more than two decades, Robert Stuverud (a.k.a. Roberto the Magnificent) is recognized as one of the nation's most unique variety acts performing throughout the USA. Robert learned to juggle and unicycle at age 11, within four years he was awarded a silver medal at the World Juggling Championships. Since then Robert has accumulated more than two decades of experience performing for live audiences.
Every one of Roberto's performances are filled with comedic chatter, breathtaking visual stunts and lots of audience participation!
When Roberto the Magnificent explodes onto the stage be ready for an action-packed performance that highlights his unique variety of cirque-style skills that include riding very tall unicycles and industrial strength pogo sticks, juggling super sharp knives and flaming torches and spinning hand saws, all while keeping the audience engaged and laughing.

• Val Chadwick Bagley
Val Chadwick Bagley is an American cartoonist and illustrator.
Although he was raised in Southern California, Val Chadwick Bagley loves to tell people he's from Wyoming, which is true….. Val was born in Star Valley, Wyoming and lived there until he was fully six weeks old. His father then moved his family to Southern California where Val grew up.
Growing up in California, near Disneyland and Knott's Berry Farm, was the perfect environment for Val to develop his artistic skills. He's been decorating, drawing, coloring and entertaining people for a lifetime.
Now, back home in Star Valley, Val is a lively entertainer and truly amazing artist.
• The Linford Band
When Cal and Teddy sing, people stop, listen and they love what they hear. They bring a lifetime of performing experience that offers the best combination of traditional sounds and continued innovation.
The Linfords started out their musical odyssey at the age of 3 at church, funerals and family reunions.
Since that time they have studied voice with Michael Ballam, Marla Volovna, Derek Furch, and Will Kesling.
Cal has headlined two country bands and opened for Chris LeDoux, Martina McBride, Rick Trevino and Toby Keith, Sam Hunt and Joe Nichols. Cal has written and recorded several albums and has a catalog of songs that bring to light a life lived out in the mountains of Wyoming, where if they weren't working the ranch they were singing. Cal has owned and ran his own business for over a decade but recently turned the keys over to the new owners, making room in his life for more guitars and more fishing.
Teddy has toured the country  with a Big Band performing group, sung for the royal family of Thailand and is a Sun Valley Caroler who has entertained Arnold Schwarznegger, Tom Hanks, Bruce Springsteen and her childhood idol Julie Andrews. She is also a founding member of the variety performing act Lady Luck and continues to kick up her heels from Wyoming to Iowa and every where in between.
Family brought them back to Wyoming and their roots and they have found their niche writing music and performing as a brother/sister duo.
The Linfords are set apart by their simplicity. With them, it is all about the music!

• Vocalocity
Band members Amanda Tesch, R. George Banner, Jason Tesch, Ryan Brierley, Jake Tesch and Charles Ahlstrom make up the award-winning a cappella ensemble, Vocalocity. The group blends their voices together to create a fun and uplifting musical experience.
Short version, there are five singers creating one amazing show that will have audiences on their feet applauding for more.
• Pierce Avenue
One could say Pierce Avenue is in perfect harmony. Made up of husband and wife Tony and Jaime Pierce, the duo has paired their love with their affinity for music, meshing their solo chops to create a soulful, southern-fringed sound unique to most up-and-coming Nashville hopefuls. Embracing their authentic country roots with twang and sass, the high-octane duo delivers high-energy performances laced with flawless harmonies that leave no doubt in the listener the two have become one.
Jaime a Hoosier native, and Tony a Texas boy, met in Dallas and moved together to Music City in 2010, when Tony got the job to play lead guitar for Dustin Lynch. With a few Opry opportunities and big tours under his belt, Tony felt something missing. It was his dreams to pursue writing & playing his own music.
In October 2013, Pierce Avenue released their first single as a duo to iTunes, "Take It to the House." Along with producer Jimmy Dulin (he produced "Take It to the House" & "Shut Up & Love Me") and engineer Todd Tidwell from Starstruck Entertainment, Pierce Avenue produced and co-wrote on all 5 tracks of their debut EP released in 2014.
Pierce Avenue also released a YouTube video of their 'country' cover of John Legend's "All of Me" that has had over 95,000 views to date! Because of the response from YouTubers wanting to be able to have that version, in 2015 it became available on iTunes to purchase.
Pierce Avenue is currently working on their next record and touring all over the U.S.
• Matt Baker
Matt Baker's show is a unique combination of a hilarious stand up comedy and amazing stunts. His diverse skill set has landed him 5 Guinness World Records and appearances on The Late Late Show with James Cordon, Tosh.0, America's Got Talent, and Last Comic Standing.
His hip, energetic, comedy stunt show is action packed with funny stories, audience participation and incredible skills that engage even the toughest crowd. His unique comfort level on stage sets the crowd at ease and allows them to want to be involved in every show.
With clever comedy and jaw dropping stunts like catching a bowling ball on his head, spearing vegetables on spikes, escaping handcuffs and juggling with his mouth, Matt's show rivals no other.

• Tyzen
Las Vegas Comedy Hypnotist Tyzen generates a highly entertaining performance where audience members are transformed into the stars.
With over 25 years of experience, Tyzen generates an electrifying performance. He interacts with his volunteers in a unique way while incorporating a generous dose of stand-up improv comedy.
When it comes to Family Entertainment, Tyzen is no rookie to the stage. He has performed all across North America at fairs and exhibitions. His crowds appreciate that he has the ability to perform edgy material while keeping it within the boundaries of good taste.
• Tap Classics
A hometown favorite, the Tap Classics thrill Lincoln County Fair audiences each year with their energetic show, fun choreography, brilliant footwork and heart racing synchronization.
Back by popular demand, the group will perform under the Big Top. Their smiles and rhythm are sure to have the crowd cheering and whistling as these impressive ladies let it be known that there are no limits when it comes to having a good time on stage at the Lincoln County Fair.
Let us know what you think!
Tagged:
2019 Lincoln County Fair