MUST WATCH: Rabbit runs on field during Oregon/Stanford football game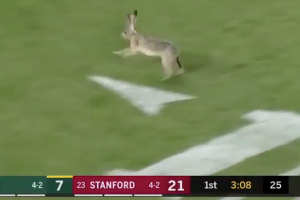 It's one of the best moments of this year's college football season.  And it didn't involve any players.
In the 1st quarter of Saturday's Oregon @ Stanford game, a rabbit ran onto the field and delayed the game for almost two minutes.
The CBS broadcast crew has fun with the situation.  Tim Brando was on the mic with the call.
Let us know what you think!
Tagged:
CBS
Oregon
Stanford
Tim Brando