New cases in 16 counties boost active cases to 610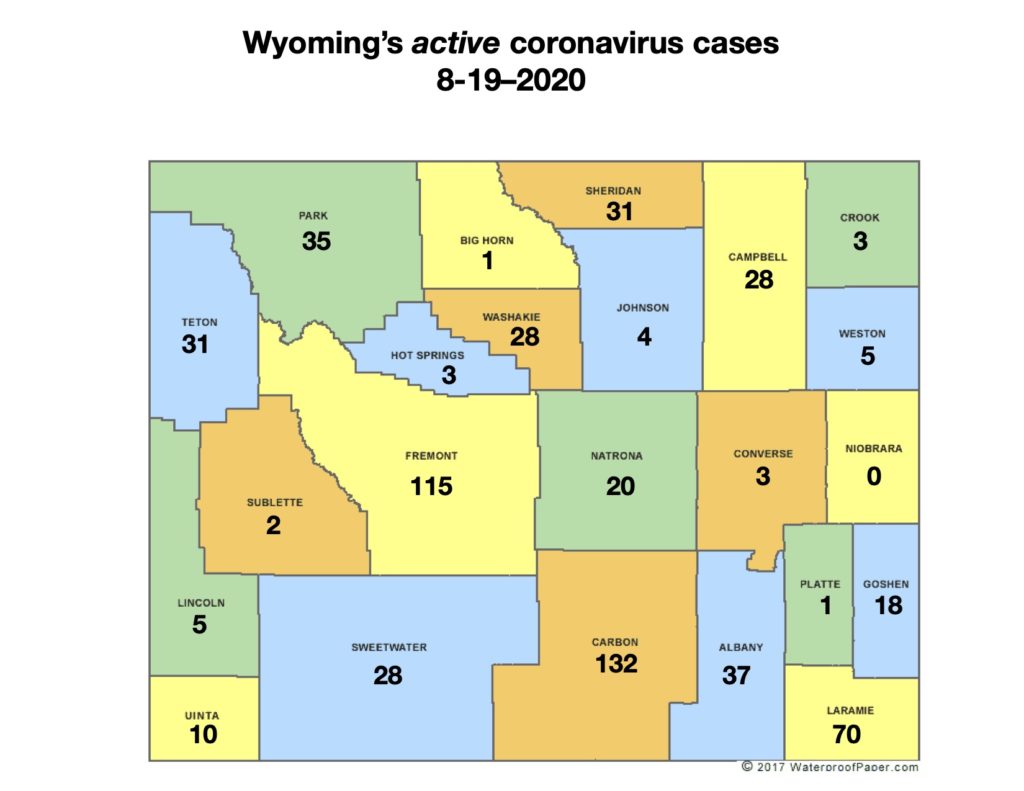 ————–
By The Wyoming News Exchange
New laboratory-confirmed coronavirus cases in 16 Wyoming counties brought the number of active cases in the state to 610 on Wednesday.
The number was an increase of 40 over Tuesday's figures, pushed up by a total of 67 new confirmed and probable cases.
The Wyoming Department of Health, in its daily coronavirus update, said the new cases outnumbered the increase of 27 seen in recoveries during the day.
As of Wednesday, Carbon County had 132 active cases; Fremont County had 115; Laramie County had 70; Albany County had 37; Park had 35; Sheridan and Teton had 31; Campbell, Sweetwater and Washakie had 28; Natrona had 20; Goshen had 18; Uinta had 10; Lincoln and Weston had five; Johnson had four; Converse, Crook and Hot Springs had three; Sublette had two, and Big Horn and Platte had one.
Niobrara County remained the only county in the state without an active case.
Active cases are determined by adding the total confirmed and probable coronavirus cases diagnosed since the illness first surfaced in Wyoming on March 12, subtracting the number of recoveries during the same period among patients with both confirmed and probable cases and taking into account the number of deaths attributed to the illness.
The growth of 59 in laboratory-confirmed cases reported Wednesday brought the total number of confirmed cases seen since the illness was first detected in Wyoming in March to 2,909.
Increases in confirmed cases were seen in Albany, Campbell, Carbon, Converse, Crook, Fremont, Goshen, Laramie, Natrona, Park, Sheridan, Sublette, Sweetwater, Teton, Uinta and Washakie counties. Fremont County had the largest case growth at 14.

The number of probable cases seen since the pandemic began grew by eight Wednesday to total 521.
Of the 3,391 people diagnosed with laboratory-confirmed or probable coronavirus cases since March, 2,786 have recovered, including 2,349 with confirmed cases and 437 with probable cases.