Janice Hall and Trevor Clark both signed letters of intent to compete at the next level on Thursday April 12 at Star Valley High School.
Hall signed to compete for BYU Track & Field in Provo starting next season while Clark signed to wrestle for the Western Wyoming Mustangs in Rock Springs.
The BYU Women's Track & Field team placed 43rd in the NCAA Championships in Eugene last season with five women competing in the weekend. Hall follows recent collegiate track & field athletes from SVHS such as Hailey (Ricks) Whetten, Hannah Demler, Ivy Myers & Audrey West.
The Mustangs finished fourth this past season in the NJCAA Championships where former SVHS wrestler Jake Thompson earned JUCO All-America status.
Both athletes are currently competing for Star Valley High School Track & Field.
Look for more information in the April 18, 2018 edition of the Star Valley Independent.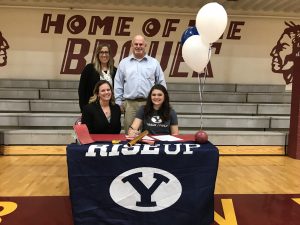 • Janice Hall burst on the scene at SVHS by breaking the school's long jump record in her very first outdoor meet as a freshman. She has broken her own record on multiple occasions. Hall has multiple individual state championships in the 100 meter, the 300 meter hurdles and the long jump and helped lead the Lady Braves to the program's first 3A team title in school history in 2017 as a junior and as the 3A state runner-up in 2016 as a sophomore. She is a multiple sport athlete competing in indoor and outdoor track & field as well as volleyball. Her coaches at SVHS include Ty Draney, Kellie Clinger & Ballard Johnson. Janice is the daughter of Tom & Shirley Hall.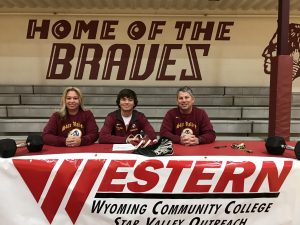 • Trevor Clark is a four-time Wyoming 3A state placer on the wrestling mat which included a state championship at 145 pounds this past season. Clark compiled a record of 138-30 in his SVHS career and was part of three consecutive Wyoming 3A team titles. In addition, Clark was a varsity runner for three SVHS cross-country championships, earning all-state in both his junior and senior campaigns. Clark was also part of back-to-back boys track & field team championships in his sophomore & junior seasons. His coaches at SVHS included Eddie Clark, Adam Guild, Winston Patterson & Casey Parry. Trevor is the son of Eddie & Kristi Clark.
Tagged:
BYU Womens Track & Field
Janice Hall
Star Valley High School
Trevor Clark
WWCC Mustangs
WWCC wrestling