Record number of new cases pushes active cases over 1,400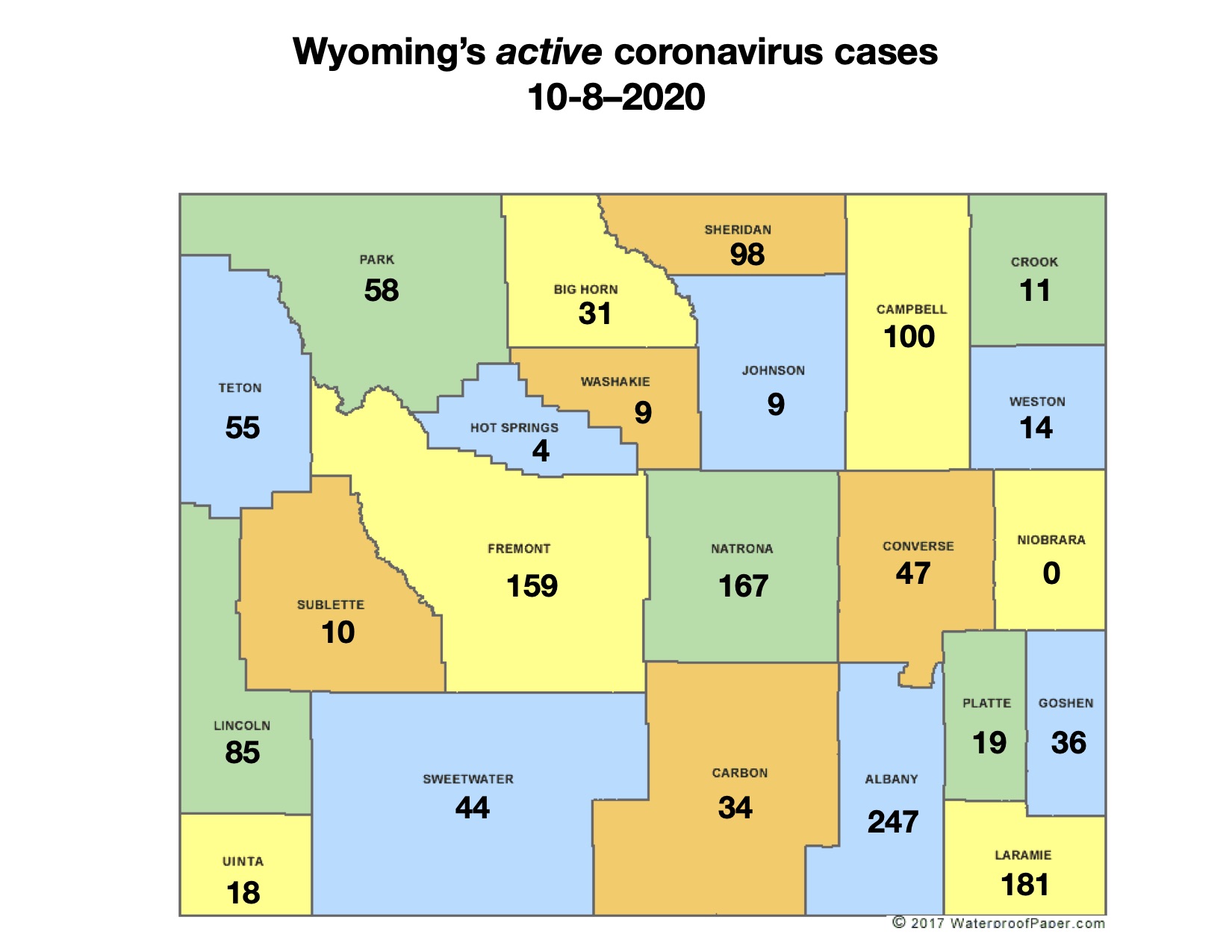 By The Wyoming News Exchange
The number of Wyoming residents to die after being infected with the coronavirus grew to 54 on Thursday.
The Wyoming Department of Health announced an older Natrona County woman died last week after being hospitalized for treatment of coronavirus. The woman had underlying health conditions known to put patients at risk for complications from coronavirus.
The announcement came as the department reported a record number of new confirmed and probable cases of coronavirus that pushed the state's number of active cases over 1,400.
The Wyoming Department of Health, in its daily coronavirus update, said 165 new laboratory-confirmed cases and 28 new probable cases were reported Thursday.
When combined with the report Thursday of 99 more recoveries from the illness, the state was left with 1,435 active cases of coronavirus, an increase of 93 over Wednesday.

Albany County had 247 active cases; Laramie County had 181; Natrona had 166; Fremont had 159; Campbell had 100; Sheridan had 98; Lincoln had 85; Park had 58; Teton had 55; Converse had 47; Sweetwater had 44; Goshen had 36; Carbon had 34; Big Horn had 31; Platte had 19; Uinta had 18; Weston had 14; Crook had 11; Sublette had 10; Johnson and Washakie had nine, and Hot Springs had four.
Niobrara County continued to be the only county with no active cases.
Active cases are determined by adding the total confirmed and probable coronavirus cases diagnosed since the illness first surfaced in Wyoming on March 12, subtracting the number of recoveries during the same period among patients with both confirmed and probable cases and taking into account the number of deaths attributed to the illness.
The new confirmed cases were reported in 19 counties, with both Albany and Fremont counties reporting 22 new cases. The increase in confirmed cases brought the number seen since the illness was first detected in Wyoming in mid-March to 6,031.
The number of probable cases, those where a patient has coronavirus symptoms and has been in contact with someone with a confirmed case but has not been tested for the illness, increased on Thursday to total 1,061 since the pandemic began.
The total number of people to recover from either confirmed or probable coronavirus cases stood at 5,603 on Thursday, an increase of 99 from Wednesday.