(Video) – Salt River Symphony Chorus joins Marvin Goldstein in concert
Sunday, April 15, local musicians and vocalists of the Salt River Symphony Chorus  will be joined on the SVHS stage by critically-acclaimed pianist Marvin Goldstein and international singer Vanessa Joy.
The SRSC, under the direction of James Arbizu and Jamie Hale, has been rehearsing over the past month in preparation for the arrival of Goldstein and Joy.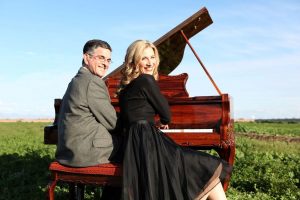 "It's always been a dream of mine to sing with an orchestra," said Joy. "Dreams do come true! I'm looking forward to a wonderful evening of beautiful music and singing audience favorites such as 'Danny Boy' and 'Shenandoah' with the orchestra and choir in Star Valley."
Composer and arranger, Brian Jensen and Celtic woodwind player, Derek Crane will also be traveling to Star Valley to perform Sunday evening.
"The concert promises an enjoyable and uplifting repertoire, with emphasis on music of a Celtic celebration," said Stephanie Henderson of the Salt River Symphony Chorus. "The performance is family-friendly and will begin at 7 p.m."
Admission is free.
"Donations to help with the costs of this performance can be made at the doors the night of the performance or via the  Support Salt River Symphony Chorus GoFundMe page," Henderson said.
"Donations are managed by the Star Valley Arts Council and are considered tax-deductible."
According to Amber Marie Hunt, President of the Star Valley Arts Council, Sunday's performance is an example of how local talent and international talent can come together beautifully.
The choir and symphony have been working hard, with rehearsals starting in March and continuing right up to the night of the performance," she said. "The range of local talent being presented and the integration of the world class performers will provide a beautiful and high-quality night of music and talent."
Sunday's performance is open to and appropriate for audience members of all ages.
"The music is high quality and has been specially arranged for our group," said James Arbizu, symphony director. "It is coming together incredibly well."
Tagged:
Marvin Goldstein
Salt River Symphony Chorus
Star Valley Arts Council