Seven new coronavirus deaths reported as active cases climb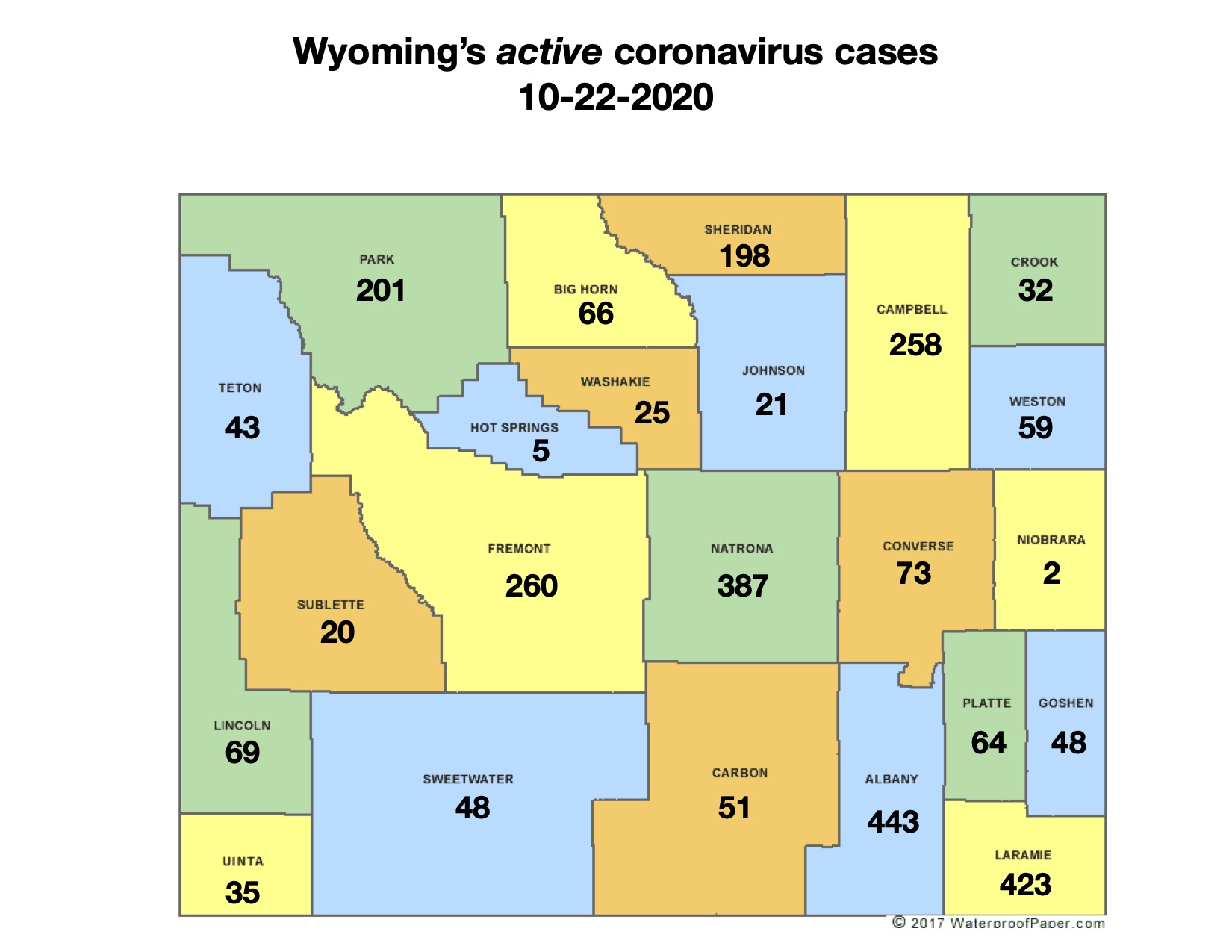 By the Wyoming News Exchange
Seven more Wyoming residents have died as a result of the coronavirus, the Wyoming Department of Health said Thursday.
The department said the deaths of the seven, all older adults, brought the state's total of deaths attributed to coronavirus to 68.
It was the highest number of deaths reported in one day since the pandemic began in March.
One victim was an older Crook County man who died in another state late in September, another was an older Goshen County man who died earlier this month after being hospitalized for treatment of the disease.
An older Campbell County man died earlier this month, as did an older Uinta County woman who was hospitalized in another state for treatment.
An older Natrona County man died last week after being hospitalized, while an older Laramie County woman died this week.
Finally, an Albany County man died earlier this week after being hospitalized.

The announcement came as the number of active coronavirus cases in Wyoming continued to climb, rising by 114 to total 2,831 on Thursday.
The Department of Health, in its daily coronavirus update, said 232 new confirmed cases of the illness were reported Thursday, along with 39 new probable cases.
The department also said 150 new recoveries were reported to it on Thursday, leaving the state with 2,831 active cases.
Albany County had 443 active cases Thursday; Laramie County had 423; Natrona County had 387; Fremont had 260; Campbell had 258; Park had 201; Sheridan had 198; Converse had 73; Lincoln had 69; Big Horn had 66; Platte had 64; Weston had 59; Carbon had 51; Goshen and Sweetwater had 48; Teton had 43; Uinta had 35; Crook had 32; Washakie had 25; Johnson had 21; Sublette had 20; Hot Springs had five, and Niobrara had two.
Active cases are determined by adding the total confirmed and probable coronavirus cases diagnosed since the illness first surfaced in Wyoming on March 12, subtracting the number of recoveries during the same period among patients with both confirmed and probable cases and taking into account the number of deaths attributed to the illness.
The new confirmed cases were reported in 20 counties, with Fremont County seeing the highest number of new cases, 39.
The new confirmed cases brought the total seen since the first case was diagnosed in Wyoming in mid-March to 8,537.
The number of probable cases seen since mid-March increased to 1,582 on Thursday with the reporting of 39 new cases. A probable case is one where a patient has coronavirus symptoms and has been in contact with someone with a confirmed case, but has not been tested for the illness.
The 150 recoveries brought to 7,220 the number of people to recover from confirmed or probable cases since March.