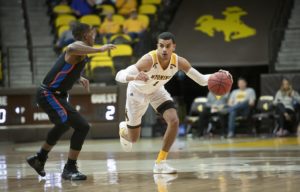 The Wyoming Cowboys took a short bench into the beginning of the 20th season of conference play for the Mountain West Conference, dressing just seven players as they fell to visiting Boise State, 69-55 in the Arena-Auditorium on Wednesday evening.
Wyoming certainly missed the offensive production of injured players such as Jake Hendricks (11.4 ppg) and Hunter Maldonado (13.8 ppg), both expected to miss the remainder of the season with injury. The team is also without Ny Redding (suspension) and Austin Mueller (ACL).
The Broncos capitalized on cold stretches for the Cowboys who fell behind 15-8 and then gave up a 10-0 run just prior to halftime to trail 33-22 at halftime.
Adding to the offensive woes was the ice-cold shooting of standout guard Justin James who only managed seven points on 1 of 14 shooting. James did pull down 14 rebounds in the effort.
Freshman Trace Young, fresh off his game-winner versus Dixie State over the weekend, matched his debut with 16 points to lead UW in scoring. Jordan Naughton scored ten points and A.J. Banks finished with eight points.
Alex Hobbs led Boise State with 17 points and Justinian Jessup who finished with 14 points.
Wyoming struggled with turnovers, committing 15 overall which led to 29 Boise State points. BSU also owned the offensive glass, ripping down 11 which led to a slew of second-chance points.
The win improved Boise State's record to (6-9)(1-0) while Wyoming fell to (4-10)(0-1) on the season.
In other MWC action, Utah State (10-4)(0-1)was crushed by #6 Nevada (14-0)(1-0), 72-49. New Mexico (7-6)(1-0) held off Air Force (5-8)(0-1) with a score of 65-58. Fresno State (10-3)(1-0) routed San Jose State (3-10)(0-1) by the score of 73-53 and UNLV (7-6)(1-0) outscored Colorado State (5-9)(0-1) by 11 points in the second half to rally for a 78-76 victory in Las Vegas.
Wyoming will now travel to Vegas for a clash with the Rebels this Saturday night (8 p.m.). This game can be heard in Western Wyoming on The Spur (105.3 FM / 940 AM in Kemmerer/Diamondville AND 1210 AM in Star Valley). Tune in anywhere with internet access at svinews.com/radio.
The Cowboys will also take on San Diego State (8-5)(0-0) on Tuesday, January 8 before turning home to host Utah State on Saturday, January 12.
Tagged:
A.J. Banks
Alex Hobbs
Boise State Broncos
Jordan Naughton
Justin James
Justinian Jessup
Mountain West Conference Basketball
Trace Young
Wyoming Cowboys Basketball