South Lincoln Medical Center Opens New Therapy Services Center
South Lincoln Medical Center in Kemmerer has opened a new physical therapy center. The Kemmerer-Diamondville Community Area (KDCA) Chamber of Commerce sponsored a ribbon-cutting ceremony to officially open the center on the evening of Thursday, February 18.  About 20 people, including the South Lincoln Medical Center.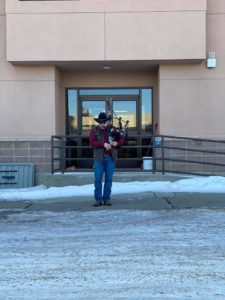 Board of Directors, Hospital CEO Karl Sundberg, officers of the KDCA and the new physical therapy staff attended. 
The ceremony was kicked off by a solo bagpipes performance by medical center employee David Cohen. Over the next hour, an open house was held for people to sign up and try the various physical therapy stations. 
At the ribbon-cutting ceremony, Sundberg said the center, which is situated on the lower level of the hospital, will give therapists much more room, and equipment, to work with patients than the small space they have had in the past. 
The Therapy Services Center will be overseen by Physical Therapist Trent Sobieck. He has been working at South Lincoln Medical Center for the past six months, after being previously employed in Evanston. Sobieck says he and his staff at the center can provide therapy to recover from a variety of ailments. These include joint replacement, joint injuries, geriatrics and pediatrics, neurology, wound care and spine rehabilitation.
To find out more about South Lincoln Medical Center's Therapy Services, or to schedule an appointment, call 307-877-4401, extension 3200.

Tagged:
South Lincoln Hospital District
South Lincoln Medical Center