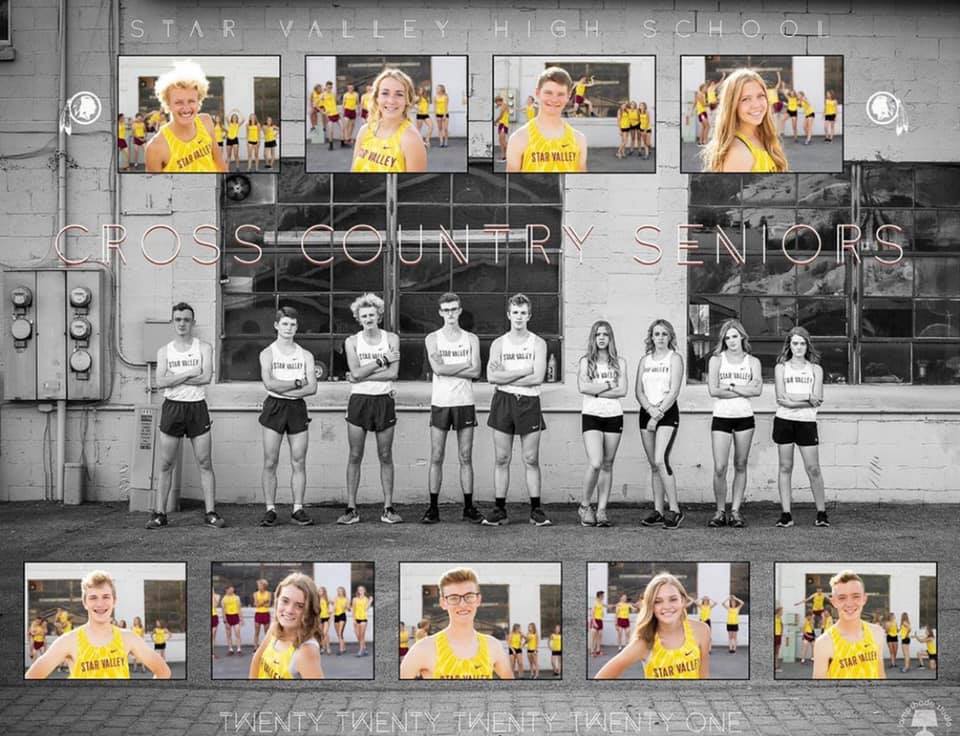 —————
Star Valley Cross-Country traveled to Rexburg, Idaho on Thursday afternoon for the Madison Quad meet.
In the Women's race, Elanor Eddington of Idaho Falls took the top time with a race of 19:25, edging teammate Allison Lemons by 13 seconds. Coming in third with a time of 19:59 was Star Valley's Jacie Angell who went sub-20 despite very windy conditions according to coach Ty Draney.
The Lady Braves placed third with 69 points, edging Sugar-Salem who finished with 71. Idaho Falls won the meet with a score of 32 and Madison was second with a 46.
Emily Strasburg finished out of the top-ten by just two-tenths of a second with a time of 20:45.3. Freshman Liberty Mavy was close behind with a 21:07. Sister Eve Mavy was next with a 21:34 and junior Sara McKen rounded out the varsity five with a time of 21:45.
Peter Visser outraced a competitive field from eastern Idaho with a time of 15:32.6, pulling away from Madison's Will Dixon who was five seconds behind. Idaho Falls' Mitchell Athay and freshman Luke Athay went 15:42 and 15:56 respectively.
Johnny Hunting put together a nice race for the Braves, finishing with a time of 17:39. Wyatt Dunn and Bryan Hahn ran together with times of 18:08 and 18:10 respectively with Noah Draney close behind at 18:11.
Idaho Falls took the top team score in very close total of 31 points to Madison's 35. Sugar-Salem likewise nipped Star Valley 93-94 for third and fourth place.
The event is one of two scheduled outings for the SVXC teams as they will be in Jackson at the Lockhart Ranch on Saturday where they will not only race the Broncs and Lady Broncs but also Evanston, Pocatello, Skyline, Rigby, Rock Springs and Teton.

Madison Quad (Women)
Jacie Angell 19:59 (3rd)
Emily Strasburg 20:48 (11th)
Liberty Mavy 21:07 (13th)
Eve Mavy 21:38 (20th)
Sara McKen 21:45 (22nd)
Jill England 22:08
Emmalee Hale 22:34
Kaia Barkdull 24:15
Gentry Hendriks 24:20
Kaelle Opitz 24:20
Lilian Weiler 24:20
Elsie Pieper 26:13
Jaylen Allred 26:22
Anna Kallgren 26:58
Jenna Young 31:19
Women's Team Scores
Idaho Falls 32
Madison 46
Star Valley 69
Sugar-Salem 71
Madison Quad (Men)
Peter Visser 15:32.6 (1st)
Johnny Hunting 17:39 (19th)
Wyatt Dunn 18:08 (29th)
Bryan Hahn 18:10 (30th)
Noah Draney 18:11 (32nd)
Beau Skinner 18:53
Josh Strgar 19:16
Preston Buehler 19:51
Peter Lorch 19:57
Steven Schwab 20:19
Weston Angell 20:55
Caleb Thygerson 21:03
Kelson Allred 21:40
Aaron Hyde 22:06
Renn Helm 22:18
AJ Clark 24:28
James Heywood 26:16
Ryan Gibbons 30:13
Ashton Aitkin 30:17
Men's Team Scores
Idaho Falls 31
Madison 35
Sugar-Salem 93
Star Valley 94
Tagged:
Jacie Angell
Madison Quad
Peter Visser
Star Valley cross-country