Star Valley Ridge Riders sponsor Rocky Mountain Hill Climbs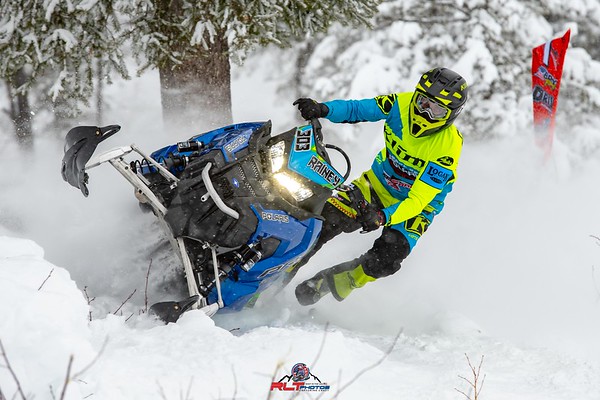 ◆ Climbing event takes place in Grover Park February 17-19.
Members of the Rocky Mountain Hill Climb Association are scheduled for their winter hill climbing event on February 17, 18 and 19 in Grover Park. Climbs begin each morning of the weekend around 9 a.m.
"We have been racing up Grover Park since 1998," said event coordinator with the Star Valley Ridge Riders, Dirk Hillyard, in an interview with SVI News. "The race has been going on at various locations in the Valley since 1993.
Spectators are invited to attend all three days of the event. There are bleachers for the public to sit on, or they can bring their own lawn chairs.
A shuttle is provided for the guests from the parking lot at the mouth of the north entrance to Grover Park, off Highway 89, East of Grover. The shuttle will run continuously from 8 a.m. each day of the weekend until the event closes at night. Parking and the shuttle transport are free, but tips are welcome. Fans can expect food and apparel vendors on the hill all three days of the event.
"We have a lot of local riders and local pro racers," said Hillyard. "In order for them to participate, they have to become a member of the Rocky Mountain Hill Climb Association and sign up through them. They meet all the association rules and regs. We provide the venue for them as the Star Valley Ridge Riders."
Races on Friday include all Junior, Amateur and Semi-Pro classes. Saturday races will run Professionals. On Sunday, Professional finalists will run the climb for the championship.
"It's a very naturally challenging mountain to climb," said Hillyard. "There are wrecks, crashes, thrills and spills. It's an action-packed event. It really is. As the Ridge Riders, we sponsor some school scholarships with the money. We also put out a beacon check station for avalanche safety. It's good to help out the snowmobile club. We would love to see everybody come out and enjoy the event and support our local racers," concluded Hillyard. "We would love to pack the grandstands all three days. Anyone wanting to help on the hill, just be there at 7 a.m. and sign in at the red trailer."
Let us know what you think!
Tagged:
Afton Simplot Challenge Hill Climb
Dirk Hillyard
Rocky Mountain Hill Climb Association
Star Valley Ridge Riders