State Champs! Wrestlers claim three-peat by more than 100 points
The Braves wrestling team has had a lot of high expectations for the past three years and they have reached them all. Star Valley's grapplers won the Wyoming 3A state team title by more than 100 points on Saturday as they claimed the program's first three-peat in 20 years.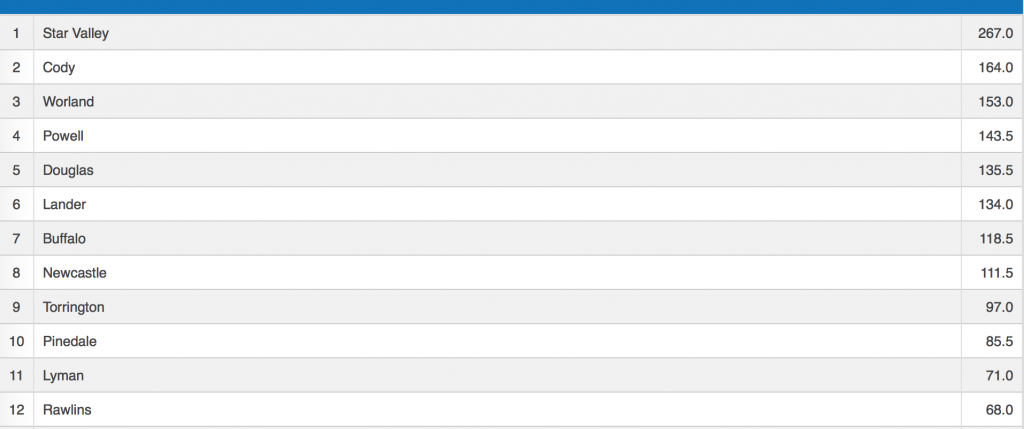 Haze Child (106), Spencer Angell (113), Gavin Patterson (126), Trevor Clark (145), Kyle Kunz (160) and Josh Dawson (220) all advanced to the finals with the team title already in the bag by the time the championship face-off took place.
Child led 8-6 in the third period before Pinedale's Keagen Geilhousen won the 106-pound championship with a pinning move.
Angell was in a tight match with Newcastle's Trayton Dawson and sealed his championship with a late takedown and a 6-3 decision. It was Angell's second career state title after winning the 98-pound championship in Idaho as a freshman. He was a state finalist last season.
At 126 pounds, Gavin Patterson was in his third straight finals looking for his first elusive state championship and left no doubt as he pinned Lander's Nathan Redman in the second period to win the championship.
It was a good night to be one of the coach's sons as Trevor Clark was in the championship at 145 pounds. Clark battled with Luke Goncalves of Worland and won in sudden victory (6-4). Clark finished in the top four at state all four years as a member of the Braves' wrestling team.
Kyle Kunz was the surprise of the tournament after not qualifying for state the last two years and advancing to the finals as a junior. Kunz battled with Cody's Dan Beaudrie who won his second state championship with a pin over Kunz.
Finally, Josh Dawson wasted no time wrapping up his second consecutive undefeated season (33-0) as he pinned Alex Beck of Worland in just 27 seconds. Dawson is the first back-to-back undefeated wrestler for Star Valley since Rick Wolfley in 2004-05 & 2005-06.
As a team, the Braves scored 267.0 points with the Cody Broncs finishing as a distant state ruuner-up with 164.0 points. Worland was third with 153.0.
In other classifications, Moorcroft easily won the 2A class with 273.0 points. Glenrock was second with 193.5 and Cokeville was third with 169.0.
The 4A class had a new champion as Cheyenne East won the school's first team title since 1965 with 216.5 points. Kelly Walsh was state runner-up with 205.0 and Thunder Basin was Third with 204.5.
Look for more detailed coverage and photos from the tournament as well as the traditional championship poster in the February 28, 2018 edition of the Star Valley Independent.
106: Haze Child (2nd), Brayden Andrews (3rd)
113: Spencer Angell (1st), Logan Hoopes (4th)
120: Tristian Hicks (3rd), Trey Waldron (DNP)
126: Gavin Patterson (1st), Carson VanDeburg (DNP)
132: Grayson Hicks (Injury Forfeit), Ren King (DNP)
138: Tyson Hoopes (5th)
145: Trevor Clark (1st)
152: Kodi Burk (4th), Greyson Hunsaker (DNP)
160: Kyle Kunz (2nd), Koa DeLong (6th)
170: Trent Clark (4th), David Walker (DNP)
182: Matt Hunting (3rd), Brennan Harris (DNP)
195: Connor O'Brien (5th)
220: Josh Dawson (1st), Gabe Nield (DNP)
Hwt: Hunnter Cranney (3rd), Parker Merritt (DNP)
Tagged:
Gavin Patterson
Haze Child
Josh Dawson
Kyle Kunz
Spencer Angell
Star Valley Braves wrestlers
Trevor Clark
Wyoming State Wrestling Championships