• Wyoming State Volleyball
All three Lincoln County teams headed to Casper this past weekend to compete in various brackets of the Wyoming State Volleyball Championships. Kemmerer High Schoo had pulled the upset to make the field and although they played valiantly they came up short on a pair of sweeps to eventual champion Wright and Glenrock in the 2A Bracket.
CLICK HERE FOR THE FULL 2A BRACKET
The Cokeville Panthers collected the program's 23rd 1A state championship trophy as they didn't drop a single set. CHS swept Arvada-Clearmont, Saratoga and Hannah-Elk Mountain to claim the title.
CLICK HERE FOR THE FULL 1A BRACKET
The Star Valley Lady Braves knocked off the Natrona Fillies in the quarterfinals, 3-1 before suffering a tough sweep at the hands of the Laramie Lady Plainsmen in the semifinals. Star Valley bounced back on Saturday to pick up a 3-0 sweep of Cody and then a 3-1 victory over Thunder Basin to claim third place in the 4A bracket. Kelly Walsh went on to defeat Laramie 3-1 in the championship match.
CLICK HERE FOR THE FULL 4A BRACKET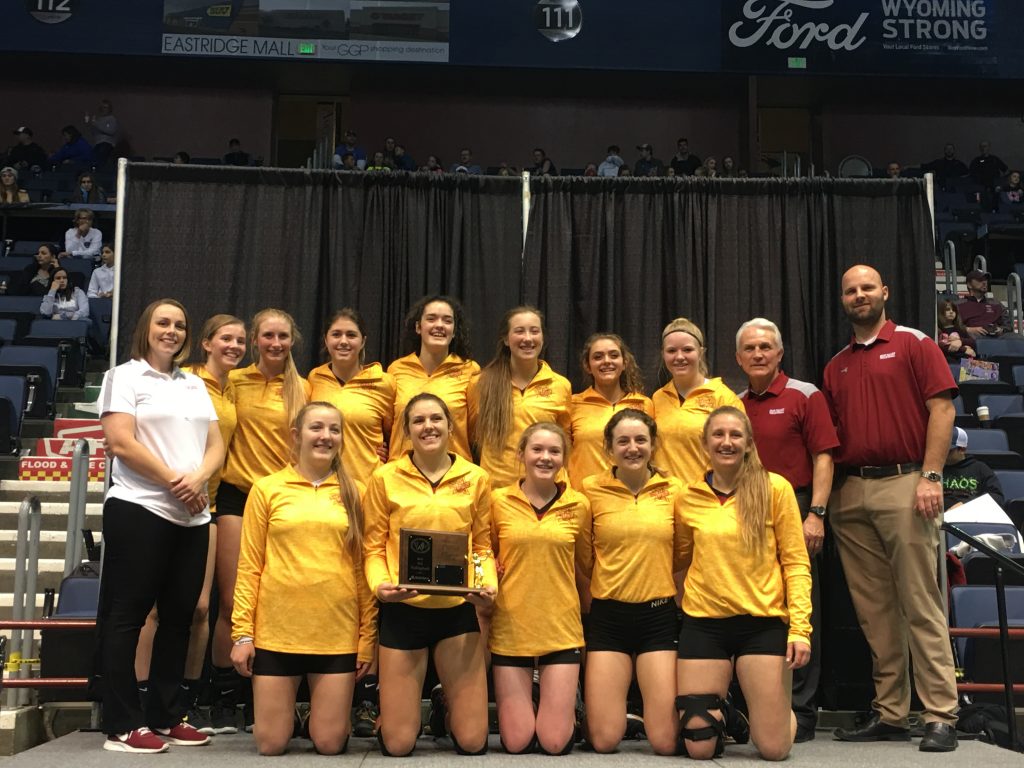 • Football Semifinals
The Cokeville Panthers slowed down a prolific Upton-Sundance offense in a 25-6 victory on the CHS field to punch their ticket to the 1A state championship. They will face off against Big Horn who battered Pine Bluffs, 68-13. The Panthers are going for their own 23rd overall championship on the football field. The 1A state title game is scheduled for 1 p.m. on Saturday at War Memorial Stadium in Laramie.
CLICK HERE FOR THE FULL 1A BRACKET
The Braves endured monsoon-like conditions with snow, rain, sleet and wind on Friday evening. Star Valley's defense stifled the visiting Cody Broncs in a 33-0 victory as the Braves had both R.J. Cazier and Wyatt Moore compile over 100 yards on offense. Star Valley will now face off against undefeated Torrington who scored with 1.3 seconds left on the clock against the Jackson Broncs and then scored on a two-point conversion to win 22-21. The Blazers were state runner-up a year ago. The 3A state title game is scheduled for 3 p.m. on Friday at War Memorial Stadium in Laramie.