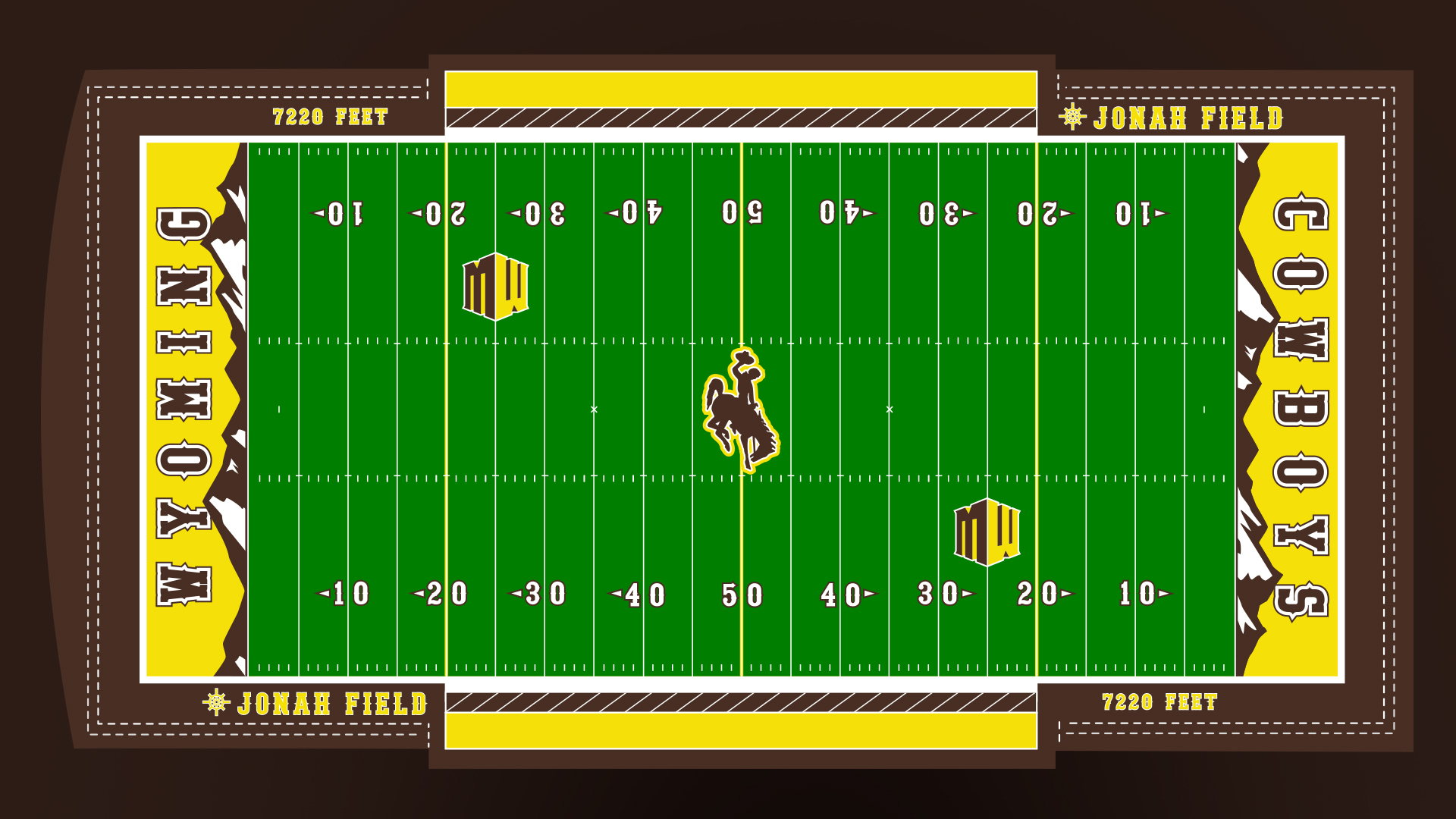 • Installed in Summer 2023
Cowboys rolling out FieldTurf Vertex CORE system at War Memorial Stadium
Tim Harkins
Associate Athletics Director for Media Relations,
Public Relations and Broadcasting
University of Wyoming Athletics
Laramie, Wyo. (May 8, 2023) — The next time the Wyoming Cowboys take the field , they will be back on their home turf at Jonah Field at War Memorial Stadium, hosting Texas Tech on a new FieldTurf Vertex CORE surface on Sept. 2, 2023.  Wyoming's new field will maintain its iconic Mountain design in the end zones.
The installation of the Vertex CORE system, a leading synthetic turf solution, represents War Memorial Stadium's second consecutive FieldTurf surface, following an initial collaboration in 2013. The success of the first installation led to Wyoming choosing FieldTurf, a Tarkett Sports company, for its indoor practice facility in 2018. Sitting at an elevation of 7,220 feet, the Cowboys boast the country's highest NCAA Division I football stadium, where they have won 66 percent of their home games in the stadium's history.
The stadium's new Vertex CORE was designed to deliver the perfect combination of performance and beauty. Equipped with two legendary FieldTurf fibers, the Classic HD slit-film fiber and the CORE monofilament super fiber, the system delivers leading agility, durability, and aesthetics. Vertex CORE demonstrates FieldTurf's unwavering dedication to quality and strives to Change The Game.
"We are very proud of the branding opportunity that Jonah Field has provided us over the last decade," said Tom Burman, University of Wyoming Director of Athletics.  "We are looking forward to seeing the upgraded field installed this summer.  Our relationship with FieldTurf has been a great partnership through the years, and we are pleased to continue that relationship with this new field in War Memorial Stadium."
"We thank the University of Wyoming for once again choosing us to replace the turf at War Memorial Stadium and are excited to install our industry-leading Vertex CORE product," said Jed Easterbrook, Tarkett Sports Regional Vice President, Rocky Mountains. "The Cowboys have been a great partner for Tarkett Sports surfacing with Beynon Indoor Track, Renner Tennis, and FieldTurf in their sports facilities."
Last season, playing in the NCAA Mountain West Conference, with the country's fourth least experienced roster, Wyoming showed its tenacity and grit by finishing second in the Mountain Division and enjoying its fifth bowl-game appearance in the last seven seasons.
"When we were looking to upgrade our field, FieldTurf once again provided us with the top-of-the-line product that we were looking for," said Craig Bohl, University of Wyoming Head Coach.  "It is important to our program to have a high-quality field to play on and practice on.  Having FieldTurf in both War Memorial Stadium and in our Indoor Practice Facility offers us that quality.  We appreciate the product and the service that FieldTurf provides us."
In addition to the Cowboys, other Mountain West schools that play and/or practice on FieldTurf include Boise State University, United States Air Force Academy, University of New Mexico, Utah State University and San Diego University.
Other top Division-I NCAA programs that play on FieldTurf include Illinois, Kansas State, Arizona, Washington State, Oregon State, West Virginia, Nebraska, Oklahoma State, Texas, Iowa, Rutgers, Syracuse, and Louisville, to name a few.
"One of the greatest endorsements our clients can provide is when they decide to continue the relationship with us for new projects and installations," said Eric Daliere, President – Tarkett North America & Tarkett Sports. "We're extremely proud to be part of the Cowboys' success story and thank the team and school for their trust."
In addition to the FieldTurf installation at Wyoming and its presence across the Mountain West conference, Tarkett Sports is firmly rooted in the region with offices in Denver and Salt Lake City. By consistently having team members on the ground, FieldTurf is able to better engage and serve current and future clients alike.
PROVEN SAFETY
Vertex CORE is designed using FieldTurf's heavyweight 3-layer infill technology, which has showcased a significantly lower incidence of injuries per research by Michael C. Meyers, a Professor in the Department of Sport Science and Physical Education at Idaho State University.
About FieldTurf
FieldTurf is a world leader in artificial turf with over 25,000 installations worldwide. Trusted at every level, FieldTurf is at the surface of elite football programs across the country.
In the NFL, FieldTurf is the trusted choice of 11 teams. The Falcons, Giants, Jets, Lions, Panthers, Patriots, and Seahawks both play and practice on FieldTurf while the Buccaneers, Eagles, Packers, Steelers, practice on FieldTurf.
In the NCAA, over 1500 programs trust FieldTurf of which includes powerhouse football programs Michigan, Notre Dame, Utah and Oregon to name a few.
FieldTurf is a part of Tarkett Sports, a world leader in athletic surfacing, offering a comprehensive portfolio of sports flooring solutions through its brands: FieldTurf, FieldTurf Landscape, Beynon Sports, Renner Sports, GrassMaster, Tarkett Sports Indoor and Tarkett Sports Construction. With a wide range of products including artificial, hybrid and residential turf, running tracks, tennis courts and indoor athletic surfaces, the Tarkett Sports family offers the ultimate surface experience.
Let us know what you think!
Tagged:
FieldTurf Vertex CORE
Jonah Field
Tarkett Sports
War Memorial Stadium