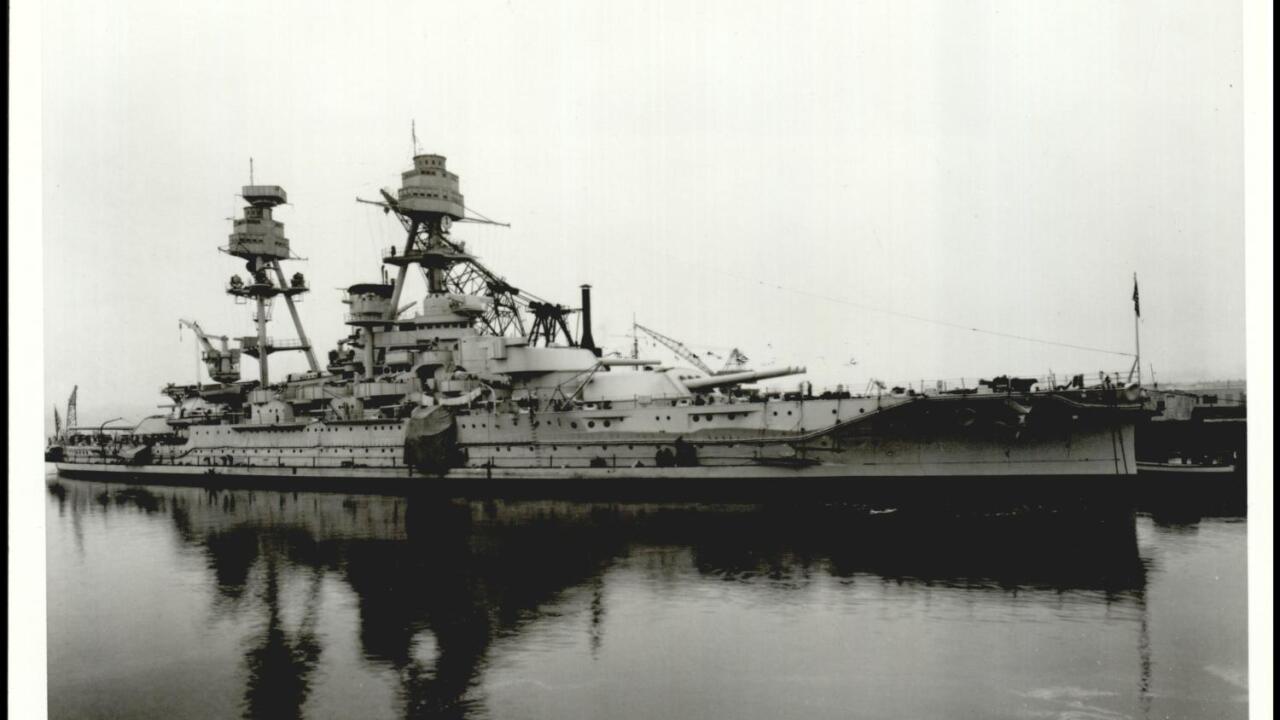 By Mary Steurer
Casper Star-Tribune
Via- Wyoming News Exchange
CASPER —Experts have identified the remains of a Sheridan sailor who died in the attack on Pearl Harbor during World War II. Herman Schmidt, 28, was a Navy Gunner's Mate Third Class aboard the USS Oklahoma, a Nevada-class battleship.
Schmidt's remains were officially identified about two years ago, though the Department of Defense held off on announcing the news until his family could be fully briefed, according to a Monday press release from the department's Defense POW/ MIA Accounting Agency.
The USS Oklahoma was moored on battleship row at Ford Island, Pearl Harbor, when on the morning of Dec. 7, 1941 it was attacked by hundreds of Japanese planes. The battleship was struck by several torpedoes and capsized in a matter of minutes. The attack killed 429 of the ship's men, including Schmidt, the release said.
The Navy also lost the USS Arizona in the attack. It was hit by multiple bombs and exploded, killing 1,177, according to the National WWII Museum.
More than 2,400 Americans died in the surprise attack and over 1,100 were wounded at Pearl Harbor that day.
Nearly 130 Japanese servicemen also lost their lives.
The military worked for three years to recover the bodies of lost sailors and Marines, according to the release. Their remains were buried in the Halawa and Nu'uanu cemeteries in Hawaii.
Three years later, the American Graves Registration Service disinterred the bodies of the servicemen to try to identify them.
They were only able to positively ID 35 of the men stationed on the Oklahoma. The rest were deemed "non-recoverable" and reburied at the National Memorial Cemetery of the Pacific in Honolulu (also known as the Punchbowl), according to the release.
In 2015, the Defense POW/MIA Accounting Agency exhumed the remains to try again.
So far, it has been able to identify 361 of the 394 Oklahoma personnel labeled "non-recoverable" after the war, according to the agency's website.
Experts used a combination of dental, anthropological and DNA analysis to identify Schmidt, the release said.
Schmidt's name is recorded on the cemetery's Walls of the Missing, which memorializes American servicemen who were lost, buried at sea or went missing during WWII. Now that Schmidt has been accounted for, a rosette will be placed next to his name, the release said.
Schmidt will be buried in the Arlington National Cemetery, though the Department of Defense hasn't announced a date yet.
Anyone with questions about the funeral service can reach out to the Department of Defense's Navy Service Casualty office at (800) 443-9298.
Since 2015, the Defense POW/ MIA Accounting Agency has identified the remains of six other fallen soldiers from Wyoming, including three who were killed during WWII, two who died in the Korean War and one who was killed during the Vietnam War.
Let us know what you think!
Tagged:
Department of Defense
Herman Schmidt
Pearl Harbor
USS Oklahoma
world war ii