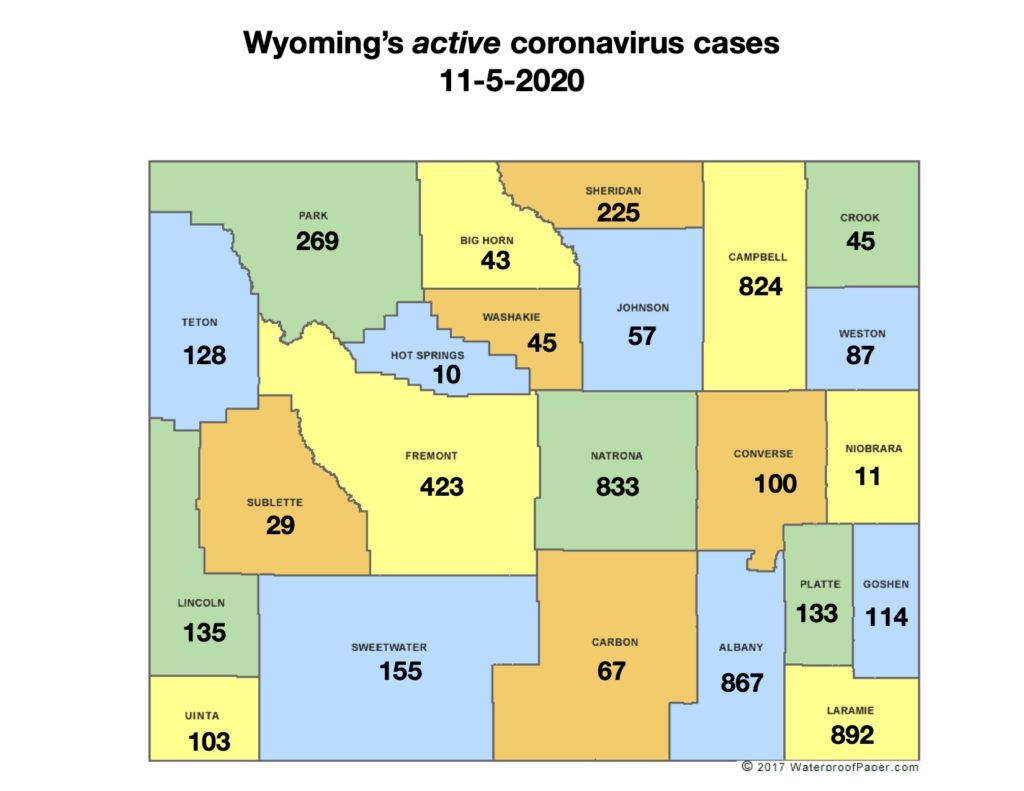 By The Wyoming News Exchange
The number of laboratory-confirmed coronavirus cases in Wyoming increased by 279 on Thursday, according to the state Health Department, which also reported an increase of 86 probable cases.
The increases brought to 12,954 the total number of laboratory-confirmed cases seen since coronavirus first surfaced in Wyoming in mid-March. Probable cases now number 2,455.
The increase in recoveries on Thursday was 208, bringing the total number of active cases in the state to 5,595, an increase of 157.
Active cases are determined by adding the total confirmed and probable coronavirus cases diagnosed since the illness first surfaced in Wyoming on March 12, subtracting the number of recoveries during the same period among patients with both confirmed and probable cases and taking into account the number of deaths attributed to the illness.

As of Thursday, Laramie County had the state's highest number of active cases at 892; Albany County had 867; Natrona County had 833; Campbell County had 824; Fremont County had 423; Park County had 269; Sheridan County had 225; Sweetwater County had 155; Lincoln County had 135;  Platte County had 133; Teton County had 128; Goshen County had 114; Uinta County had 103; Converse County had 100; Weston County had 87; Carbon County had 67; Johnson County had 57;  Crook County had 45;  Washakie County had 45; Big Horn County had 43; Sublette County had 29; Niobrara County had 11; and Hot Springs County had ten.
New cases were reported in all but three of Wyoming's 23 counties: Hot Springs, Johnson and Platte.  The highest increases in coronavirus cases were found in Laramie County, which reported 59 new laboratory-confirmed cases, and Fremont County, which reported an increase of 48.
The total number of Wyoming residents who have recovered since the virus first hit the state is now 9,709;  the deaths of 105 people have been attributed to COVID-19.
Let us know what you think!