32 more deaths tied to COVID, active numbers continue to drop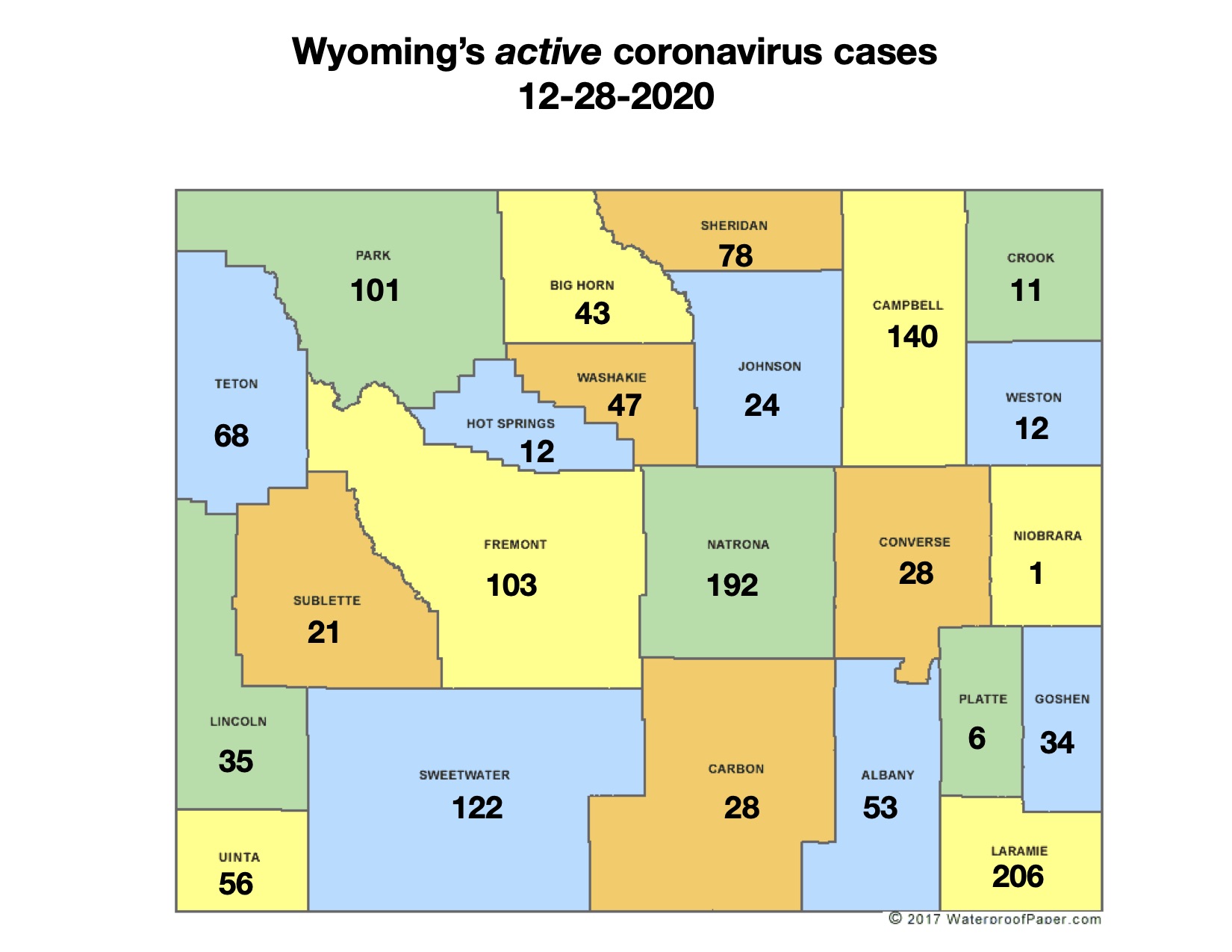 The deaths of another 32 Wyoming residents have been linked to the coronavirus, the Wyoming Department of Health said Monday.
The department, in a news release, said the number of Wyoming residents whose deaths have been tied to the coronavirus is now at 405.
The deaths occurred between late November and last week, the department said.
The victims included 10 Natrona County residents, five men and five women, eight of whom were hospitalized for treatment of the illness.

Other victims included two men and two women from Big Horn County; A man and a woman from Campbell County; a Converse County man; two Fremont County women and one man; a Johnson County woman; two men and two women from Laramie County; a Lincoln County man; a Sheridan County man, a Teton County man, and three women and one man from Washakie County.
At the same time, the number of active coronavirus cases in the state continued to move lower, dropping by 60 on Monday.
The Department of Health, in its daily coronavirus update, said it had received reports of 456 new confirmed coronavirus cases from around the state Monday, along with 48 new probable cases.
Meanwhile, the department received new reports of 532 recoveries Monday, leaving the state with 1,421 active cases, a decline of 60 from Sunday.
Laramie County had 206 active cases; Natrona County had 192; Campbell County had 140; Sweetwater County had 122; Fremont had 103; Park had 101; Sheridan had 78; Teton had 68; Uinta had 56; Albany had 53; Washakie had 47; Big Horn had 43; Lincoln had 35; Goshen had 34; Carbon and Converse had 28; Johnson had 24; Sublette had 21; Hot Springs and Weston had 12; Crook had 11; Platte had six, and Niobrara had one.
Active cases are determined by adding the total confirmed and probable coronavirus cases diagnosed since the illness first surfaced in Wyoming on March 12, subtracting the number of recoveries during the same period among patients with both confirmed and probable cases and taking into account the number of deaths attributed to the illness.
New confirmed cases were reported in 21 counties. Laramie County had the highest number of new cases at 73, while Sweetwater County had 66.
The growth in confirmed cases brought the state's total seen since coronavirus was first detected in Wyoming in mid-March to 37,623.
The number of probable cases seen since mid-March stood at 6,081 on Monday with the increase of 48.
The number of people to recover from confirmed or probable cases of coronavirus since the pandemic began increased to 41,878 on Monday with the new reports of recoveries.
Let us know what you think!