Spring Snow Provides Major Benefit to Star Valley

In the wake of a particularly long, mild winter period of little snow, the storm track has been favorable for Star Valley/Western Wyoming the past three months. A striking example is the fact that at Star Valley Ranch the total snowfall of 12 inches in the month of May was three inches greater than usually one of the snowiest winter months of February!

Both March and April provided beneficial snow as well with all three spring months substantially improving the mountain snowpack. Coupled with the colder than normal spring, the runoff has also been slower than normal.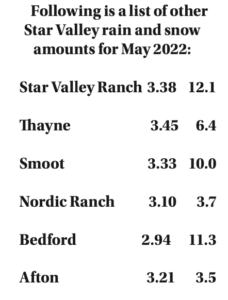 The serious snow drought that began after New Years extending through February had put the snowpack at much below normal levels and even behind last year. That all began to change in March, and by the end of April a dramatic improvement had occurred with the snowpack above normal.
The cool and wet May has maintained a substantial snowpack right up to the end of the month. Last year, by the first of June, the snow melt had basically completed.
This puts Star Valley in an excellent position for water going into summer. Recall that June of 2021 was historically dry with no measurable precipitation observed at Star Valley Ranch.
Even with the beneficial spring snows, the seasonal snowfall totals at Star Valley Ranch are still the lowest in the past 6 years.
But with the wet period of last fall and the last couple of months actual total precipitation for Lincoln County/Star Valley is running near to above normal since October 1, 2021.
This is in contrast to the much drier conditions south and west across Utah to California.
Let us know what you think!
Tagged:
Jack Hales
Star Valley Ranch
Star Valley snowpack