Active case total tops 10,000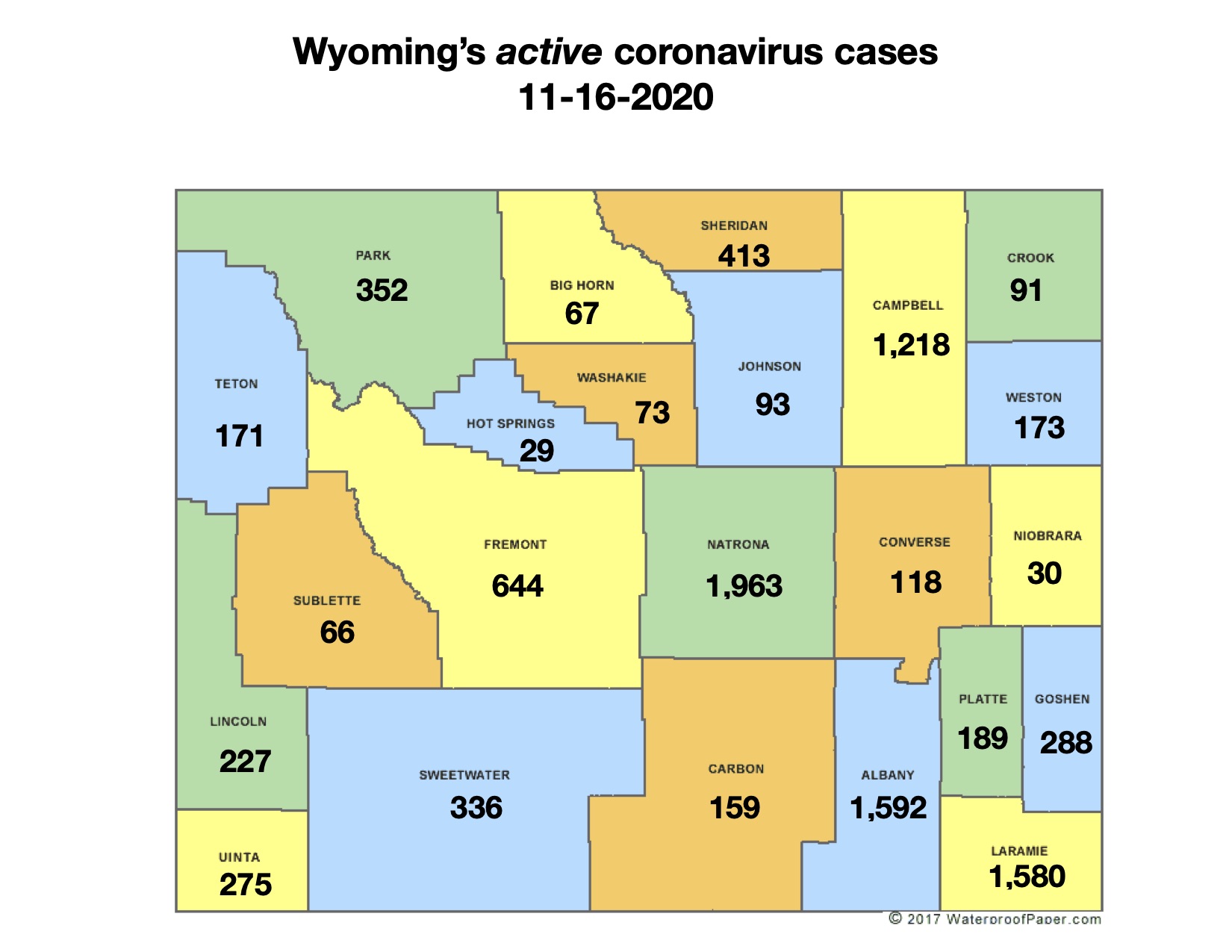 By The Wyoming News Exchange
The number of active coronavirus cases in Wyoming topped 10,000 on Monday with the reporting of 587 new confirmed cases of the illness.
Wyoming Department of Health figures put the number of active cases at 10,147 on Monday, an increase of 250 from Sunday.
The rise in the active cases was due to the increase in confirmed cases and an increase of 112 probable cases combined with new reports of 449 recoveries.
Natrona County had 1,963 active cases Monday; Albany County had 1,592; Laramie County had 1,580; Campbell had 1,218; Fremont had 644; Sheridan had 413; Park had 352; Sweetwater had 336; Goshen had 288; Uinta had 275; Lincoln had 227; Platte had 189; Weston had 173; Teton had 171; Carbon had 159; Converse had 118; Johnson had 93; Crook had 91; Washakie had 73; Big Horn had 67; Sublette had 66; Niobrara had 30, and Hot Springs had 29.
New confirmed cases were reported in 21 counties, with Laramie County reporting 152 new cases and Natrona County reporting 142.

The number of confirmed cases in Park County was reduced by 32 by the Health Department, the result of a "necessary data correction," according to department spokeswoman Kim Deti.
The increase in confirmed cases brought the total seen since the first case of COVID-19 was reported in Wyoming in mid-March to 19,885.
The increase in probable cases of 112 brought the total number of probable cases seen since mid-March to 3,308.
The newly reported recoveries mean that 12,902 people diagnosed with either confirmed or probable cases have recovered since mid-March.
Let us know what you think!
Tagged:
Wyoming active coronavirus cases
Wyoming Department of Health