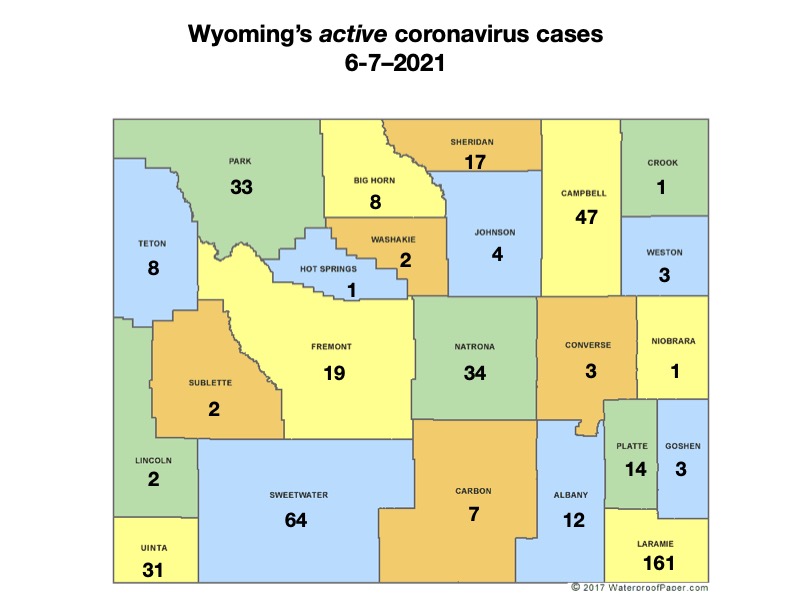 By The Wyoming News Exchange
The number of active coronavirus cases in Wyoming remained below 500 on Monday despite an increase of 19 in the past week.
Wyoming Department of Health figures show the state had 477 active coronavirus cases on Monday, compared to 458 on June 1.
The state received 328 new reports of confirmed COVID cases during the week, along with 81 new reports of probable cases.
At the same time, the number of reported recoveries among those with either laboratory-confirmed or probable coronavirus cases went up by 389, leaving the state with 477 active cases.
Laramie County had the state's highest number of active cases on Monday at 161; Sweetwater County had 64; Campbell County had 47; Natrona County had 34; Park had 33; Uinta had 31; Fremont had 19; Sheridan had 17; Platte had 14; Albany had 12; Big Horn and Teton had eight; Carbon had seven; Johnson had four; Converse, Goshen and Weston had three; Lincoln, Sublette and Washakie had two, and Crook, Hot Springs and Niobrara had one.

Active cases are determined by adding the total confirmed and probable coronavirus cases diagnosed since the illness first surfaced in Wyoming on March 12, 2020, subtracting the number of recoveries during the same period among patients with both confirmed and probable cases and taking into account the number of deaths attributed to the illness.
New confirmed cases were reported in 20 counties, with Laramie County reporting the highest number of new cases at 96, followed by 48 in Sweetwater County.
The new confirmed and probable cases brought to 60,773 the number of Wyoming residents diagnosed with coronavirus since the illness was first detected in Wyoming in March 2020.
Of those, 59,576 have recovered, according to the Health Department.
Let us know what you think!