Active COVID cases up by 52; three counties report no cases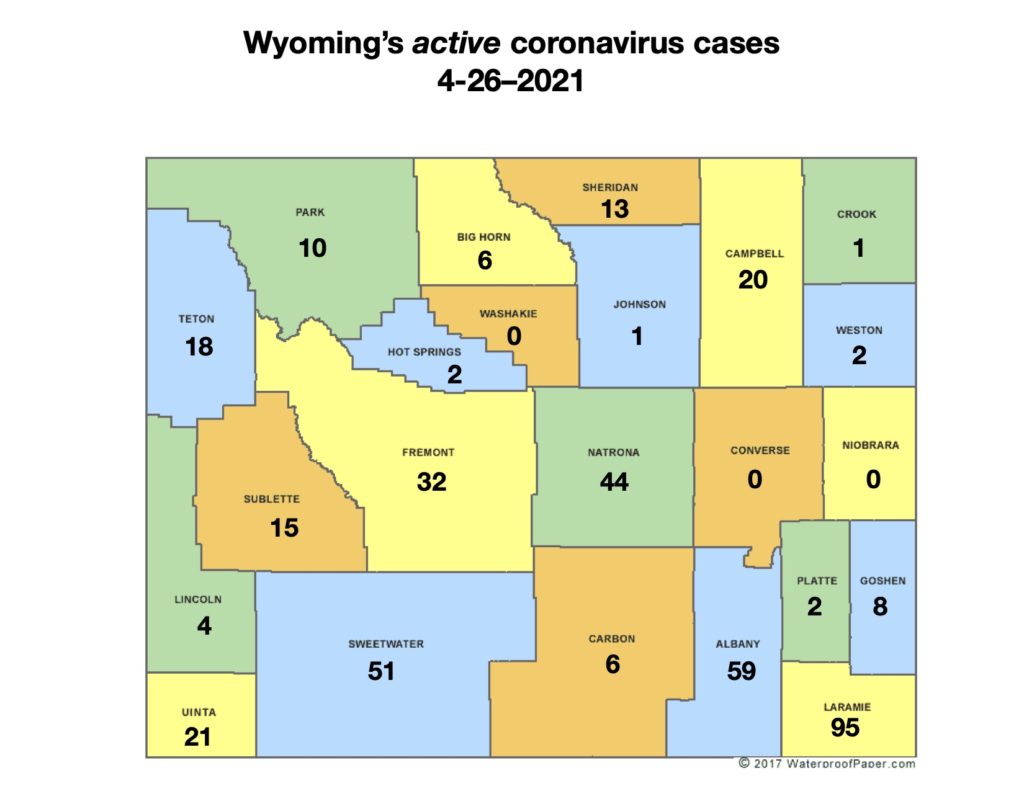 The number of active coronavirus cases in Wyoming grew by 52 over the past week, however, three counties reported they had no active cases as of Monday.
Converse, Niobrara and Washakie counties all reported zero active cases on Monday. Converse and Washakie counties marked their first week as being COVID-free, while Niobrara County has been free of active coronavirus cases for several weeks.
According to Wyoming Department of Health figures, the state has seen 317 new laboratory-confirmed and 123 new probable coronavirus cases in the last week.
At the same time, the state received reports of 386 recoveries among those with either confirmed or probable cases, leaving Wyoming with 410 active cases, an increase of 52 from April 19.
Laramie County had 95 active cases; Albany had 59; Sweetwater had 51; Natrona had 444; Fremont had 32; Uinta had 21; Campbell had 20; Teton had 18; Sublette had 15; Sheridan had 13; Park had 10; Goshen had eight; Big Horn and Carbon had six; Lincoln had four; Hot Springs, Platte and Weston had two, and Crook and Johnson had one.

Active cases are determined by adding the total confirmed and probable coronavirus cases diagnosed since the illness first surfaced in Wyoming on March 12, 2020, subtracting the number of recoveries during the same period among patients with both confirmed and probable cases and taking into account the number of deaths attributed to the illness.
New confirmed cases were reported in 18 counties, with Laramie County reporting the highest number at 64. Sweetwater reported 50 new confirmed cases.
The increase in confirmed and probable cases brought to 57,818 the number of people diagnosed with COVID-19 since the illness was first detected in Wyoming in March 2020.
Of those, 56,703 people have recovered, according to the Department of Health.