Afton improves water line along U.S. Highway 89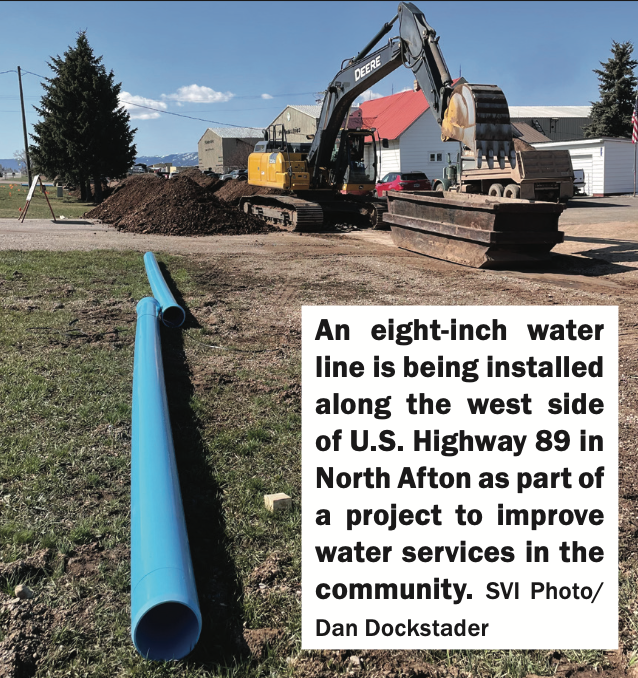 The Town of Afton is going through water system improvements on the north end of the community, along U.S. Highway 89.
"This is part of the North Afton Extension Project," explained Afton Town Administrator Violet Sanderson. "We're replacing a shallow two-inch main line on the west side of the highway with an eight-inch main line."
The changes are designed to improve water flow. Sunrise Engineering and DNS Excavation of Afton are overseeing the project.
Before winter started, the project was launched with a bore under U.S. 89. "They have put the bore under the highway and they will be connecting the eight-inch main line [on the west] to a six-inch main on the east side of the highway that will connect back to Twin Spruce, [road.]" Sanderson said. "We'll have a loop in our system that will help with pressure. and any stop loss that we would have with the system."
Sanderson advised the changes will eliminate the need to release water in the winter months at the end of the pipeline. The annual procedure helped avoid problems with a frozen pipeline. "Some people may miss the giant ice castle that has been out there for years," she said. "We had a small shallow main line, that had to stay running. That will no longer have to be there."
The "ice castle" was a point of curiosity for visitors traveling U.S. 89, with some stopping to photograph the frozen structure with a small amount of water spraying from the top in the winter months.
Weather permitting, the project should be completed in May.
Let us know what you think!
Tagged:
Afton water lines
DNS Excavation
Sunrise Engineering
U.S. Highway 89
Violet Sanderson