Afton Mall Transforms into the Cattle Chute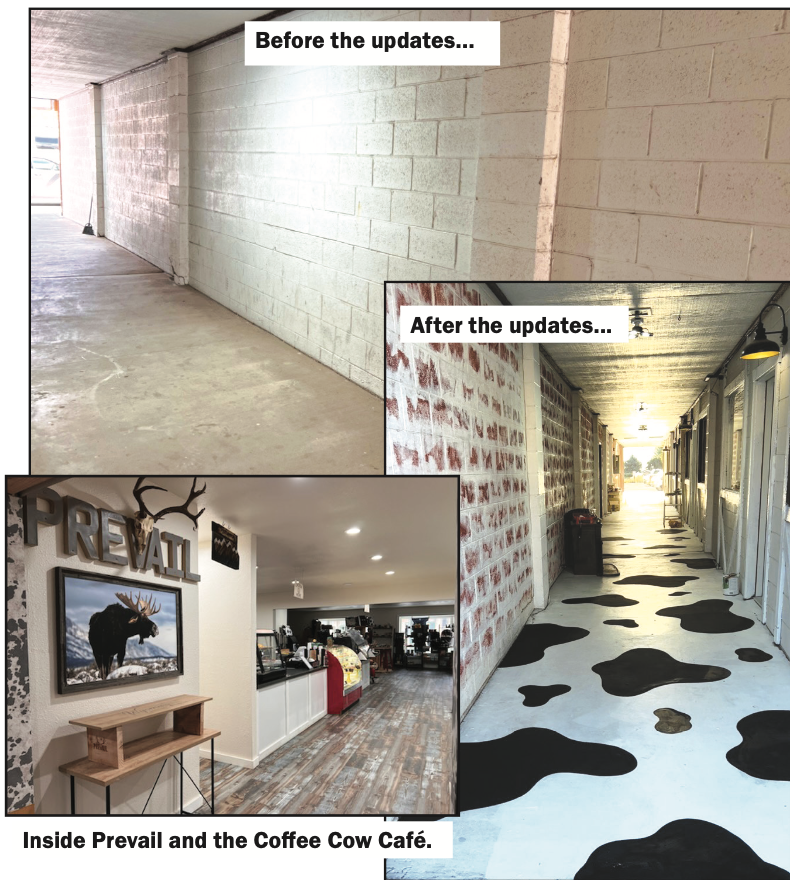 ◆ Two businesswomen bring life to our downtown by painting the Afton Mall hallway and more.
By Breanna Call
SVI Media
For those of us familiar with the Afton Mall, we know not to expect to see anything like a traditional mall. In fact, in the recent past, it gave off more of a dark, gloomy vibe than a vibrant place for locals and visitors to shop and socialize. But the owner of Prevail, Kaitlin Vigna, and the owner of Coffee Cow Café, who wishes to remain anonymous, are changing that.
"I just think [the hallway] didn't do the town justice," says Vigna. "[The owner of the Coffee Cow Café], she had such an upbeat personality, and she has so much heart. . . . So, she's updated everything. It looks incredible! But then you went out in the hallway, and it was still like, I don't know, not pleasant. . . . [Updating] it is just something that needed to be done for our community."
Vigna recently posted on Facebook about the upcoming changes: "We have been working hard trying to turn this old dungeon-feeling hallway into something a lot more welcoming." She adds, "We will be changing the sign in the front of the building and with it being something that's been there for so long, we thought it would be fun to include our community to help pick this name."
Currently, Vigna is leaning toward naming it the "Cattle Chute." And after seeing the updates and learning more about the changes coming to the hallway, the name is a perfect fit. Playing on the Coffee Cow Café's theme, the two businesswomen painted the floor in a cow print and the walls a faux, whitewashed brick. Vigna says, "That's kind of why it's going to be called the Cattle Chute. It's like down the cow print hallway, and then all the food is at the end, which I think is hilarious." There's nothing like adding a small-town, country metaphor to get shoppers smiling.
But this isn't all the pair plan to do. Vigna adds they "have begun painting the old Chocolate Factory building to transform it into an old, red barn style. We have a lot on our to-do list, such as stringing café lights through the entire hallway, [and] adding rustic benches and tables for people to sit and enjoy." Next summer, Vigna and the owner of the Coffee Cow Café plan to work on the parking lot behind their shops. They hope to clean it up and bring in food trucks.
Local artist Taryn Boals will also be adding life and history to the hall by painting murals above each bench. Vigna says, "We want to do Butch Cassidy, some of Wyoming history on the walls that are kind of like cowboy also." Boals artwork is inspired by Wyoming's views, and her talents will add a country touch to the hall.
Vigna also hopes to create a unique photo opportunity. "We're going to put a big sign that says if you take a picture of our hallway or share it [on social media with #cattlechute], we'll give you 10% off in any of the stores on the strip." She adds, "When you see that place in Tennessee, and they have the wings painted on the wall, everyone has to go there. But Wyoming is one of the coolest states ever, and we don't really have anything like that." With this vision in mind, Vigna hopes that will change for Wyoming.
The pair's goal is to "create an environment that people feel comfortable hanging out by." Right now, Prevail and the Coffee Cow Café are the only active businesses down the hallway. But there are also two vacant storefronts available. Vigna says, "We want to bring life back to [the hallway] so that it's actually like a mall again, like get the other two spaces filled up with something cool. . . . I think the ideal person would be somebody who wants the tourist to come in because all of the tour buses would be parking in the back or in the front, but they funnel through that hallway, especially since right now it says mall entrance above it. So they're like searching for other stores, even though there's nothing right now. So somebody that's like touristy or a Wyoming-made company. . . . Everybody wants something from Wyoming when they come here, and we don't really have any stores that are all like Wyoming-made."
With so many positive changes brought about by Vigna and the owner of the Coffee Cow Café, the hallway is starting to feel more like a place to stay and shop—more like a mall. Make sure to stop by and support the businesses that are bringing life to our community.

Let us know what you think!
Tagged:
Afton Wyoming
Coffee Cow Café
Kaitlin Vigna
Prevail