Airport business dispute returns to Supreme Court
By Mike Koshmrl
Jackson Hole Daily
Via- Wyoming News Exchange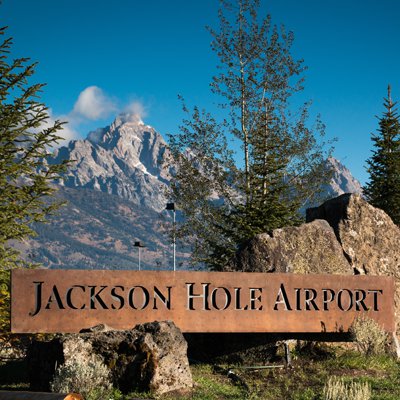 JACKSON — A legal dispute that has held up the largest business deal in the history of the Jackson Hole Airport reached the Wyoming Supreme Court for oral arguments last week.
At issue is whether the airport's plans to use a type of financing called revenue bonds are legal vessel for a public entity for purchasing the "goodwill" and nontangible assets that come with buying a business. In the airport's case, the planned purchase, for $26 million, was of Jackson Hole Aviation, the fixed-based operator that the airport sought to purchase in order to blunt competition and not have to accommodate two competing FBOs within a limited space.
Cheyenne attorney Bruce Moats, arguing for the plaintiff, suggested that a ruling in the airport's favor could open the door for government entities to purchase private businesses to undercut competition.
"That doesn't seem to me to be true to the intent of these statutes," Moats told the court's five justices Thursday morning. "If they could buy a business … why couldn't they buy one of the rental car companies downtown?"
Revenue bonds are a form of municipal bond that finance income-producing projects and are secured by that revenue. Interest earned, similar to other municipal bonds, is exempt from federal taxes. Wyoming law stipulates how they can and cannot be used, and part of the reason there's a dispute in this case is because Jackson Hole Airport already owns almost all physical assets, like hangars and administrative buildings, that would be acquired in the $26 million purchase. Only $330,000 of that price tag was for "tangible property," with the remaining $25.7 million — 98.7% of the lump sum — being spent on "lease and operating rights" and "intangible personal and intellectual property," according to the purchase agreement.

Jackson Hole Airport officials have withheld a consultant report that presumably expounds on what those assets are and how they were valued, citing proprietary information about Jackson Hole Aviation, which is a private business.
Arguing for the airport, Holland and Hart attorney Paula Fleck took issue with a statement Moats made about the airport seeking to prevent competition. The airport struck the deal because there was an application submitted for a business to compete with Jackson Hole Aviation. The Federal Aviation Administration requires that airports that use federal funds accommodate competition among FBOs, unless the airport itself is the operator.
"It was not done to prevent competition," Fleck told justices. "It was done for two principal purposes. One, the airport space at the Jackson [Hole] Airport is small … and secondly, so that the income stream generated by the FBO could be that of the airport."
Fleck also disputed Moats' claim that the airport was purchasing Jackson Hole Aviation's "goodwill."
"We need to keep in mind what the purpose of the statute is," Fleck said. "Clearly, this statute at issue here, 10-5-101, is intended to allow an airport board to acquire by lease purchase or otherwise, lands and other property for airport purposes."
In a rebuttal, Moats again pointed out the possible precedent that would be set if a government body was allowed to purchase a business to capture its income stream.
"What if they say, 'We need the revenue, we're going to go buy the local McDonald's and get the revenue stream off of it'?" Moats said. "That's the part that I think is where this goes too far.
"They have rental cars out there [and] they have restaurants out there," he said. "They could say that's part of what the airport's purpose is — to serve the passengers."
Wyoming Supreme Court Chief Justice Michael Davis told Moats and Fleck the matter is being taken under advisement and a written decision will be released at a later date. He reminded them that the legal question is a narrow one, about whether revenue bonds are a legal means of buying Jackson Hole Aviation.
The case is one of several that have been initiated by Greg Herrick, a West Bank resident whose application to start a competitor to Jackson Hole Aviation spurred the airport's long-stalled plan to instead run its own fixed-base operator. Pilots Brent Blue, Christian Anderson and Richard Sugden were also plaintiffs in the revenue bond case being argued by Moats.
Early this year, the Wyoming Supreme Court overturned a Teton County District Court ruling about access to airport records. The airport, which is leased from Grand Teton National Park and administered by a town and county-appointed board, tried to reserve the right to withhold the information by declaring itself exempt from the Wyoming Public Records Act. A ruling in the airport's favor could have had broad implications for political subdivisions around Wyoming, but the Supreme Court ruled in the Wyoming Jet Center's favor, interpreting the Wyoming Public Records Act as applicable to the airport board to keep with the act's purpose of maintaining an open and accountable government.
Tagged:
Jackson Hole Airport
Jackson Hole Aviation
Wyoming Supreme Court