Alpine Fire/EMS and American Legion partner on Christmas Giving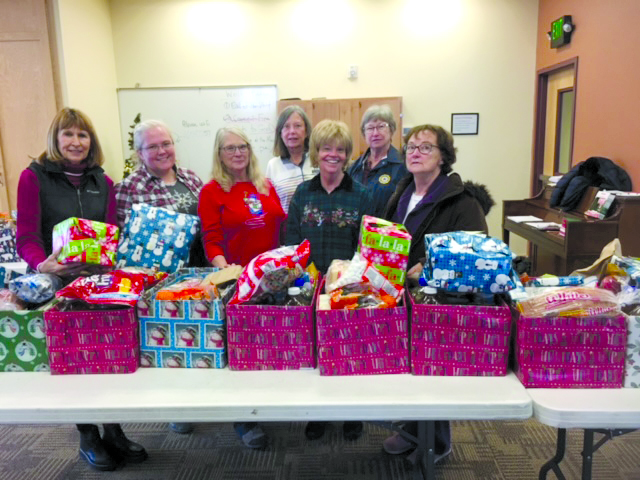 ◆ Christmas provided for 40 families.
Alpine Fire and EMS partnered with the Alpine American Legion Auxiliary Unit #46 to provide food, gifts and certificates for over 40 local families this Christmas. The donations were funded by a combination of local business support and fundraisers that took place earlier in the year.
"Thanks to generous gifts from the community, and support from Jenkins Lumber and Broulims, it was possible to put a lot of smiles on families' faces this year," said Alpine Fire Chief Mike Vogt. "This is all due to the funds donated at the Alpine Auxiliary Fundraiser this year. Thank you to the wonderful community."
Dave Walters, a member of the Alpine Volunteer Fire Department and organizer of the efforts to make the donations possible, said that most of the funds were raised over the summer during the department's annual fundraiser BBQ. In addition to the fundraising event, Broulims in Alpine participated by placing a donation box in the front of their store. Jenkins Lumber also donated a $250 gift certificate, which the fire department matched to make it $500, to help a local family with purchasing building materials after a house fire.

"It's really incredible seeing smiles and tears on families faces," stated Walters, who recalled helping a family in 2020. "They were wondering why the fire trucks were parked out in front of their house when they got home. We were able to have all these presents in our hands for the kids. For families that can't afford presents, it's a really special thing that warms all of our hearts. It's definitely something we want to do again in the future."
The American Legion Auxiliary also thanked the community for their support, stating in a released statement that "This would not be possible without the generous contributions from our local Business owners, they have really been gracious and thoughtful to donate funds and products for this wonderful cause.
This year the Alpine Fire department added to our Baskets with gift cards and Christmas gifts to brighten things just a little more. And of course, our Legion family, all the Ladies of the Auxiliary, others who just showed up to help and the Legion who came alone to assist. As well as those that provided names to receive baskets. Thank you all for your assistance."
The American Legion Auxiliary also listed several other businesses who participated in the project, including Alpine Art Gallery, Rustik Wyoming, Raven Lunatics, Alpine Vet Clinic, Bridger Animal Hospital, Hastings Ace Hardware, Alpine Standard Tootsies, Thayne True Value, First Bank of Alpine, Bankof Jackson Hole, Alpine Dental Care, Timothy Raver Construction, New West Construction, PrintStar, Tootsies, Valley market, Silver Star, Four Pines Physical Therapy, Bank of Star Valley, Yankee Doodles Organized Thoughts, Jenkins Hardware, Alpine Ace Hardware and Staples.
Walter said the community can help again next year by participating in the fundraiser BBQ next summer, purchasing gifts and having them delivered to the fire station, or by anonymously nominating families or individuals who may need help.
Let us know what you think!
Tagged:
Alpine American Legion Auxiliary Unit #46
Alpine Fire and EMS
Dave Walters
Mike Vogt