(Audio Coverage) – Braves Wrestling at State Tournament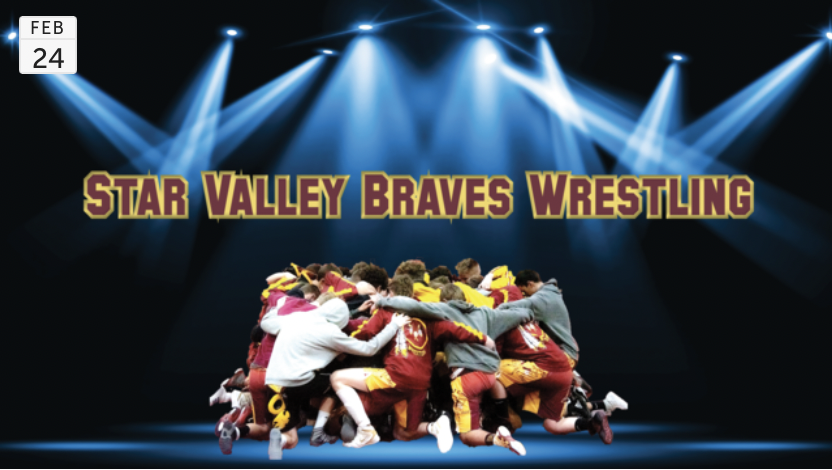 The Star Valley Braves have won the last seven Wyoming 3A state team titles. If that streak is to continue, it will need to happen at the 4A Class as SVHS has transitioned to Wyoming's largest classification for all sports now except football.
SVI's Aaron Feeley will be joined by former SVHS coach Adam Guild as the team makes their run at the Ford Wyoming Center in Casper starting with coverage on Friday morning.
Read Coach Eddie Clark's thoughts leading up to the weekend by scrolling down as well as finding the 22 State Qualifiers from SVHS.
Find updated brackets from trackwrestling.com here:
◆ Star Valley in the mix for the 4A team title this week in Casper.
By Dahl Erickson, SVI Media
The Braves Wrestling Team compiled a total of 237.0 points as they placed second at the 4A West Regionals held at Jackson Hole High School.
Nine different wrestlers advanced to the finals with Levi Byrd, Bridger Smith, Tel Parry and Grant Weiss winning Regional titles.
Natrona County took the team title with 246.0 team points.
A total of 22 Star Valley wrestlers qualified to this week's State Tournament.
"We just didn't perform as well as we have in a few weights this year and it ended up costing us," stated Head Coach Eddie Clark. "We wrestled pretty well. In the late rounds, we just didn't finish the job. We have some kids who were nicked up and sick so it is what it is. We're glad State is this week and not last week. I'm hoping they can avoid sharing that flu bug but you don't get a do-over at regionals."
Clark is hoping for an even healthier effort this week as the team dives back into Wyoming's largest classification after having won the last seven championships in the 3A class.
"Now we'll go see if we can defend our titles," he said.
To do so, the Braves will need to get past Natrona County who had the advantage this past weekend in the West.
In the 4A East Regional Tournament the Sheridan Broncs pulled away for the team title with 281.0 points. Thunder Basin was second with 245.0 and Cheyenne East was third with 196.0
Clark is hopeful that the West will battle hard as a whole.
"It's a little concerning that Sheridan and Thunder Basin scored significantly more than I thought," he continued. "They are set up for this week and some of our guys from this side are going to have to beat them on that side to help drop their team totals to bring them to the rest of the crowd. I think that will happen. Kelly Walsh had quite a few kids that were out and they were back in. I think that will help even things out."
Clark also feels that this year's quarterfinal round may tell the story of the 4A team title.
"I think the quarters are going to be super-important this year," he added. "There are going to be some really good matchups. Some really big matches and we will have a pretty good feeling about how the tournament is going after the quarter-finals.
4A West Regional Team Scores
Natrona County – 246.0
Star Valley – 237.0
Kelly Walsh – 169.0
Rock Springs – 158.5
Laramie – 96.5
Jackson Hole – 52.0
Star Valley 4A West Results
106: Levi Byrd – Regional Champ
113: David Weiss – 7th Place
120: Bridger Smith – Regional Champ
120: Caleb Morrison -2nd Place
126: Tel Parry – Regional Champ
126: Malachi Patterson – 2nd Place
132: Paxton Wolfley – 3rd Place
132: Peyton Andrews – 4th Place
138: Cameron Kendall – 2nd Place
138: Ty Thompson – 7th Place
145: Joseph Naef – 3rd Place
145: Lane Hunting – DNP
152: Porter Merritt – 2nd Place
152: Damien Burgess – 7th Place
160: Kooper Burk – 2nd Place
160: Tristan Jensen – 8th Place
170: Grant Weiss – Regional Champ
170: Jayden Kunz – 4th Place
182: Grant Thomson – 4th Place
195: Joseph Warren – 7th Place
220: Ryan Talbot – 3rd Place
285: Weslee Turner – 4th Place
285: Brysen Baxter – 7th Place
Let us know what you think!
Tagged:
Aaron Feeley
Adam Guild
Eddie Clark
Star Valley Braves Wrestling
SVI Media
Wyoming High School State Wrestling Tournament